Let's Get To Know Jarrett Allen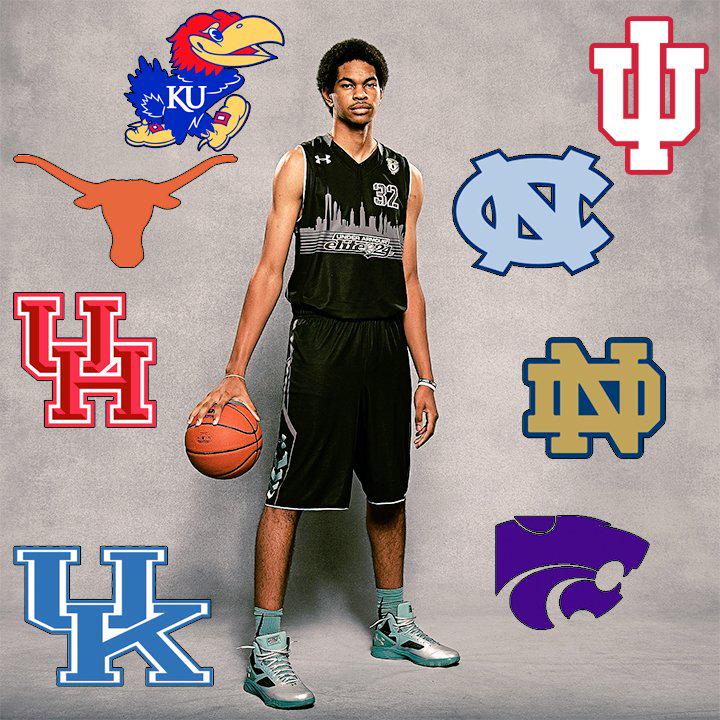 Kentucky will host a very important visitor this weekend when Jarrett Allen comes to town. A 6-foot-9 power forward, Allen is the sixth-ranked power forward and the No. 21 overall player in the 247 Composite Rankings. ESPN ranks him as the No. 1 center in the class, while Rivals and Scout have him at No. 20 and 16 overall, respectively.
Top247: 28 | 9 PF
247 Composite: 21 | 6 PF
Rivals: 20 | 6 PF
ESPN: 19 | 1 C
Scout: 16 | 3 C
As we await Allen's arrival in Lexington, let's get to know him a little better. Who knows, he may be a Cat one day.
He is from Texas.
Allen is from Austin and attends St. Stephen's Episcopal High School.
He's a quiet guy.
Unlike most elite high school prospects these days, Allen doesn't crave the attention that players of his caliber are bombarded with. You won't find him doing a lot of talking during his recruitment. He's not begging for retweets and Instagram likes from fans.
He's a strictly business guy, carefully weighing his options and playing his cards close to his vest.
He is considering eight schools.
Kentucky, Houston, Indiana, Kansas, Kansas State, North Carolina, Notre Dame and Texas made the cut when Allen announced his list of eight back in September.
He visited Houston last weekend, Kansas the weekend before that.
This weekend's trip to Lexington will be Allen's third consecutive official visit. Last weekend he was in nearby Houston to check out the Cougars and what Kelvin Sampson (yes, that Kelvin Sampson) has to offer. Following the visit, Allen told sNY.tv, "It was good, I had a lot of fun and learned a lot about the school… I really liked the feel of the school community wise, the coaching staff, and the new facilities that they are building."
Prior to his trip to H-Town, Allen took an official visit to Kansas. He recently said he is considering the Jayhawks as much as any other school.
His first official visit was to Notre Dame.
He will have one more visit to take after Kentucky.
He congratulated Wenyen Gabriel when Gabriel committed to UK.
Congrats @WenyenGabriel on the commit!

— Jarrett Allen (@JarrettAllen55) October 1, 2015
Future teammates, maybe?
His favorite snack is Honey Maid graham crackers. 
Plain.
He is one of the best post players in the country.
ESPN Recruiting calls him "a long athletic and mobile post player that is oozing with potential."
"He runs the floor extremely well and has good hands and feet. Allen finishes above the rim when he receives drop off passes created by dribble penetration. He is a good area rebounder, shot blocker, contest shots in an out of his area and does a nice job working to deny the low post. Allen simply competes on both ends of the floor." [ESPN]
Watch him work: