KSR's Top 10 Tweets of the Day The one and only Big Mick is a meaty masterpiece in its own right. Composed of two quarter-pound patties* of never-fresh, frozen, mostly beef raised close to the processing plant. Only McDowell's has the frosted beef and processed cheese to give you a major reason for the afternoon trip to the secret bathroom only you and Debra know about on the 9th floor that is under construction.

---
You can be a part of KSR's Top 10 Tweets by using hashtags like #KSR #BBN or #KSRtop10. You can also nominate tweets by mentioning them with the hashtag. If we like what we see, it could be posted the next day.
If you are interested in sponsoring KSR's Top 10 Tweets, please contact us at Via Email.
#10 Dakota Harlow
The disrespect. Let em' hate. #BBN https://t.co/8dTlrrlUGF

— Dakota Harlow (@harlowdakota22) April 24, 2019
I really can't wait to watch Scary Terry ball out on all of you.
#9 KY Joe
I wish they would have played my song: Man with a Mission!!! @KySportsRadio @DrewFranklinKSR #BBN #kyjoe

— josephschroer (@josephschroer) April 24, 2019
A little Kentucky Joe improves all.
#8 Owen
I wish some Kentucky fans would transfer.

— Owen (@75toRupp) April 23, 2019
Seriously, just chill out a little, guys.
#7 TheStoopsEra
Thank you so much @benny_snell for what you did for this university and program. Your name will live on forever throughout the state of KY. You and your teammates put Kentucky on the map, and it brings so much joy to the entire #BBN who never thought we would see days like this. https://t.co/eS5l4pEnxu

— TheStoopsEra (@TheStoopsEra) April 24, 2019
I am crying in the club.
#6 Sam Wempe
@Rosie why did you block my boy @ShannonTheDude ?? #KSR

— Sam Wempe (@swempe_) April 23, 2019
WE NEED ANSWERS!!
#5 Offical Josh Allen Stan Account
Live look inside the @AZCardinals team offices ahead of #NFLDraft pic.twitter.com/0cEwBBEZxl

— Official Josh Allen Stan Account (@CitrusBowl) April 23, 2019
The Citrus Bowl is the best follow on the internet.
#4 Terry Jordan
I love this call…hammered drunk caller! #KSR @DaveandBusters pic.twitter.com/iHimvsFWOB

— Terry Jordon (@tnjordon) April 23, 2019
I'm still amazed. Classic.
#3 KY Clips
— KY Clips (@KY_Clips) April 23, 2019
Honestly, this just says it all. We love the roommates.
#2 Randy C
I'm the biggest UofL fan in the state of Ky!!! With that said, @KySportsRadio @ryanlemond @ShannonTheDude and @DrewFranklinKSR have the best sports radio show in the country! If you're not listening, you should be!!!

— Randy C (@RandyC2012) April 24, 2019
C'mon Randy, just go ahead and switch to the good side!
#1 Not Jerry Tipton
"Kentucky will not win in football anymore."

(UK's 2019 class rank is #35, UofL's 2019 class rank is #72)

"They have one good season every 41 years."

(UK leads the all time series with UofL.)

"Louisville went 2-10."

(Louisville went 2-10.)

"Roll with winners!"

(56-10.) https://t.co/gz2OUvvRog

— Not Jerry Tipton (@NotJerryTipton) April 23, 2019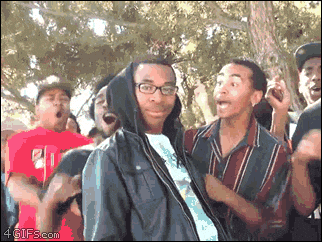 ---
Follow me on twitter and tag me in one of your tweets for a chance to make KSR's top 10 tweets: @BrentW_KSR