KSR's 2020 Early Signing Day Thread
Ladies and Gentlemen, Boys and Girls from all around the world, welcome to Early Signing Day 2019.
Before the faxes roll in at approximately 7:30 a.m. two four-star offensive linemen — R.J. Adams and Jeremy Flax — grabbed headlines by committing to Kentucky Tuesday afternoon. The latest additions to the Big Blue Wall give Kentucky ten four-star commitments in the 18-man class, with the potential to add more talent to the trenches today. Here are the four-star prospects still in play for the Wildcats:
DE Tyler Baron: Tennessee or Kentucky (Tennessee)
DT Octavious Oxendine: Tennessee or Kentucky (KENTUCKY!)
DT Josaih Hayes: Ole Miss, Miss. State, Auburn or Kentucky (KENTUCKY!)
DB Joel Williams: LSU, Georgia, Auburn, Alabama or UK
DB Vito Tisdale: Oklahoma, Alabama or Kentucky (Announcing Jan. 4)
APB Michael Drennen II: USC or Kentucky
With the exception of Oxendine, the in-state star who will hold a ceremony at North Hardin High School this afternoon at 3:45 p.m. ET, any of these kids could announce at any given moment. We could see it on social media or Kentucky could just unceremoniously receive a fax. The two defensive backs may sign and wait to publicly announce at a later date.
It's going to be a wild morning at the Joe Craft Football Training Facility. As the coaches receive LOIs, we'll share bios and film study of each prospect. If the font is blue, there's a link that will give you even more information. Sit back, relax and enjoy the ride.
---
3:53 (Tyler) — Octavious Oxendine picks KENTUCKY
Octavious Oxendine
About: By convincing one of the best in-state recruits to stay home and play college football, Vince Marrow beat Tennessee for another Blue Chip prospect in the trenches. Not only is landing Ox a big win this year, North Hardin has two of Kentucky's top in-state targets in the 2021 class, running back Lavell Wright and defensive back Jordan Lovett.
Luckett's Film Room: The North Hardin product is a defensive lineman who could potentially play all three positions in UK's 3-4 scheme. The Trojans used him to go up against offensive tackles, but his 6-foot-2 and 300-plus pound frame will likely be best used at the nose spot. The man they call Ox recorded 14.5 sacks this past season and shows some surprising chase down skills when running after quarterbacks and running backs. He has the size and power to eat up blocks and demand double teams to allow the linebackers behind him to run free and make tackles. His technique will need some seasoning after playing mostly defensive end in high school, but there's no denying the physical strength he brings to the table.
Kentucky's 2020 class with Ox on board:
Kentucky Football Class of 2020
| Name | Position | Hometown | Height | Weight | Rivals |
| --- | --- | --- | --- | --- | --- |
| Justin Rogers | DT | Oak Park, MI | 6-4 | 315 | 5-star, #14 Overall |
| Samuel Anaele | DE/OLB | Miami, FL | 6-4 | 250 | 4-star, #112 Overall |
| John Young | OT | Louisville, KY | 6-6 | 295 | 4-star, #5 KY |
| Beau Allen | QB | Lexington, KY | 6-2 | 200 | 4-star, #20 QB |
| R.J. Adams | OG | Woodbridge, VA | 6-3 | 320 | 4-star, #12 OG |
| Tre'vonn Rybka | DL | Dickson, TN | 6-4` | 281 | 4-star, #18 SDE |
| Jeremy Flax | OT (JUCO) | Dearborn, MI | 6-6 | 315 | 4-star |
| Andru Phillips | CB | Mauldin, SC | 6-0 | 180 | 3-star, #5 SC |
| Torrance Davis | RB | Cleveland, OH | 6-1 | 215 | 3-star, #26 RB |
| JuTahn McClain | APB | Fairfield, OH | 5-9 | 176 | 3-star, #12 APB |
| Kalil Branham | WR | Columbus, OH | 6-1 | 205 | 3-star, #84 WR |
| Deondre Buford | OT | Detroit, MI | 6-5 | 270 | 3-star, #70 OT |
| Izayah Cummings | WR | Louisville, KY | 6-3 | 210 | 3-star, #11 KY |
| Earnest Sanders | WR | Flint, MI | 6-2 | 190 | 3-star, #100 WR |
| D'Eryk Jackson | LB | Dexter, GA | 6-2 | 235 | 3-star, #106 GA |
| Joshua Jones | OT | Phenix City, AL | 6-6 | 300 | 3-star, #58 OT |
| Carrington Valentine | CB | Cincinnati, OH | 6-0 | 218 | 3-star, #28 OH |
| Rickey Hyatt Jr. | S | Westerville, OH | 6-1 | 195 | 3-star, #38 S |
| Joey Gatewood | QB (Transfer) | Jacksonville, FL | 6-4 | 226 | 4-star, #3 DT QB (2018) |
| Josaih Hayes | DT | Horn Lake, MS | 6-3 | 285 | 4-star, #160 Overall |
| Octavious Oxendine | DT | Radcliff, KY | 6-3 | 300 | 4-star, #24 DT |
Torrance Davis is the only commit whose paperwork has yet to be submitted.
---
12:45 (Tyler) — Tyler Baron picks Tennessee
His dad is on the Volunteers' staff, which proved to be too much for Kentucky to overcome. Oh well. Landing Octavious Oxendine would more than make up for it. We'll find out at 3:45 p.m.
---
12:29 (Tyler) — Sumrall with an A+ subtweet
Jon Sumrall's tweet about taking Josaih Hayes right out from under Lane Kiffin's nose is the social media content I'm here for.
https://t.co/WgsIYJ25zU pic.twitter.com/yqZ7aP5wjk

— Jon Sumrall (@CoachJonSumrall) December 18, 2019
---
11:30 (Tyler) — Josaih Hayes is officially official!
Josaih Hayes
As Nick mentioned in his post, Hayes is a huge, huge get. Not only is he the No. 160 player in the country, he's a top 15 defensive tackle and the No. 2 player in the entire state of Louisiana. He picked Kentucky over Ole Miss and also had offers from Alabama, Auburn, LSU, Georgia, and Tennessee. Shoutout to Jon Sumrall, who was able to convince Hayes to turn down Lane Kiffin and leave his home state.
We'll have a more thorough breakdown of Hayes' commitment as the day goes on. This is a big freaking day, folks.
---
9:50 (Tyler) — Baylor announcing signees with…muppets?
While we wait on Torrance Davis' paperwork, shoutout to Baylor for the most creative Signing Day announcements. The Bears are using muppets to introduce their new signees, which is both weird and delightful.
Long, fast linebacker ?@will_garner42#20Below pic.twitter.com/0ciiy4A83J

— Baylor Football (@BUFootball) December 18, 2019
Nimble and athletically gifted. @Gavinb_89#20Below pic.twitter.com/pRu8uBreYh

— Baylor Football (@BUFootball) December 18, 2019
All-purpose back ?@TayeMcwilliams#20Below pic.twitter.com/TgicexOsyQ

— Baylor Football (@BUFootball) December 18, 2019
---
9:35 (Nick) — JUSTIN FREAKING ROGERS
The highest-ranked Kentucky football recruit in the internet era is officially a Wildcat. Don't. Geek.
Justin Rogers
About: Rogers is the highest-ranked Wildcat of the internet recruiting era. Need we say more? Sure we do. Shout out to Coach Clink for extending the offer to Rogers as an eighth-grader. That early message was received well once he became a star. A two-way player, Rogers plans on playing defensive tackle in Lexington alongside his former teammate, Marquan McCall, but he could play offensive guard too if need be.
Luckett's Film Room: The top-50 recruit out of Detroit fits that ranking when you turn on the tape. The 6-foot-2 interior line player absolutely moves people on the offensive line and shows some great agility that should pay big dividends when he plays on the defensive line at Kentucky. Rogers plays with excellent pad level and a low center of gravity that will make him very difficult for opposing offensive lines to deal with. He has a very strong first step and terrific power from his lower frame to disengage with opposing blockers whether by powering through or disengaging. He has surprising good length for his size and that combined with his athleticism gives him a high ceiling as a pass rusher. He's a player that can play multiple spots in UK's three-down scheme and has the tools to contribute as a true freshman.
---
9:31 (Nick) — Welcome Mr. Anaele to the BBN
And then there were two: Justin Rogers and Torrance Davis.
Samuel Anaele
About: A one-time Miami commit, Kentucky was able to convince the Nigerian-born athlete to be the next Josh Allen not long after Anaele met the seventh overall pick in the 2019 NFL Draft in Lexington during an unofficial visit. Give Brad White a couple years and the Under Armour All-American will be an absolute stud.
Luckett's Film Room: The consensus four-star recruit out of the Miami area has the positional size that Kentucky is looking for (6-foot-4, 250 pounds) for their jumbo defensive end spot, but there unfortunately was not much film on his via Hudl or his recruiting profiles. However, it's clear he has some athletic juice and that is why you see him ranked as a blue-chip. Anaele is a quick twitch player who relies on quickness to go with a long reach to get by opposing blockers. He has a frame that should be able to add good weight to get up to around 270-280 pounds so he can better take on blocks. Despite the lofty ranking, he's very raw in a lot of areas and will need some development. A redshirt year will be very beneficial.
---
9:21 (Nick) — Another One!
Izayah Cummings
About: The physical outside wide receiver is Kentucky's first commitment from Louisville Male High School in a long time. Typically a feeding ground for Louisville, when the Cards tried to flip him, he remained steadfast in his commitment to Kentucky. A state champion, he will play one more prep game at the Offense-Defense All-American Bowl in Miami.
Luckett's Film Room: A big, physical receiver who resembles some guys you would see on Sundays, Cummings is an excellent go-route runner and does his best work when he is able stop, locate the football, and make a jump grab. He has all of the traits to be a big weapon in the red zone, which paid off in a regular season matchup with Trinity that ended with a Cummings touchdown in overtime.
.@IzayahCummings with the game-winning TD against Trinity (KY) tonight.

Catch the @UKFootball commit in our Facebook Watch broadcast on November 1st against Manual. ?? pic.twitter.com/90WXpdF2dk

— GreatAmericanRivalry (@AmericanRivalry) September 21, 2019
---
9:17 (Tyler) — Stoops' Press Conference has been pushed back
First off, good morning! Shoutout to the boys for getting things started while I attempted to sleep in a little bit to prepare for a basketball all-nighter. I'm sure it won't matter.
Secondly, UK just informed us that Mark Stoops' Signing Day Press Conference has been moved from 2:30 p.m. to 3:30 p.m., right around the time Octavious Oxendine announces. That's good news, right?
---
9:12 (Nick) — The Waiting Game
Unlike previous seasons, the letters are going to take a little bit longer than normal to make their way into Lexington. I just spoke with Izayah Cummings who's completing the final details of his LOI paperwork. He's not the only one still dotting T's and crossing I's. Add in the uncommitted targets and it's going to be long day filled with surprises.
---
8:44 (Nick) — Tre'vonn Rybka is Official
The folks at Tennessee are not happy this defensive lineman is leaving the Volunteer State.
Tre'vonn Rybka
About: Kentucky was the first power five school to extend a scholarship to Rybka. That paid dividends when Tennessee wanted the talented defensive tackle to play for his home state school. Oklahoma, Alabama, Oregon, LSU and a bunch of other powerhouse schools also extended offers. When it was time to commit, Rybka took one last parting shot at the Vols. Ya love to see it.
Luckett's Film Room: The 6-foot-4 defensive end is an anchor on the line of scrimmage playing the 4i technique in a 3-4 scheme. We've seen Tre'vonn Rybka factor in on pass rush and pursuit, but the best part of his game might just be his run stuffing ability. His size, power, and athleticism are impressive, to say the least.
---
8:34 (Nick) — Still waiting on…
So far UK has received LOIs from 14 of the the 19 commitments. We're still waiting to hear from Justin Rogers, Samuel Anaele, Tre'vonn Rybka, Torrance Davis and Izayah Cummings. The Male wide receiver is supposed to join my radio show in about ten minutes, so we'll know something soon regardless.
---
8:22 (Nick) — Welcome Kalil Branham!
Kalil Branham
About: Branham grew up excelling on the gridiron in the shadow of the Horseshoe in Columbus, Oh. Branham initially committed to Michigan before the UK spring game made him a reconsider. You only need to take one glance at his Twitter page to see he is an incredibly hard worker. This guy cannot wait to get to campus this spring to get to work.
Luckett's Film Room: The former Michigan commit brings some solid size to the position (6-foot-1, 205 pounds) and is very tough to tackle with the football in his hands. He was used as a wildcat quarterback and has some tremendous run after catch ability. He has some deceptive speed that allows him to create separation on vertical routes. His change of direction makes him very dangerous when he gets the ball in space. He will be an outside receiver, but has the chance to be used in the slot because of the size and physicality he plays with. He should be able to give UK a dependable intermediate target in addition to a receiver who can go deep. Don't be surprised if he pushes for early playing time.
---
8:12 (Drew) — Tweet of the Day
Ingrid Allen, mother of UK quarterback signee Beau Allen, shared an old photo of her son from early in his childhood when being the QB at Kentucky was only a dream:
---
8:08 (Drew) — Vince Marrow on winning the state…
On UK's Signing Day online broadcast, Vince Marrow said, "This is the state school. Nothing against that school down the road, but this is the true state school."
"A lot of Kentucky prospects are starting to see that."
---
8:06 (Nick) — A Legacy Recruit is Officially Official
Andru Phillips
About: Raised in Louisville, the high three-star cornerback spent his high school years playing cornerback just outside of Greenville, South Carolina. The son of a former UK linebacker and a track star, Phillips is a standout on the gridiron and on the track. You haven't heard much about Phillips leading into signing day, but you'll hear his name called many times over the PA at Kroger Field in the future.
Luckett's Film Room: The 5-foot-11 corner is an excellent tackler and does a very good job of beating blocks and taking ballcarriers to the ground. In the run game, he does a great job of playing downhill and delivers a blow when he gets there. He seeks out contact in both the pass and ground game and is a head seeking missile. To no one's surprise, he also brings that physicality in coverage and flat out punches wideouts in the mouth on press coverage. He was an effective blitzer and was really about as physical as you could expect any secondary player to be in high school despite not great size. From the jump he should be a special teams impacter and it's worth nothing he had multiple blocked kicks on his high school tape. Phillips could very well be moved to the nickel position where UK needs both corner and safety skills.
UPDATED (Tyler, 10:48): We would be remiss not to include this footage of Phillips jumping over a car.
on who I don't got no bounce… pic.twitter.com/lLM9GneYHw

— dru (@AndruPhillips) February 27, 2019
---
8:01 (Nick) — The Cats add a big boy from the Deep South. UK's Offensive Line class is now complete.
Joshua Jones
About: The enormous offensive lineman played in back-to-back state championship games in Alabama's largest class of football, helping his team take home the title in 2018. A likely candidate to move from tackle to guard in Lexington, the Deep South prospect picked UK over LSU, Florida State, Ole Miss and Tennessee.
Luckett's Film Room: Jones has the motor, technique, and leg drive to excel at the next level. A powerful prospect, he's an athletic kid who will easily play at around 320 pounds in college. Add that solid weight on to his 6-foot-6 frame and he physically looks like a really good SEC offensive lineman.
---
7:53 (Nick) — Two more bricks to the Big Blue Wall (and an incredible running back).
JuTahn McClain
About: McClain wasted no time committing to Kentucky, rolling the dice the day after Davis publicly announced his commitment to UK. Just like Davis, McClain is a versatile playmaker. The Cincinnati native rushed for almost 2,000 yards in his final high school season. He held scholarship offers from Ohio State, Penn State, Michigan, Purdue and Louisville among others.
Luckett's Film Room: On his tape he shows some very quality patience when asked to run in between the tackles. A one-cut runner, he also has the ability to spread out and be a factor in the passing game. McClain consistently catches the ball with his hands and should be able to factor in as a pass catcher.
Jeremy Flax
About: An All-American offensive lineman at Independence C.C., Auburn absolutely blitzed Flax on the recruiting trail. The Tigers appeared to have all the momentum until Steve Clinkscale and Eddie Gran convinced him to officially visit last weekend. The visit helped Kentucky add another brick to the Big Blue Wall.
Luckett's Film Room: The junior college product plays with a very wide base that gives him tremendous power. This allows him to thump defenders in the run game. Thanks to a very nice punch, he is able to consistently knock opponents backwards. He's athletic enough to get hands on second level defenders when needed and does a really good job of finishing once he is locked onto a defender. Despite playing right tackle at Independence CC, his best position in Lexington could be at guard and I would suspect he'll be in the mix to start at the open position next to Drake Jackson next season. Fits the identity of Kentucky's Big Blue Wall as a road grader, but needs work in pass protection. Is not a great puller and will be better off used in combo blocks within UK's inside zone scheme. Continues the Detroit pipeline that is being built by Steve Clinkscale.
R.J. Adams
About: Kentucky's DMV products have panned out well so far (Boogie Watson and Josh Paschal). This one is just as talented coming out of high school. A one-time Penn State commit, Adams reopened his recruitment following an official visit to Kentucky. Things looked good for the Cats all the way up until the end. Most folks believed he would ultimately choose N.C. State, but Brad White and Mark Stoops won out for the explosive athlete in the trenches.
Luckett's Film Room:
---
7:39 (Drew) — JOEY GATEWOOD IS A CAT!!!!
Joey Gatewood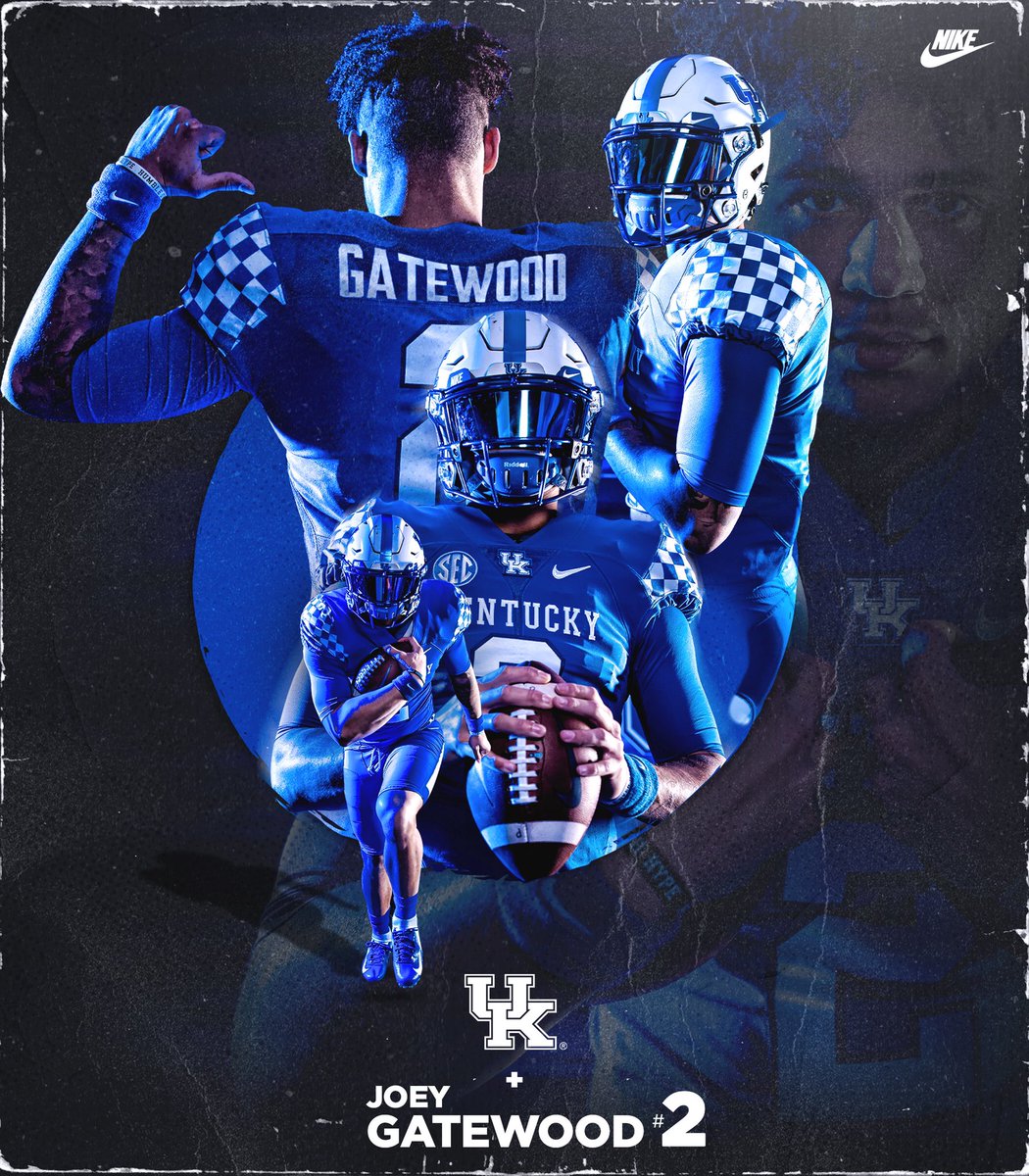 Joey Gatewood is officially a Kentucky Wildcat! A top-50 recruit coming out of high school, Gatewood transfers to Lexington from Auburn, where he redshirted his first season and decided to pursue new options midway through 2019. The staff is VERY excited to have a player of his caliber in the quarterback room with two years of eligibility, maybe more. Coach Stoops said, "He's a big ol' dude. He's a monster," while noting Gatewood's athleticism is perfect for UK's offense.
Learn more in Luckett's Film Room: Joey Gatewood.
---
7:35 (Nick) — The floodgates have opened.
Earnest Sanders
About: Steve Clinkscale is pretty good at convincing Michigan kids to make the drive down I-75 to play for the University of Kentucky. The talented wide receiver that also stars on the hardwood picked the Cats over Penn State, Michigan State, Purdue, Washington State and West Virginia. The athletic wide receiver is bringing a high ceiling to Lexington.
Luckett's Film Room: The receiver is a long strider who gets to the top of his deep routes very quickly. Sanders is also a very effective receiver in the quick game, showing a little wiggle to make defenders miss before busting free. He's not afraid to go across the middle and make some plays in traffic. Earnest Sanders is a straight up football player who will find his way onto the field. One of my favorite tapes in the 2020 class.
Rickey Hyatt Jr.
About: The last time Vince Marrow successfully recruited a player from Westerville Central High School, he became the school's all-time leading rusher. Unlike Benny Snell, this track star was recruited by Ohio State. Hyatt Jr. also had offers from Notre Dame and Michigan State when he ultimately decided it was best to drive down I-75 to play for the Wildcats in Lexington, rather than the friendly confines of the Horseshoe.
Luckett's Film Room: The safety is a long strider who can cover a lot of ground in a hurry. The last line of defense, Hyatt creates big plays from the centerfield of the defense. Just because he's at his best deep in coverage, doesn't mean he's afraid to stick his nose in heavy traffic to support the run defense.
Carrington Valentine
About: The three-star defensive back is the second player Vince Marrow has recruited from Cincinnati football powerhouse Archbishop Moeller. A versatile athlete that trains with Izayah Cummings in Louisville, Valentine picked UK over Michigan State and Cincinnati among others.
Luckett's Film Room: A two-sport star, Valentine's elite athleticism can be seen on the hardwood and the gridiron. The high school prospect excels in some of the IQ parts of the game. He reads and reacts quickly in addition to being able to play fast in both man and zone coverage. Those are some solid skills to possess this early in his development.
Deondre Buford
About: The talented and lengthy offensive tackle from Detroit had offers LSU, Penn State, Miami, Missouri, Pitt and Purdue before he decided to join a growing contingency from the Great Lakes State in Lexington. A four-star recruit in the 247 rankings, Coach Clink is cleaning up on the trail in Michigan.
Luckett's Film Room: Deondre Buford looks like your prototypical left tackle. At 6-foot-4, he has very good positional athleticism and that shows up in his pass protection. His takeoff at the line of scrimmage needs some sharpening, but he has shown the power required to succeed in run blocking. Buford has a very, very high ceiling.
D'Eryk Jackson
About: Jon Sumrall's first commitment will play in his position room. The inside linebacker had scholarship offers from Ole Miss and Miss. State when he attended Kentucky's camp over the summer. He left with an offer and committed the following day.
Luckett's Film Room: A perfect fit as the "thumper" in Mark Stoops' 3-4 defense, on nearly every tackle the linebacker is knocking people backwards. Jackson never hesitates to drops the hammer when he arrives to the ballcarrier. He is at his best screaming down the hill or knifing through gaps to produce a run stuff. The inside linebacker must prove he can make plays in space so he can stay on the field on all three downs.
---
7:33 (Nick) — Hey! It's John Young!
John Young
About: The first lasting commitment in the 2020 recruiting class, Young has left a legacy before ever stepping on campus. An exceptional recruiter, the Louisville offensive tackle became the class' ringleader at a now infamous weekend in April that featured four official visitors that all ultimately became Wildcats — Young, Dru Phillips, Beau Allen and Justin Rogers.
Luckett's Film Room: The blue-chip prospect did not give up a sack during his senior season, but the best thing this projected offensive tackle does is move people in the run game. Young plays with heavy hands that allows him to strike opposing defenders off balance and from there a very strong leg drive takes over. He plays under control when taking on linebackers and safeties in space in addition to keeping good balance. In pass protection, he has all the size you could want but most focus on keeping his weight back and not getting overextended by more athletic players. Due to his level of competition in high school, he wasn't challenged much in this regard. He will enter UK as an offensive tackle, but I wouldn't be surprised if they moved him to offensive guard similar to Luke Fortner and Logan Stenberg. He is a road grader and fits the identity that the Big Blue Wall has built.
---
7:31 (Nick) — The first group of LOIs has arrived. Beau Allen was the first to submit his forms.
Beau Allen
About: The son of former UK quarterback Bill Allen, he grew up just a few miles from Kentucky's campus. One of the most proficient passers in Kentucky high school football history, you'll find his 11,439 passing yards and 127 touchdown passes in the KHSAA record books. After a couple of whiffs recruiting the position over the last few cycles, the Cats got their guy early, enticing other talented playmakers to join the BBN.
Luckett's Film Room: It's clear that Allen has the arm talent to go deep and he delivers the ball with accuracy. He consistently throws his receivers open on vertical routes and seems to have very good pocket mechanics. Allen is at his best when he takes a short drop and gets the ball out quickly. When called for, he can sling it like a shortstop in baseball and delivers it with accuracy. One of Allen's biggest strengths is his accuracy and that usually translates very well to college ball. He also has pretty good wheels for a "pocket passer."