KSR's 14 Best Moments of 2014
Before we all go our separate ways to drink champagne and/or go to bed early, it's time for that age-old tradition of reflecting on the past year in Kentucky sports. 2014 definitely had its ups and downs, but looking back, it ended up being one of the sweetest years in recent memory. Drew and I came up with fourteen of our best moments of the year, which ended up being a much more difficult task than I anticipated. Without further ado…
MRS. TYLER THOMPSON
Best football recruiting moment: The Matt Elam announcement
Since Mark Stoops took over, football recruiting announcements have started to get the same fanfare around here as their basketball counterparts. We first got a glimpse of that in Ryan Timmons and Drew Barker's announcements (Jason Hatcher's was more of a signing day surprise), but no football recruit dominated KSR more than Matt Elam. His was the never-ending recruitment, garnering buzz just as big as he is to the point it seemed like almost every other post on the site was about him. On January 30, Elam picked Kentucky over Alabama in a press conference at his school, and Matt, Ryan, and Drew were there to cover it live on air. When Elam put on that big UK helmet (brought to the presser by our own Matt Jones), it resulted in one of the biggest football traffic days on the site. With Damien Harris, another in-state superstar, set to announce his own decision in about ten days, we're just getting started, bro.
Best prediction: Aaron Harrison at South Carolina
If we were to make a "Worst of 2014" list, the South Carolina basketball game would be right at the top. The Cats were the worst versions of themselves in Columbia that day, pushing Calipari to the point he was ejected from the game. I was there, and I'll never forget Larry Vaught telling me to pack my stuff up early in the final minute of the game so I wouldn't get trampled by the students as they rushed the court. The postgame presser was one of the saddest I've ever covered, with John Robic manning the mic for an AWOL Calipari and Aaron Harrison and James Young clearly fighting tears when they walked into the media room; however, there was one moment that in retrospect, made it all worth it. When asked how he felt about the rest of the season, Aaron Harrison said he still believed in his team. "We know what we can do, and it's going to be a great story." That line foreshadowed Kentucky's improbable run, and along with his buzzer-beating threes, made Aaron a legend in Kentucky basketball history.
Most surreal win: Wichita State
How could we not include the game that Sports Illustrated voted the best of the year in college basketball? There were so many surreal moments that day, from UK being the "underdog" to Ryan breaking his tooth on a piece of toasted ravioli before the game to Kentucky pulling off the upset, but my favorite happened after the game was over. Ryan, Drew, and I were waiting with the rest of the media outside the locker room when Matt ran in from watching the game wherever he watches the games these days. The four of us hugged and basked in the giddiness of the win while the rest of the reporters around us glowered, clearly pissed off that UK won and they had to rewrite their columns. Little did we know that would be the first of many postgame celebrations.
Sweetest win: Louisville in the Sweet 16
If the Wichita State win was surreal, the one over Louisville in the Sweet 16 was just that–sweet. Like most of the BBN, I was a nervous wreck, and decided to go to the arena early to watch Tennessee/Michigan rather than go to the pregame show, which Drew will write more about in a minute. It was a gamble that paid off, as I was able to secure three lower level media seats for me, Drew, and Ryan right behind the team. It seems crazy given UK's recent dominance of the rivalry, but it really didn't look like Kentucky was going to win that game. Louisville stormed out to a 13-point lead at the start of the game and was still up by seven with five minutes left, the atmosphere so tense that John Robic broke a clipboard; however, Aaron Harrison saved the day as he often does with a three in the final thirty-two seconds to give the Cats the lead for good. There was no sweeter moment than soaking in the win in an empty Lucas Oil Stadium during the postgame show, and no sweeter memento than the piece of that clipboard that hangs on my wall.
ONE MORE YEAR #BBN #strivefor9

— Andrew Harrison (@DrewRoc5) April 25, 2014
Best Comeback: The Harrison Twins
It took a while to wind down from UK's ridiculous tournament run, and the weeks after were pretty emotional, starting with the team's bittersweet return to Lexington. At that point, we had no clue that the loss to UConn in the finals would sow the seed to cause all but Julius Randle and James Young to return for another year. We expected Alex, Dakari, and Marcus to come back, but when Willie announced he was also returning for his junior year, it seemed too good to be true. And then, the Harrison Twins. Do you remember how stressful that was? The BBN was on pins and needles leading up to their announcement, and when they finally said they were coming back on April 25, the stars aligned for something special. In fact, on that day, Dan Dakich tweeted that he believes Kentucky would go undefeated this season. Hmm…
Best bonding moment: The Bahamas ice bucket challenge
The Bahamas tour may go down as one of the most important moments for this Kentucky team in terms of chemistry. That whole trip was hilarious and surreal for many reasons, but my favorite moment was watching the team do the ice bucket challenge on the beach. Matt tipped me off at the game that the team was going to do the challenge so I could go to the beach directly after the game, and on the shuttle ride back to the hotel, my husband and I were in such a good mood that we decided to tell Jerry Tipton about it. Jerry was excited because his editor wanted a "human interest story," and he, my husband, and I spent the next thirty minutes walking around the Atlantis beach trying to find the team. Just as it was looking like I made the whole thing up, here came a shirtless John Robic in swim trunks and sunglasses. Watching the team do the challenge was awesome, but hearing Calipari and Robic dare Jerry Tipton–in khakis and a button-down despite the hot Bahamian sun–to do it as well was priceless. "I don't want to get my iPad wet," Jerry said, much to our dismay.

Best "Whoa" Moment: The win over Kansas
What was the moment we realized UK could live up to the hype this season? The 32-point win over Kansas. After being burned by high expectations last season, the BBN has been reluctant to embrace them this go-around, but it was impossible not to after the Cats manhandled the then fifth-ranked Jayhawks. Calipari was just as giddy as we were after the game, telling reporters that his platoons were like "tanks coming over the hill," and Bill Self and Kansas had the unfortunate luck of "running into a buzzsaw" that night. The first half against UCLA is a close-runner up, but the Kansas beatdown will go down as a night of pure bliss, and the moment we realized this season could be truly special.
DREW FRANKLIN:
Best Use Of Waka Flocka Flame: "Grove Street" Kickoff Dance
Kentucky's biggest football win of the season, its biggest victory in several years, featured two of the best moments of 2014. We saw Bud Dupree return a batted pass to the end zone for the game-winning score with two minutes remaining after the Cats trailed by 14 in the fourth quarter. It was the play of the season for Kentucky and it couldn't have come from a better guy.
But that game also gave us the "Grove Street" kickoff dance that produced an energy in Commonwealth Stadium we hadn't seen in quite some time. The kicking unit bounced back and forth after a Kentucky score and it was then that we realized there is some swagger back in the program.
"We Didn't Get Punched!": Louisville Pregame Show in Indianapolis
Whoever thought it was a good idea to put the Sweet 16 pregame show at the Louisville meet-up bar in Indianapolis, thank you. THANK YOU. That pregame show was one of our best hours of radio, ever, as we taunted Louisville fans directly to their faces before the Cats sent their Cards home from the NCAA Tournament. It got a little feisty at times, but we managed to escape the bar unscathed.
Unexpected Dunk of the Year: Dominique Hawkins
2014 was full of incredible dunks but none got me out of my seat like Dominique Hawkins' two-handed slam against Boston. Hawkins cut backdoor to finish off a lob from Devin Booker over the top of a Boston defender. Booker said afterward he threw the ball too high but knew Hawkins would get it because he's seen him do it before. For fans, it was our first time seeing it and we'd love to see more of the same from the former Kentucky Mr. Basketball.
Best KSR Show Call: Chester
Chester has a problem with the University of Kentucky's commitment to education, and he let that be known on a call into KSR. "Educate them on sports," Chester urged. "So maybe you're gifted, you can write a paper, you can read books real fast or whatever, well, what makes you any better than somebody who can dunk a basketball?"
He has a point, kinda.
Dropped Mic of the Year: "Enough talking, let's ball."
John Calipari ended the Big Blue Madness 2014 festivities with a simple drop of the mic, maybe his swaggiest moment ever. After a night that included a surprise appearance by Drake and the official return of several of last year's key players, Coach Cal told the crowd, "Let's ball."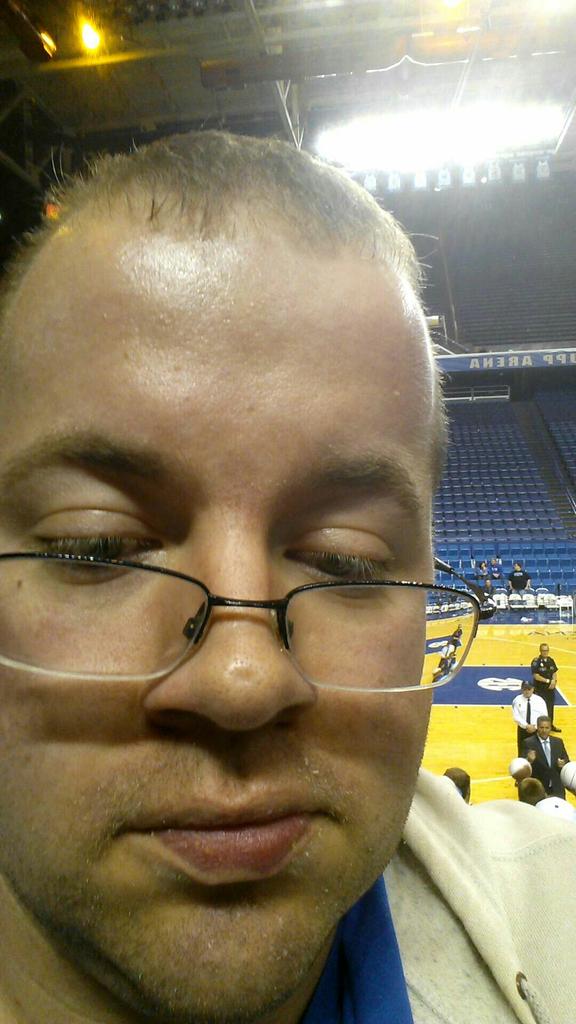 Best Selfie: Kige Ramsey with John Calipari
"Oh just a selfie with John Calipari," Kige Ramsey tweeted during Cal's postgame radio interview following Kentucky's win over Grand Canyon. Kige has stepped away from the YouTube fame of yesteryear, but this photo reminded us why he is and always will be one of our favorites.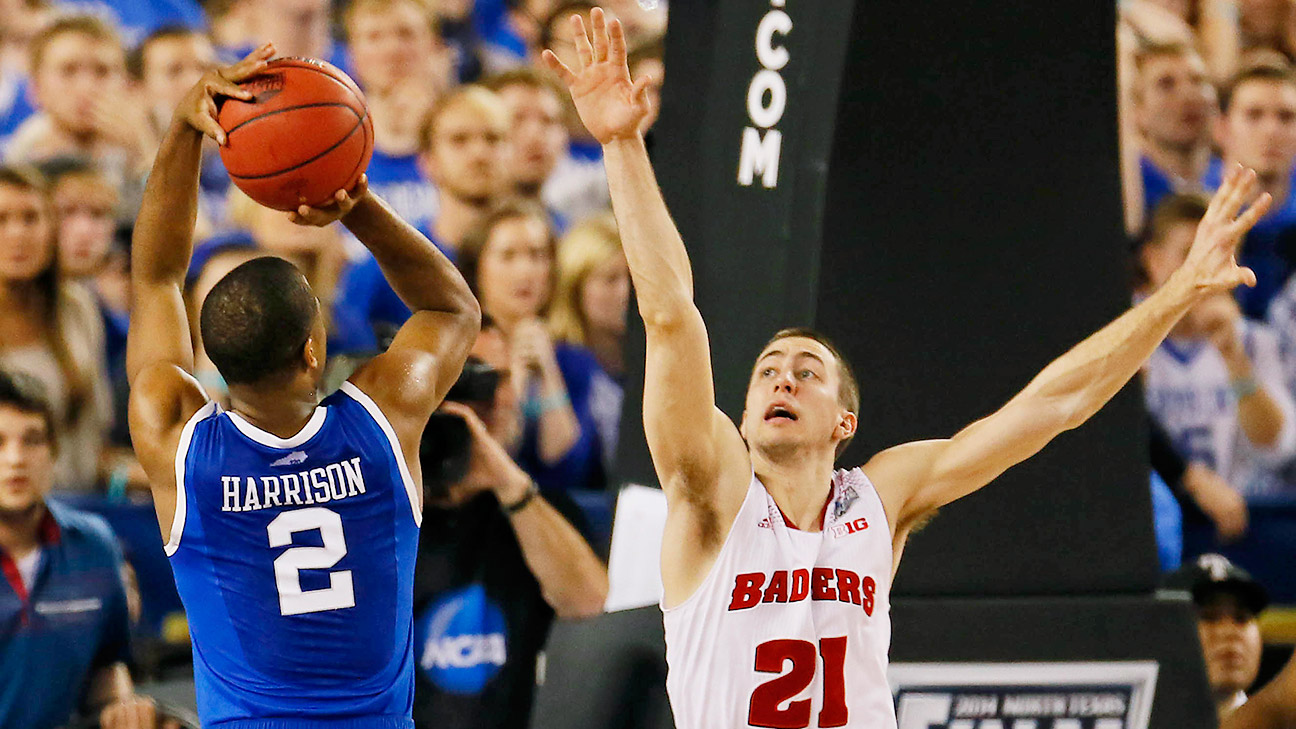 Improbable Shot of the Year: Aaron Harrison vs. Wisconsin
UK's undisputed Play of the Year was Harrison's third game-winning three-pointer in as many NCAA Tournament games and it sent Kentucky to the national championship in Dallas. It also sent a nation into a frenzy in our YouTube Video of the Year:
Let's do this, 2015…