KSR Roundtable: Christmas Edition
Merry Christmas! While we take the day off to spend with our families, enjoy a Christmas edition of the KSR Roundtable.
Favorite Christmas Song/Carol?
Nick Roush: This is like asking me to pick my favorite child. I can't choose just one. My favorites rotate on an annual basis. Last year I was playing Darlene Love on repeat. This year we purchased "A Charlie Brown Christmas" on vinyl (a green one at that), which only usurped "Al Hirt Christmas." I'm sure 99 percent of the people reading this have never heard of Al Hirt or never care to, but feel free to make fun of me for enjoying old people music. With all that being said, Stevie Wonder is the best of the best when it comes to belting Christmas tunes. Someday at Christmas is No. 1 in 2019 (or maybe it's Straight No Chaser's 12 Days of Christmas; I can't decide).
Maggie Davis: My instinct is to say "Carol of the Bells" – that's one of those rare songs that is always done well, no matter who covers it. It also reminds me of the Lexington Fire Department's Christmas light display that's "synched" with the music on a local radio station, which is one of my family's favorite traditions every Christmas season. But don't get me wrong: "All I Want For Christmas Is You" by Mariah Carey is one of the all-time greats. I know it's not necessarily a "classic," but I stand by what I said. Don't try to fool yourself – we all wish we could hit that high note.
Jack Pilgrim: I could go a number of different ways with this, but I'll cut it down to two categories: radio hits and actual "Christmas" music. In the former category, "Santa Claus Is Coming To Town" by Bruce Springsteen is No. 1 on my list, but I have to admit, "Merry Christmas, Happy Holidays" by N'Sync is not far behind. Pull my man card if you want, but if you want one song to put you in the Christmas spirit, I promise you that one will do the trick. In the latter category, "Mary, Did You Know?" and "O Come, O Come Emmanuel" are neck-and-neck at the top of my list.
Tyler Thompson: After three days in Vegas during the holidays, I'm not sure I can hear Mariah Carey's All I Want For Christmas Is You for at least another year, which is a terrible shame because it used to be a top three Christmas jam. A song that will never get old is Darlene Love's Christmas (Baby Please Come Home), which she performed on "The Late Show With David Letterman" for nearly 30 years. This gives me an excuse to once again recommend the documentary "Twenty Feet From Stardom," which tells the story of Love and other backup singers who deserved their own share of the spotlight.
It's written in my KSR contract that I can't write a post about Christmas songs without mentioning this classic:
Drew Franklin: Of all the great songs and carols out there, none get up in my holiday feelings like Marvin Hightower singing "Mary, Did You Know?" at the First Presbyterian Church in Madisonville, Ky. In a close second, give me anything from the Christmas Vacation or Home Alone soundtracks, or DMX's version of "Rudolph The Red-Nosed Reindeer."

---
Favorite Kentucky vs. Louisville basketball memory?
Nick: On December 27, 2014 I made a $1 bet that Kentucky would take the tip-off against Louisville. On June 30, 2018 I married the loser of that bet.
Maggie: Since I grew up in a household with one good cop (my UK-loving mom) and one bad cop (my UofL-loving father), the importance of the annual rivalry game was engrained in me as a young child. The stress of the football game was usually off-set by Thanksgiving spent in a "neutral" town, but there was no hiding from the yearly basketball matchup. It's been years since I could stomach watching this game in the same room as my dad; this picture is all of the evidence we have of that viewing. This is the day I learned it's just too hard to watch a Kentucky-Louisville game alongside someone who's passionately wearing the wrong color.
As someone born and raised on the Kentucky-Louisville rivalry, I'd be hard-pressed to find a better memory than the first time I covered the game for this very website. The buildup into the December 29, 2017 matchup was something special, and UK's dominating 90-61 victory made it all the more sweet. KSR gave me the opportunity to play a new role in this rivalry that day – a role where I couldn't officially wear blue or even audibly cheer from my seat on press row, but I could voice my opinions and reactions on a huge platform, and I had a pretty good view of the game (and the post-game press conferences).
Jack: March 31, 2012 or March 28, 2014 are tied at the top for me for similar, yet completely different reasons. The similarities are obvious: both victories allowed Kentucky to move on in the NCAA Tournament. The 2012 victory came in the Final Four with the eyes of the entire college basketball world watching, leaving Kentucky just one victory away from its eighth national championship. The 2014 victory, however, was the start of Aaron Harrison's historic run of last-second jumpers in the tournament and one of the most memorable stretches of basketball in my lifetime. My expectations were higher for the 2012 team because UK had established itself as the title favorite, while the magic behind the 2014 team's run came almost entirely due to the lack of expectation and the surprise factor of the game-winning shots themselves. No matter how you look at it, those were two signature victories of the Calipari era in Lexington.
Tyler: This is like picking a favorite Baby Yoda moment. I was at Rupp with my sister in December 2001 for Rick's first game back as the head coach of Louisville, and let me tell you, few wins have been that satisfying. That being said, I'm going with the Sweet 16 win over the Cards in 2014 as my favorite. Not only was Kentucky an underdog, they trailed for most of the game before Alex Poythress sparked a big run to put the Cats up with four and a half minutes left and Aaron Harrison hit the first of three clutch threes along with two big free throws to seal the win. It was so exciting that John Robic broke a clipboard over his knee, half of which still hangs on my office wall. Drew Franklin has the other half, making it a friendship necklace in the most ridiculous manner possible.
Drew: How do I pick a favorite UK-Louisville basketball memory when there are so many? I'll say Patrick Sparks hitting three free throws with no time on the clock to win in Freedom Hall. Or when DeMarcus Cousins used Jared Swopshire's face to wipe the sweat off his elbow. Or when Calipari, in the first minute of his first UK-Louisville game, told Reginald Delk to be careful messing with Eric Bledsoe. Or when Willie Cauley-Stein stared through Montrezl Harrell's soul. Or Derek Anderson's dunk. Or Joe Crawford's dunk. Or Kenny Walker's dunk. Or Chris Jones' flop. Or Josh Harrellson's double-double. Or Rick Pitino giving the finger to Rupp Arena because he was weak and defeated. Or the time Louisville made the Final Four, only to get sent straight back home by Anthony Davis, who reminded everyone, emphatically, that it was his stage. Or when Louisville was the favorite over the Cats in the Sweet 16, but got caught on the wrong end of Aaron Harrison's kill shot. Yeah, I like that one. It made for an all-time party in Indianapolis.
---
On a scale of 1-10, what is your level of confidence going into the Louisville game ?
Nick: 5. I've adjusted expectations for this season. Yes, Ohio State might be the best team the Cats face all season, but I still spent two hours pulling out what little hair I have left. This year I'm just telling every Louisville fan I know, "If you can't beat Kentucky this year, you'll never win the rivalry game."
Maggie: 7. This game always makes me nervous, even during the years when Kentucky is clearly the better team. The stakes are always high, but this year's potential win feels more important than most. Sure, John Calipari's teams have always been "up" for the rivalry game, and Coach Cal himself has an impressive record over the Cardinals. And yes, his teams also typically have the tendency to play to their opponent's level, but the question still remains: are the No. 19 Cats even capable of playing up to No. 3 Louisville's level right now? If UK hadn't just dropped two in a row in Vegas, I'd probably have a better gut feeling and thus a higher level of confidence. Still, I'm optimistic.
Jack: 7. Where Kentucky thrives, Louisville struggles. The Wildcats have their flaws, but the guards carry the team while the Cards struggle in the backcourt. If Ashton Hagans and Tyrese Maxey are on, UK should be able to control the pace of the game and make it difficult for the UofL backcourt to get comfortable on the opposite end of the floor. The Cats will need someone to slow down Jordan Nwora – not an easy task in the slightest – but Kentucky will have some favorable matchups. Whether or not they will capitalize, especially after back-to-back losses in Las Vegas, is the question.
UK has no choice but to turn things around. Might as well start against your bitter in-state rival, right?
Tyler: 6. Kentucky's two losses in Vegas showcased this team's flaws (shooting, post play, lack of a go-to guy), but the Cats also showed some fight vs. Ohio State, which gives me a little bit of faith vs. the Cards. I like Kentucky's guards more than I do Louisville's, and at some point, the shots have to start falling, right? Right??
Drew: One… thousand. Maybe even higher. Hell let's call it a million. Two million, three million, four. I've been as disappointed as anyone in Kentucky's start to this season — and sure, Louisville's the third-ranked team right now and Chris Mack seems to have washed that program clean of its sins and bodily fluids — but when it comes to the rivalry game, Kentucky kicks those stupid bird teeth in each and every year.
---
Favorite Christmas Gift?
Nick: Of all the big Christmases at the Roush House, one stands above the rest: Razor scooter Christmas. With four kids in one household, each one of us needed our own scooter to keep the peace. Not every scooter was the name-brand, but that didn't matter. In fact, one of the Value City generic scooters was the fastest of the bunch, ultimately leading to a hilarious (in hindsight) accident at the Barren River Lake State Park campground later in the year.
Jack: Back in 2006, the PlayStation 3 released right around Christmas, and it was a gift I asked for knowing there wasn't a chance in the world it'd be under my tree. Not only was it sold out everywhere in the city of Louisville, it was also ridiculously expensive and something I never would've expected my parents to swing for. The pure joy I felt that Christmas morning when my brother, sister, and I opened up that family gift is something I'll never forget. 13 years later, I still have that same console set up in my room for nothing more than sentimental value.
On a sappier note, this is also my first (and last) Christmas engaged to my fiancée as we prepare for our wedding in the spring. It's been one heck of a journey to get to this point, so I'd be lying if I said this Christmas wasn't a bit more special than some I've celebrated in the past.
Sappy time over.
Maggie: This one is really putting me on the spot, but I'm going to go with our family "Wii" video game machine from several years back. Those consoles were all the rage that year and were impossible to find in-stock in stores, so my sister and I were certain we wouldn't find one under our tree. Amazingly, Santa came through, and celebratory Mario Kart was played all day (and year). My dad was later given the Tiger Woods golf game to play on that same Wii, but he never got around to actually playing it or even opening the game out of its plastic wrap. Year after year, that same Tiger game finds its way back under our tree. Maybe one day my dad will get to it, or maybe the Davis family will one day have a really rare Tiger Woods collectable item. What can I say? Santa is the best. Merry Christmas, everyone!
Tyler: Nothing will top the Christmas my dad surprised me with a Jack Russell puppy, who we named Mumme after Kentucky's larger-than-life football coach at the time. Once Mumme resigned, we tried renaming our dog Morris after Guy Morris, but it never stuck. Somewhere, Jared Lorenzen is smiling at that.
Drew: At the time, I didn't think life could get any better than when Santa left a Nintendo 64 under the tree for me in '96. Nobody wanted this smoke in Madden 64 or 1080 Snowboarding or WCW vs nWo: World Tour.
This year my sister got me a rare, new-with-tags hat from the '96 Final Four in the Meadowlands. What a find.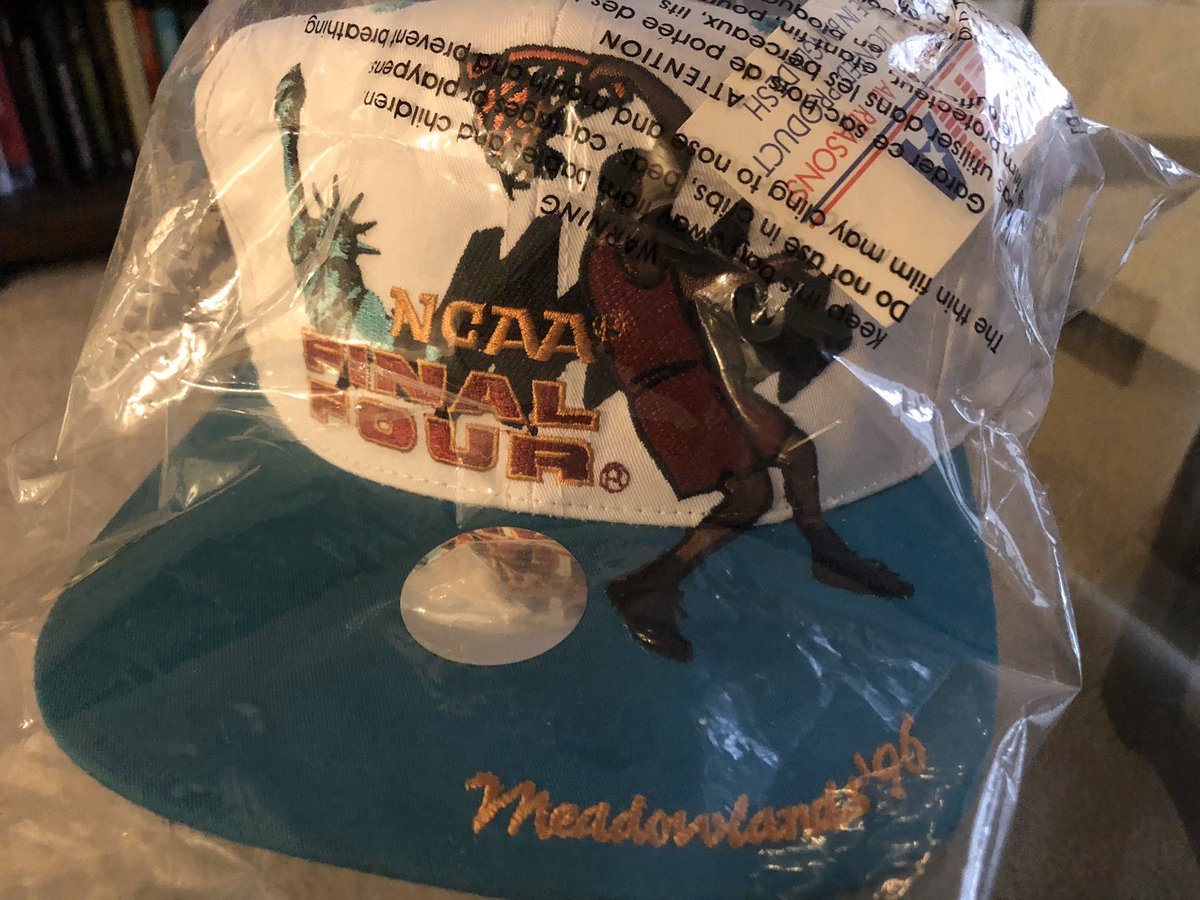 ---
Merry Christmas from all of us here at KSR!!!!