KSR and TwinSpires.com's Free $20 Wager's Tuesday News and Views
The Kentucky Derby is upon us and our friends at TwinSpires.com want to help KSR readers and listeners get rich by giving you a free $20 wager. The details:
Exclusive Offer for Kentucky Sports Radio Listeners: Sign up for a new account with TwinSpires.com, deposit $20 and we'll give you a free $20 wager on the Kentucky Derby.
Players who sign-up and use promo code KSR20 will receive a free $20 wager after making a $20 deposit.
The $20 wager will be credited within 72 hours of the $20 deposit. No wagering is required to receive the free $20 wager. Players will also be eligible for our $100 Sign-Up Bonus. If players entering the KSR20 promo code meet the requirements of the $100 Sign-Up Bonus, an additional $80 will be deposited to their accounts.
See $100 Sign-Up Bonus for rules and restrictions.
*****
We'll lead off with a picture of Andrew Harrison in a tuxedo because Why Not?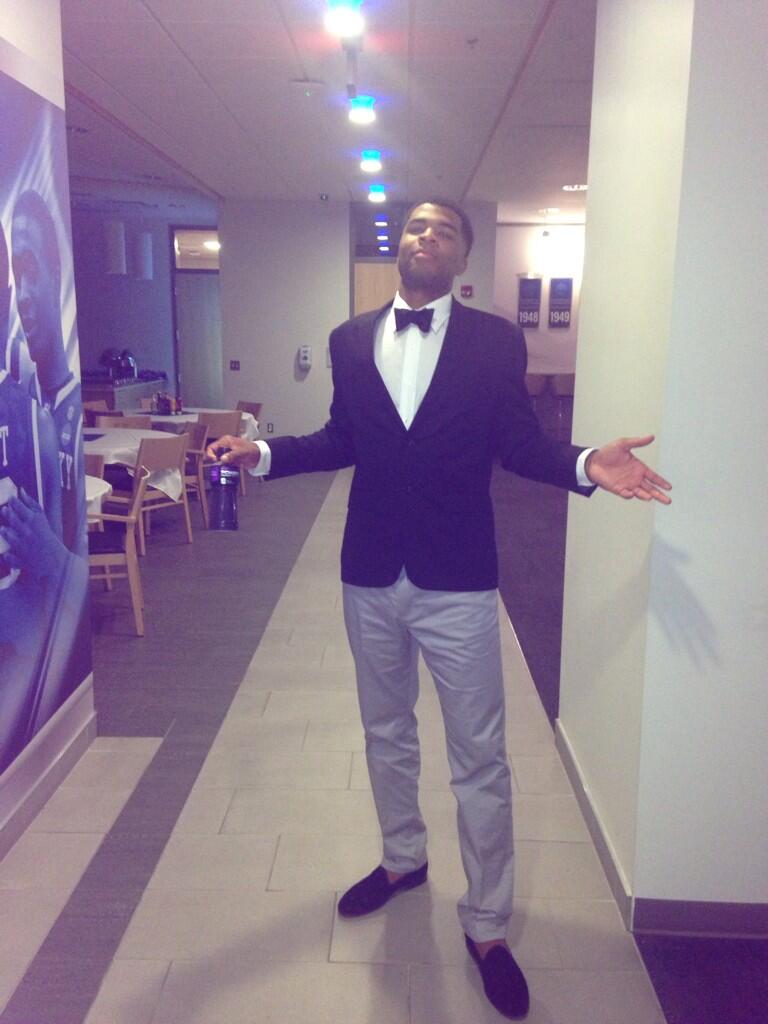 So there ya go. Andrew Harrison in a tuxedo. Moving on…
John Calipari discussed next year's rotation for the first time.
Coach Cal won't really know how he'll handle the boatload of talent until he sees everyone on the court next fall, but he addressed his plan for the rotation for the first time on Monday during his appearance on The Sports Junkies:
This year coming up, I have to do a totally different job because I have veterans coming back — now, a veteran to us is a sophomore — and I've got young guys that are watching now and learning from the veterans, which makes my job easier in one sense, yet finding time — one of the things I may do, guys, is we may play this like a pro franchise in that there are rotations. As a starter, you're going to get this many minutes, as a backup, you're getting this many minutes. You're gonna know when you go in the game, and when you hit March, you narrow it down to eight guys, seven guys you're playing.

But, throughout the year, you just make sure you're a big team, you can withstand foul trouble, injuries, anything else that goes wrong, so you play a lot of people, and your whole drive is March, and that's what I think I'm going to do. Will we press more? We're going to end up starting two seven footers, and they'll be backed up by—are your ready?—two seven footers. So, it'll be a little crazy.
Last season he admitted to forgetting about Derek Willis a couple of times early in the season; can you imagine how hard it'll be to keep up with everyone next year?
Listen to Cal's entire segment here.
Texas student newspaper told Myles Turner to go somewhere else.
This one flew under the radar over the weekend but it's worth a mention because it's funny to anyone not at Texas. A writer for The Daily Texan, the university's student newspaper, wrote an article called, "Why five-star recruit Myles Turner should not choose Texas," listing three reasons why becoming a Longhorn would be a bad idea. Turner is scheduled to announce his decision soon and Texas is in the running for his services, along with Kansas. That's not a good look for Rick Barnes or his program.
Julius Randle will be signing things at Tin Roof Louisville.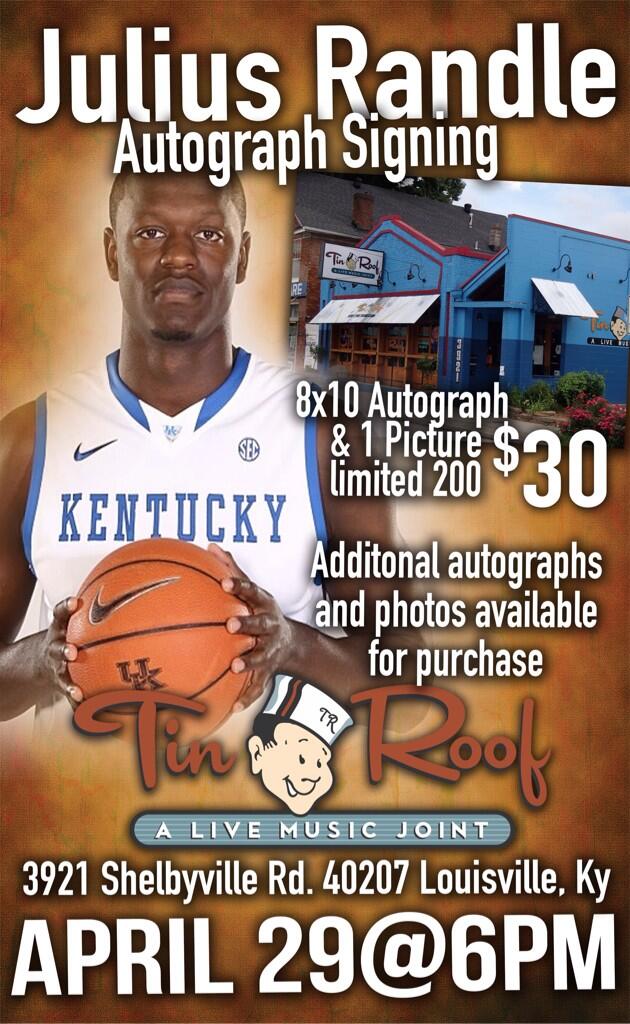 Randle will be making his final appearance on his autograph Tuesday night at Tin Roof Louisville. The UK Young Alumni Club will also be there and has promised to buy the first 100 drinks (soft drinks or Bud Light) for Cats fans in attendance. Julius will be there from 6:00 – 8:30.
Andrew wants to be the best.
Gotta be the best

— Andrew Harrison (@DrewRoc5) April 29, 2014
If he and his teammates put in the necessary work this summer, Kentucky will be.
SportsBook.com congratulated Cats fans that got in on UK at 12/1.
SportsBook.com, the website I hate myself for ever joining in college, sent out a congratulatory tweet to those in Big Blue Nation who snuck in on Kentucky's 12-1 odds to win the national championship. The site's Twitter account wrote, "Congrats to those who got in bets on Kentucky at 12/1 to win national title. Harrison Twins are back at UK now 4/1."
So, congrats!
Alex Poythress named Best Supporting Role at CATPSYs; Julius Randle is Male Rookie of the Year; Aaron Harrison shares Male Performance of the Year; and Avery Williamson is Mr. Wildcat.
Also, a big shout-out to KSR intern Tom Jomby, who received the Heart of a Wildcat Award, presented by Mitch Barnhart. Jomby made three trips to the stage Monday night, also earning Male Academic Team of the Year and Male Team of the Year with the men's tennis team.
Jon Hood enjoying the final stop on his #FarewellTour with Jarrod Polson.
The Farewell Tour is finally over for me and my teammate/best friend @jpolson05, can't believe this is all over. #farewelltour
Meet all of your 2014 CATSPY Award winners…
Community Service Award: Kastine Evans (Women's Basketball); Max Godby (Football)
Wildcat Pride: Women's Swimming and Diving
Female Rookie of the Year: Kelsey Nunley (Softball)
Male Rookie of the Year: Julius Randle (Basketball)
Bill Keightley "Assist" Award: Justin "Pemo" McKinley (Equipment Manager)
Blue Heart Award: Josh Clemons (Football); Ashley VanLandingham (Women's Soccer)
Female Scholar Athlete of the Year: Lindsay Hill (Swimming)
Male Scholar Athlete of the Year: Tyler Riggs (Soccer)
Female Academic Team of the Year: Tennis
Male Academic Team of the Year: Tennis
Impact: Mark Lane
Scratch Award: Micheal Thomas (Baseball); Grace Trimble (Women's Tennis)
Supporting Role: Griffin Joiner (Softball); Alex Poythress (Men's Basketball)
Heart of a Wildcat: Tom Jomby (Men's Tennis)
Female Performance of the Year: Dezerea Bryant (Track); Kendra Harrison (Track); Jennifer O'Neill (Basketball)
Male Performance of the Year: Connor Davis (Rifle); Aaron Harrison (Basketball); AJ Reed (Baseball)
Female Athlete of the Year: Dezerea Bryant (Track)
Male Athlete of the Year: Matt Hillenbrand (Cross Country/Track)
Coach(es) of the Year: John Calipari (Men's Basketball); Edrick Floreal (M/W Track and Field); Rachel Lawson (Softball)
Female Teams of the Year: Softball; Track and Field
Male Teams of the Year: Basketball; Tennis
Miss Wildcat: Lauren Cumbess (Softball)
Mr. Wildcat: Avery Williamson (Football)
I'll leave you with the "Happy" video from the evening, shown at the end of the event. Jarrod Polson has moves:
Go Cats, everybody.