Kraft Beer With Kindsey: SweetWater Brewing Company
It is no secret that bourbon dominates this state, but the craft beer industry is growing in Kentucky. There are locally owned breweries and microbreweries scattered all around the state and it is my mission to travel to each and every one and tell their story.
Special Edition: Georgia
---
There are many great things about the Southeast; the football, the food, the people, the beaches and SweetWater Brewing Company.
SweetWater is located in Atlanta and is the 15th largest craft brewery in the nation.
Freddy Bensch had just graduated from the University of Colorado and was in Atlanta for the 1996 Summer Olympics. He became enamored with the city and saw a need for craft beer, which that had learned to brew in Boulder. Bensch decided to stay and bring craft beer to Atlanta and the South. Bensch and Kevin McNerney co-founded SweetWater on Feb. 17, 1997.
After long days of brewing Bensch, who had a passion for the outdoors, would go to SweetWater Creek to paddle, fish or just be where he loved. The name of the brewery is a tribute to his trips to the creek and his love for the outdoors.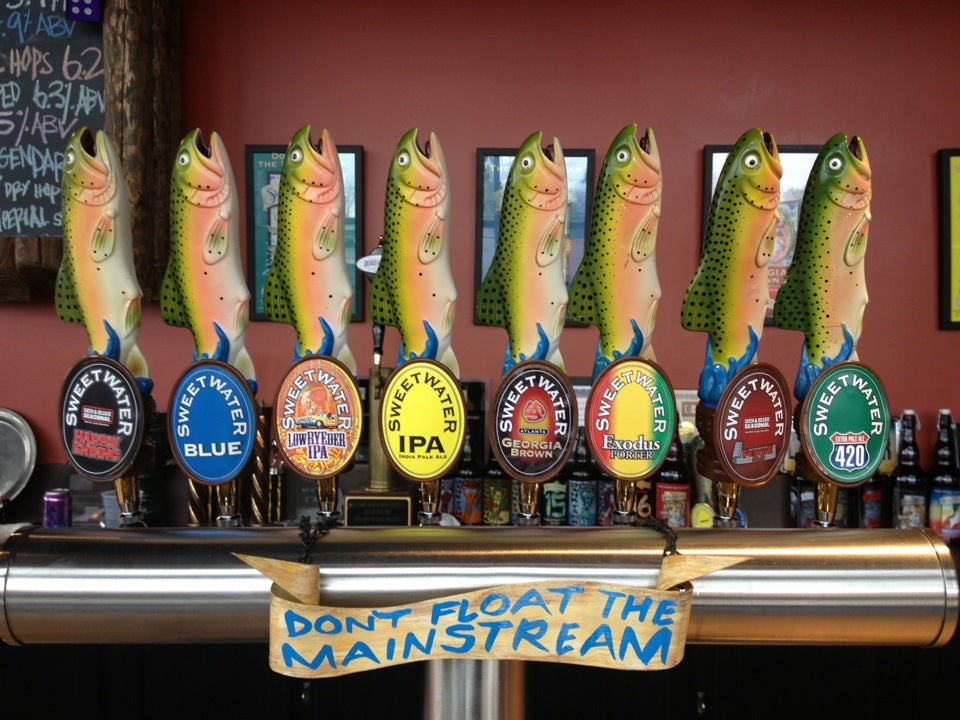 SweetWater's tribute to the outdoors doesn't stop at the name of the brewery.
Bensch graduated with an environmental conservation degree from Colorado and brought his passion for protecting the environment to SweetWater. SweetWater supports the conservation of our natural resources, including some of the country's most threatened rivers, streams and coastlines
In 2006, SweetWater founded the "Save Our Water" program with the local Chattahoochee Riverkeeper in Atlanta. It began as a campaign encouraging people to "give of their liver to save the river."
SweetWater expanded the annual "Save Our Water" campaign in 2016 to generate $200,000 for five partner organizations: Waterkeeper Alliance, Trout Unlimited, Ducks Unlimited, Surfrider and Building Conservation Trust (CCA's National Habitat Program).
"SweetWater's contributions from this campaign allow Ducks Unlimited to raise unrestricted revenue, which is critical for our mission," said Jim Alexander, senior director of corporate relations. "Having the flexibility to put this money to work in our highest priority landscapes is extremely important to effectively delivering on-the-ground conservation."
Since the start of the campaign, SweetWater has helped raise nearly $1 million for clean water initiatives around the country.
SweetWater's year-round beer list includes Extra Pale Ale 420, IPA, TripleTail (tropical IPA), Blue (wheat ale), Goin' Coastal (IPA with pineapple) and Hop Hash Easy IPA.
SweetWater also offers seasonal releases, experimental, one-time-only Dank Tank series brews, limited batches from The Hatchery series (I recommend The Hatchery Series #5) and barrel-aged styles from The Woodlands Project series.
SweetWater collaborated with Braxton Brewing Company in Covington, Ky. in November to create Moving to the Country, a Peach Pale Ale.
"We're stoked to be the first partner in Braxton's Neighbor Series – and we had a blast visiting Covington to brew," said Mark Medlin, SweetWater's brewmaster. "Love that Moving to the Country will bring Georgia's favorite fruit to Kentucky!"
If you're watching from home and need something to drink for the game, pick up some SweetWater beer. If you are in Atlanta need a place to go before or after the Kentucky game on Thursday, SweetWater is worth the visit.
"[You] Can't say you've truly experienced the "A" without a trip to SweetWater!" says Tucker Sarkisian SweetWater's communication manager.
---
My beer picks at SweetWater:
Grass Monkey: This is a hoppy wheat ale with lemongrass. Grass Monkey is a great beer for someone just being introduced to craft beer; light and easy to drink. This is seasonal so don't miss out!
420 Extra Pale Ale: One of my favorite pales ales out there; smooth and slightly hoppy. This is SweetWater's most popular beer and there's a reason for that.
Goin' Coastal IPA: This an IPA with Pineapple and it's delicious; not too sweet and a great IPA for the summer.
---
195 Ottley Drive
Atlanta, GA 30324
www.sweetwaterbrew.com & Taproom Tours