Kentucky's Season Ends in the Super Regional for the Third Consecutive Year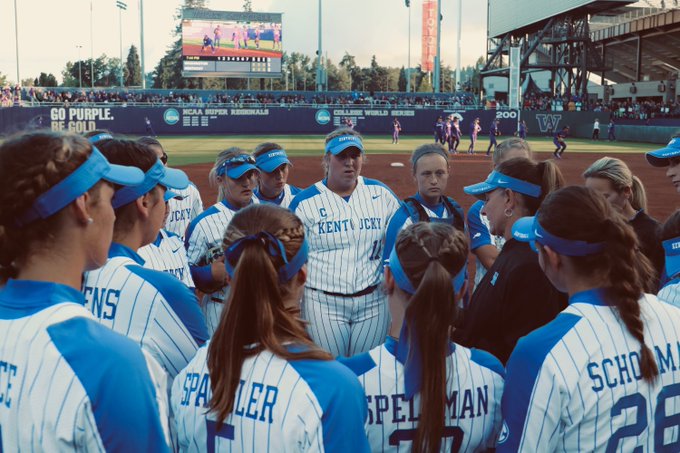 UKsoftball
For the second straight game, Kentucky is shutout as their season ends in the Super Regional for the third consecutive season as they lose to Washington 5-0.
Last night, Washington turned to Gabbie Plain in the second half of the contest, as she was able to keep a Kentucky comeback at bay while holding them scoreless the rest of the way. Tonight, it was Plain who got the start as the Kentucky offense still couldn't figure her out as Plain only allowed four base runners, with one coming on an error by Washington left fielder Sami Reynolds.
Autumn Humes did her best to keep the Huskie offense at bay, as she held them scoreless for four innings after Washington took a one-run lead in the first inning when Morganne Flores hit a double but would come around to score on the play after Baily Vick and Mallory Peyton errors.
Humes kept Washington's one-run lead intact until the sixth inning when Noelle Hee put the Huskies up by three with a two-out two-run home run.
WE HAVE LIFT OFF!! Noelle Hee with the oppo blast to put the Huskies up 3-0 in the 6th.#NCAASoftball | @UWSoftball pic.twitter.com/FSUck4gMFj

— NCAA Softball (@NCAAsoftball) May 26, 2019
Then in the seventh Washington struck for two more on a two-run single from Taryn Atle to give the Huskies a five-run lead heading into the bottom half of the final frame where Gabbie Plain shut down the Wildcats as Washington advances to their third straight college world series.
In the NCAA tournament, Washington has outscored their opponents 26-1 as they head to Oklahoma City.
It was an uncharacteristic weekend at the plate for the Wildcats, but that was a recipe for disaster. Kentucky will lose seniors Jenny Schaper, Kelsee Henson, Sarah Rainwater, and two of the best players to play at Kentucky in Katie Reed and career home run leader at UK, Abbey Cheek.
Reed and cheek were drafted earlier this season.
Kentucky finishes their season with a record 36-24.