Kentucky Swimmers, Divers, Golfers among All-American scholars
Even with no collegiate sports, student athletes at the University of Kentucky are finding ways to stay busy and keep earning praise. Namely, in the classroom. The women's golf team and the men's and women's swimming and diving teams are the latest groups of Wildcats to be recogznied nationally for their academic achievements.
Here's the rundown: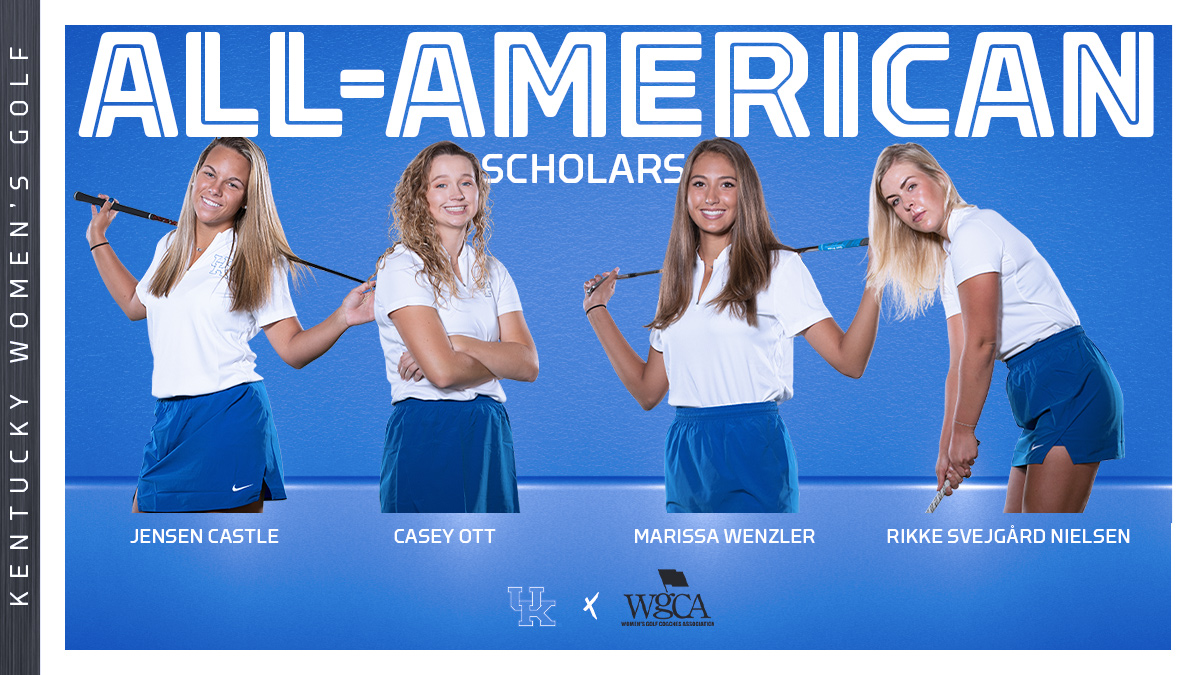 The latest academic honors for the women's golf team include four Wildcats making the 2019-20 Women's Golf Coaches Associational All–American Scholar Team. Junior Rikke Svejgård Nielsen, sophomore Casey Ott, and freshmen Jensen Castle and Marissa Wenzler were among the 1,401 women's collegiate golfers across NCAA Divisions I, II and III recognized with the prestigious honor.
In order to receive this nomination, each golfer must have a minimum cumulative grade-point average of 3.50 for the entirety of her college career, be of high moral character and played in 50% of the college's regularly scheduled competitive rounds during the season nominated. As a team, the student athletes recorded an impressive 3.820 GPA, which is among the highest marks in school history. Even with the challenges brought on by the COVID-19 pandemic and the move to exclusively-online classes, the golfers got it done in the classroom.
Things are looking good for next season, as well. Kentucky's 2020-21 roster is shaping up to be the strongest group of players in program history. Nine of the 10 players from the record-setting 2019-20 season are returning after winning two team championships, setting a new team scoring record and posting ten top-10 individual finishes.
In the pool, Kentucky swimmers and divers have been tabbed to the distinguished list of 2020 Scholar All-American teams for the spring semester.
The Wildcats were given the nod by the College Swimming and Diving Coaches Association based on the women's team GPA of 3.874 and the men's team GPA of 3.715. In total, a record 789 teams from 461 institutions were named to the list of teams achieving a GPA of 3.0 or higher for the spring semester.
This wasn't the first academic award for these teams – the women's team earned its third straight Academic Team of the Year award at the annual CATSPY Awards event in April. The recognition may not be over yet, either. The CSCAA will announce its individual Scholar All-Americans next week.