Kentucky student and family to make appearance on "Family Feud"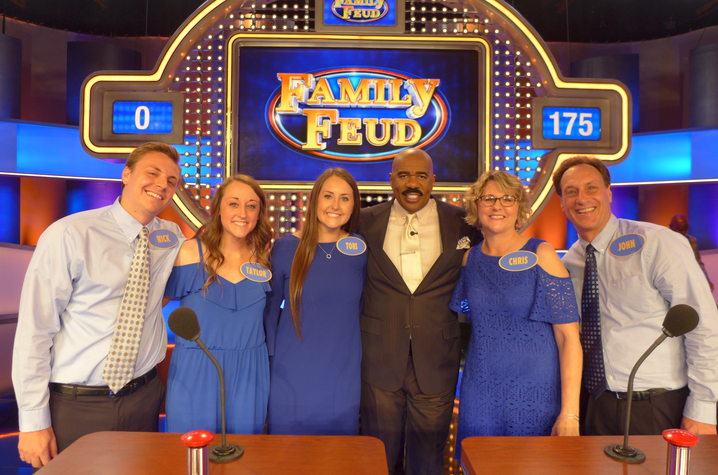 Quick, get to your TV! A student from the University of Kentucky is making an appearance on Steve Harvey's "Family Feud" TONIGHT at 7:30. Tori Konchel, who is a freshman at UK, will be joined by her parents and siblings on Wednesday's episode of the popular game show.
Although Konchel and her family don't actually live in Kentucky (they're from Barlett, Illinois), she had already chosen UK as her college destination prior to the show's taping. So, why not rock Kentucky blue?
In an interview with the school, Konchel talked about her love for the game show and how her family landed the spot. After she applied on behalf of her family of five, the Konchels got an email from the show's production department – long story short, they made it!
"Ever since I was young, I've loved watching 'Family Feud.' I would come home from school, turn on the Game Show Network and watch it. I would record episodes, pause the TV after questions and make everyone in my family answer," Tori said. "In the beginning, my family would get annoyed with how much I would watch it, but eventually we all came to love it and it became a tradition to sit down and watch it together. We even have the Family Feud board game."
The Konchels will be competing against another family for a chance to appear in the show's "Fast Money" round, where they could bring home up to $20,000. Will they be able to do it? We'll find out tonight at 7:30. The show can be seen on the CW in Lexington, and this article will be updated with the results after they air.
---
In a heartbreaking loss, the Konchel family finished the "Fast Money" round just nine points shy of the 200-point threshold they needed to bring home the big bucks. A disappointing loss, but they did the BBN proud!