Kentucky fan with flipped car on State Street gifted with new vehicle
On Saturday, one Kentucky fan's celebration turned into disappointment when he learned his car had been flipped on State Street following UK's upset victory over Florida.
Today, the good folks at Big M Superstore in Nicholasville went out of their way to make things right.
Matt O'Hara has been gifted with a new vehicle, a blue Mazda 3, to replace his totaled Volvo.
Big M Superstore reached out to O'Hara and asked him to come out to their store, where he was greeted with the following message:
"Matt,
As proud supporters of the #BBN and the community, Big M Superstore would like to acknowledge the unfortunate events that followed after a Kentucky win over Florida, which involved the totaling of your car. We would like to donate this car to you, and apologize on behalf of the entire #BBN.
Best Wishes,
Big M Superstore"
Here is O'Hara with his family and the Big M staff: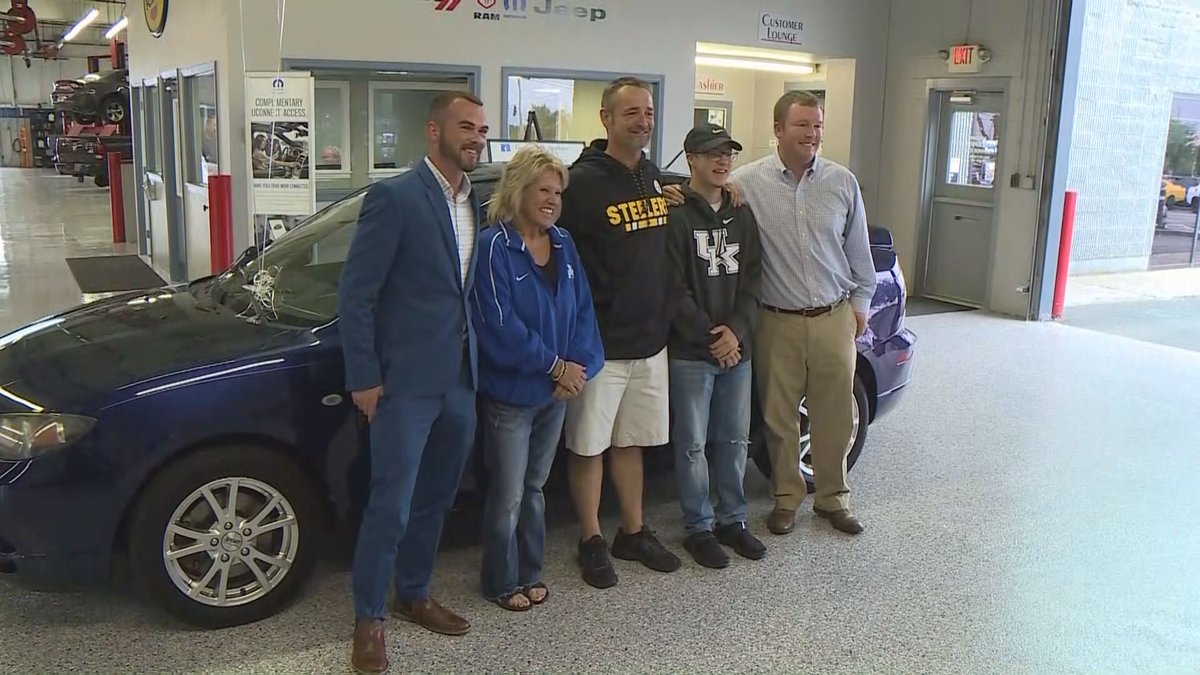 O'Hara's mother, Amy Given, originally started a GoFundMe page to raise money for a new car for her son, which currently has over $3,200 in received donations. Following today's news, Given sent out the following message on Facebook, expressing gratitude for Big M Superstore's kind gesture.
OMG. Big M Superstore in Lexington reached out to us yesterday saying they saw what happened to Matts car! The General Manager Dustin and the Owner Steve Montgomery said they wanted to help Matt. We drove down here today and they GAVE Matt a Mazda 3!!!!! They put new tires and rotors on it and gave him 6 months/6,000 mile warranty and a two year maintenance package. Wow!!!!

Seriously how awesome and kind is that. We donated Matts old car to them and they are going to put it on their lot and let people take a swing at it… hahaha.

I want to thank you these amazing guys again. Your kindness is so incredible and we really appreciate what you have done to help us. We definitely will never forget the kindness people have shown Matt!!!
Here was the original incident, courtesy of the Kentucky Kernel:
And it's flipped again. People climbing car; yelling "f*** Florida" pic.twitter.com/h1Wpnb2wPr

— Kentucky Kernel (@KyKernel) September 9, 2018
No word on the extent of the punishment for those involved quite yet, but it's awesome to see O'Hara receive a replacement vehicle just two days after the fact.
#BBN