Kentucky extends unemployment benefits, includes independent contractors, substitute teachers
Gov. Andy Beshear provided Kentuckians with several updates during his daily 5 p.m. briefing on Wednesday evening. The Governor announced 35 new cases of COVID-19, bringing the state's total up to 198 confirmed cases and five deaths.
In light of the Coronavirus pandemic, Gov. Beshear is changing the requirements for Kentuckians to be able to file for unemployment. The new requirements will provide unemployment insurance to tens of thousands of Kentuckians who would typically be ineligible to receive benefits.
Those who can now apply include those who are self-employed, independent contractors, substitute teachers, childcare workers employed by religious-affiliated organizations and non-profits, cosmetologists, barbers, hair stylists, personal trainers and others who don't contribute to or receive benefits from the joint state-federal unemployment insurance system.
"This means that so many of you out there who were worried are now able to file, and we want you to," Beshear said in the press conference.
Here's a look at the expanded eligibility: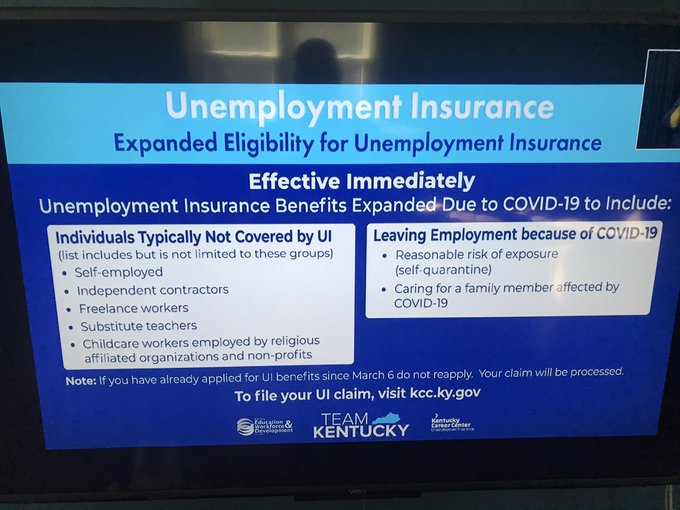 The government is urging all new applicants to follow a schedule released by the administration last week, which is based on the first initial of their last name: Sunday, A-D; Monday, E-H; Tuesday, I-L; Wednesday, M-P; Thursday, Q-U; Friday, V-Z.
Those who are now eligible under the new policy but already missed their day can (and should) file on Thursday by calling (502)875-0442 or by visiting the Kentucky Career's Center unemployment benefits page at https://kcc.ky.gov/career. Those who have already applied since March 6 do not need to reapply.