Kayla Kowalik Emerges as Kentucky beats Virginia Tech in Regional Semifinal
It took some time for the Bats to heat up on a hot day at John Cropp Stadium as Kentucky beats Virginia Tech 8-1 in the Regional Semifinal with the help of new faces.
Last year it was Mallory Peyton who emerged as a freshman star in the regionals. This year, it's been Kayla Kowalik.
Kowalik has made spectacular catch after spectacular catch in centerfield this weekend. On the offensive side, she's gone 4-6, scoring four runs and getting an RBI through the first two games, including being the spark for some of UK's big innings in this regional and brilliant plays on the basepath.
Benny the Jet Rodriquez or Kayla Kowalik? @UKsoftball @kswaggyyyy @7InningsPodcast #MAYhem pic.twitter.com/sM6zpuiE4Q

— Francesca Enea (@frangator10) May 18, 2019
Today was no different as she kicked started Kentucky's stagnant offense in the fourth with a one-out single, which set up a two-out triple that scored Kowalik from first.
After Johnson's triple, former McCracken County teammates Kelsee Henson and Bailey Vick reached base to load the bases for Jenny Schaper. Jenny Schaper came through as she got an RBI single, then the cut off tried to catch Vick slipping at second, but she got back, and the ball squirted away from the Hokie second baseman allowing for every runner to move up which allowed Henson to score for UK to take a 3-0 lead after four.
Kentucky would add more in the fifth on two errors from the Hokies which allowed pinch runners, Jaci Babbs, and Tatum Spangler, to score to give Kentucky a 5-0 lead. Then with two outs, Vick laid down a picture perfect bunt for a single, but the third baseman flipped the ball over the catcher's mitt which allowed Kowalik to score from third and allowed Kennedy Cowen to score from second.
Bailey Vick scores two on a bunt single to third!#NCAASoftball | @UKsoftball pic.twitter.com/7M31i4Jrar

— NCAA Softball (@NCAAsoftball) May 18, 2019
Virginia Tech would get one back on a home run from Emma Strouth to make it a 7-1 lead for the Cats. Kentucky would get that run back in the bottom of the sixth on an Alex Martens RBI fly that scored Katie Reed and with that RBI Alex Martens tied the school record for most RBIs in a single season with 61.
Grace Baalman would shut down the Hokies in the bottom half to finish off her one run performance in seven innings of work as the Cats advance to the Regional Final with an 8-1 victory.
Kentucky will look to sweep their region for the THIRD straight year when they take on the emerging team out of the losers bracket. Illinois and Toledo will face off in just a few minutes.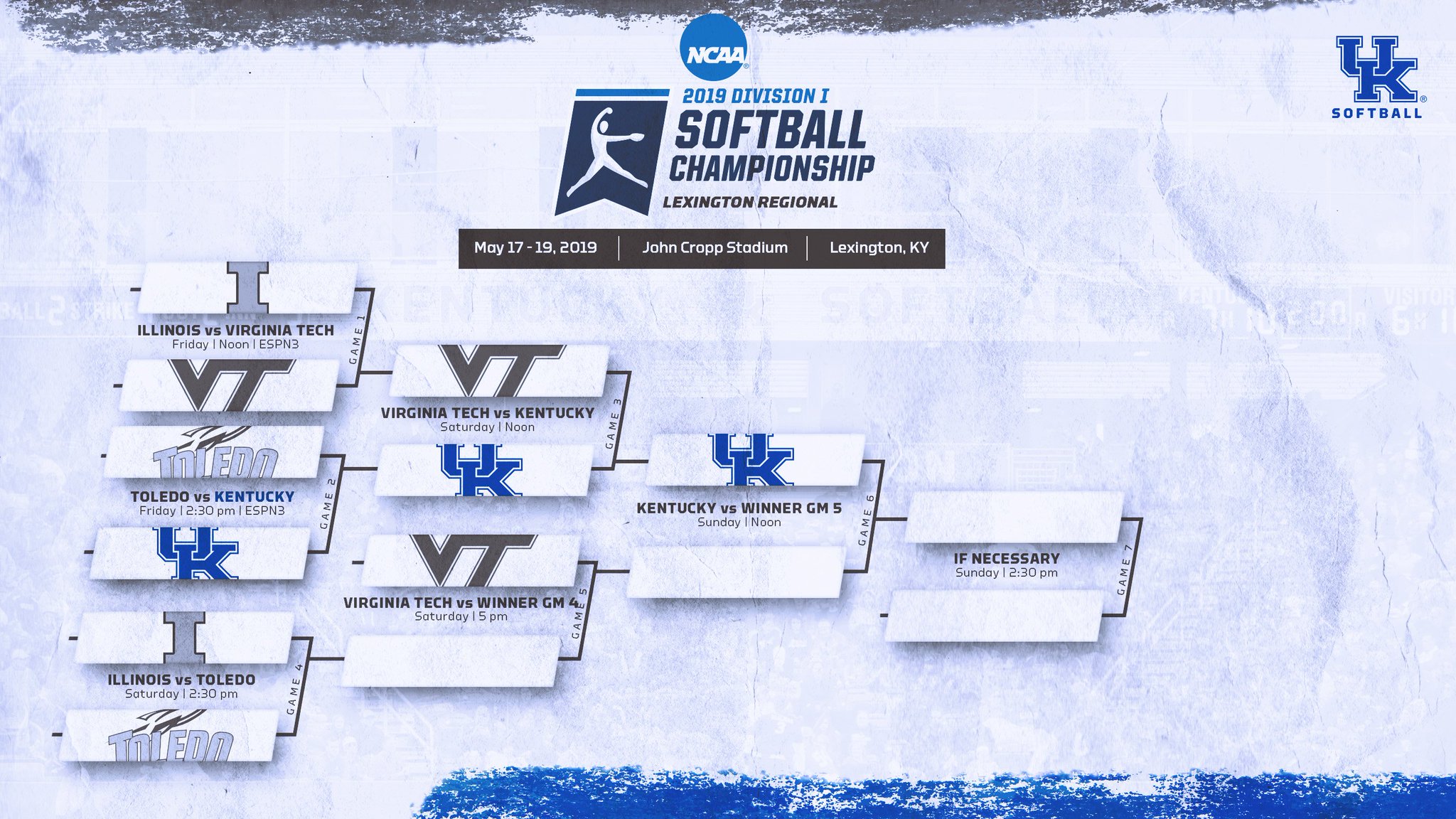 First pitch will be at noon tomorrow from John Cropp Stadium.
---
Check out the highlights from today's victory:
Highlights from today's 8-1 win over Virginia Tech in the winner's bracket game of the Lexington Regional! #WeAreUK pic.twitter.com/VUWsvsJbRb

— Kentucky Softball (@UKsoftball) May 18, 2019
---
Go Cats. @BrentW_KSR