Junior College Linebacker Joko Willis Commits to Kentucky
Kentucky's 2021 recruiting class just got a little more crowded.
Friday afternoon junior college linebacker Joko Willis announced his commitment to Kentucky. The three-star prospect chose the Wildcats over Mississippi State, Arkansas and Kansas State.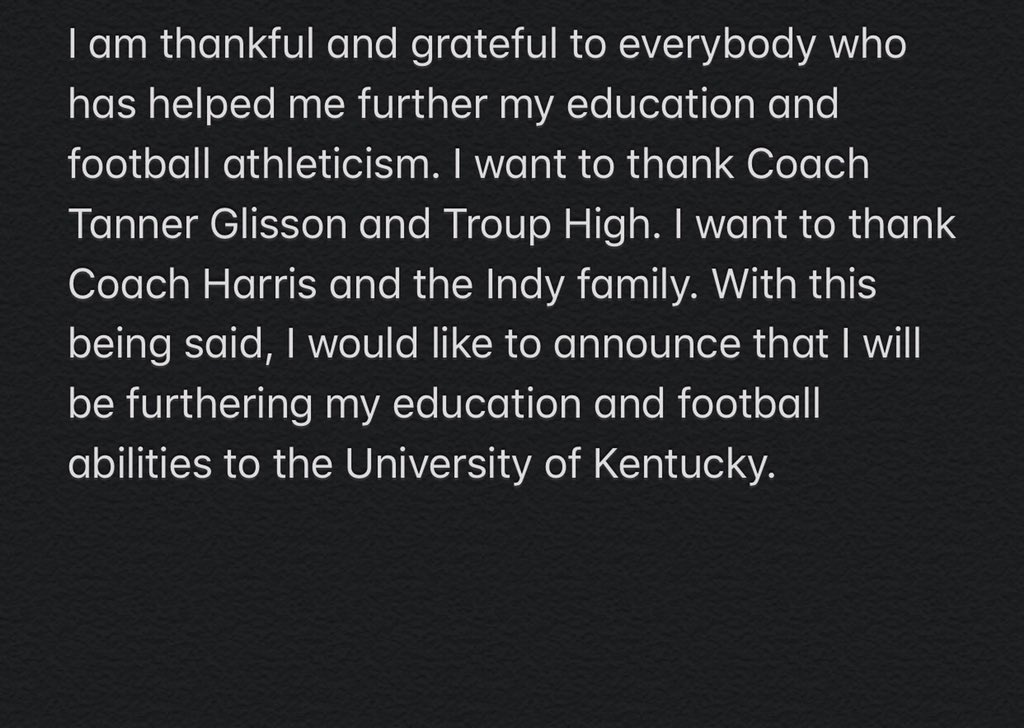 Originally from UK's former recruiting pipeline in Lagrange, GA, Willis has spent the 2019 season at Independence Community College in Kansas, a school that gained notoriety on Netflix's Last Chance U. Recruited by Jon Sumrall, Willis' future position coach, earlier this week he explained to KSR how he competes against SEC schools on the recruiting trail in the Deep South.
Willis fills a hole at a position of need, inside linebacker. Devon Williams, another 2021 linebacker, previously flipped from the Wildcats to Minnesota.
See what the eighth commitment in Kentucky's 2021 recruiting class is bringing to the table by watching him suplex players on the gridiron.
Kentucky Football 2021 Recruiting Class
| Name | Position | Hometown | Height | Weight | Rivals | Recruiter |
| --- | --- | --- | --- | --- | --- | --- |
| Jager Burton | OG | Lexington, KY | 6-4 | 270 | 4-star, #170, #8 OG | Marrow |
| Dekel Crowdus | WR | Lexington, KY | 5-10 | 170 | 4-star, #44 WR | Marrow |
| Christian Lewis | WR | Pleasant Grove, AL | 6-3 | 185 | 3-star, #69 WR | Sumrall |
| La'Vell Wright | RB | Radcliff, KY | 5-11 | 205 | 3-star, #8 APB | Marrow |
| Jordan Lovett | DB | Radcliff, KY | 6-2 | 195 | 3-star, #5 KY | Marrow |
| Jordan Dingle | TE | Bowling Green, KY | 6-4 | 235 | 3-star, #3 KY | Marrow |
| Kaiya Sheron | QB | Somerset, KY | 6-3 | 200 | 3-star, #8 KY | Hinshaw |
| Chauncey Magwood | WR | Leesburg, GA | 6-0 | 176 | 3-star, #65 WR | Sumrall |
| David Wohlabaugh | OT | Wadsworth, OH | 6-5 | 277 | 3-star, #54 OT | Marrow |
| Paul Rodriguez | OL | Mason, OH | 6-5 | 310 | 3-star, #32 OH | Marrow |
| Martez Thrower | ILB | Rochelle, GA | 6-2 | 215 | 3-star, #41 OLB | Sumrall |
| Kahlil Saunders | DL | Huntsville, AL | 6-5 | 260 | 3-star | Sumrall |
| Adrian Huey | CB | Nashville, TN | 5-10.5 | 160 | 3-star, #69 CB | Clinkscale |
| Maxwell Hairston | CB | West Bloomfield, MI | 6-1 | 160 | 3-star | Clinkscale |
| Jamarius Dinkins | SDE | Columbus, OH | 6-5 | 245 | 3-star, #32 SDE | Marrow |
| Joko Willis | LB (JUCO) | Lagrange, GA | 6-3 | 215 | 3-star, #51 LB (HS) | Sumrall |
| Wilson Berry | Punter | Melbourne, Australia | | | 2-star | Duffy |