Friday Morning Rapid Fire: What the Hell, JR?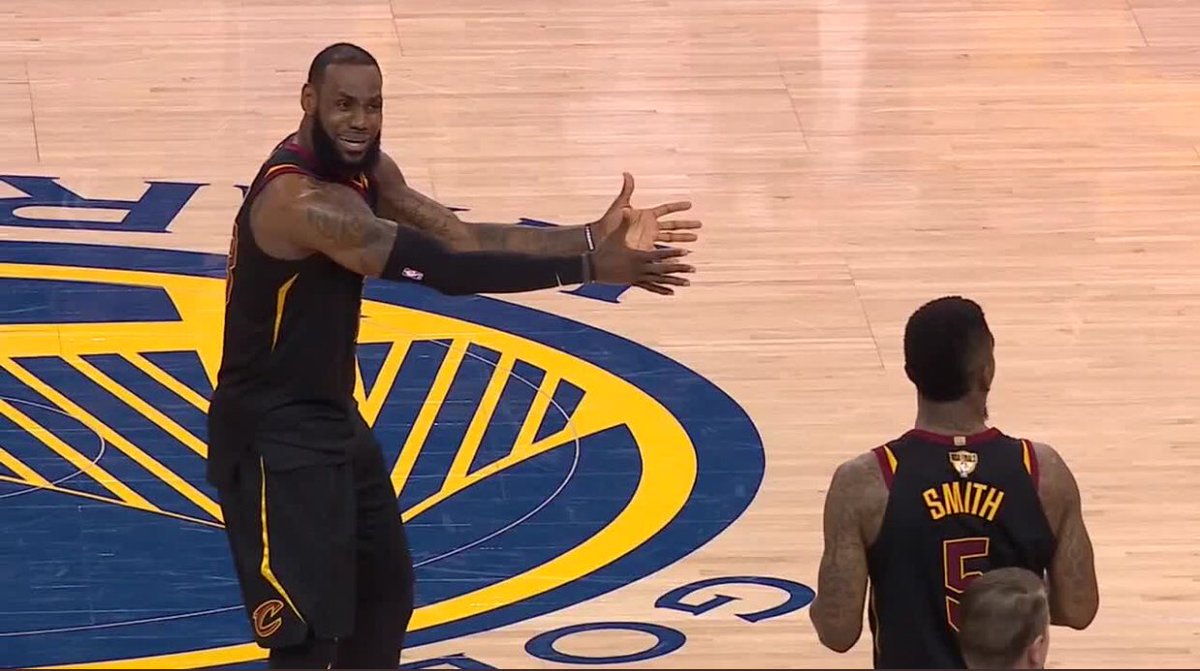 Last night JR Smith became the Cleveland Cavaliers' Bill Buckner.
Starting the series as the overwhelming underdogs, the Cavs came out and punched Golden State in the face.  Every time the Warriors made a run, LeBron, Kevin Love and Co. responded.  A back-and-forth affair, the lead never grew to more than seven.  Entering the final minute, it was LeBron's time to finish the Warriors.
Then, JR Smith happened.
George Hill went to the free throw line down one with 4.7 seconds left.  After hitting the first one, Hill missed the second.  What happened next is the dumbest play in NBA Finals history.
JR Smith with the dumbest play in NBA Finals history. LeBron is going to trade him to Siberia pic.twitter.com/rEX7pqlerS

— Eric Rosenthal (@ericsports) June 1, 2018
After LeBron looked at Smith in disgust, he mouthed, "I thought we were ahead."  When the final overtime horn sounded, they weren't.  Smith had a different explanation for his dumbassery after the game.
JR Smith explains himself, says he knew the game was tied pic.twitter.com/arRxzRnB45

— Sports Illustrated (@SInow) June 1, 2018
LeBron left the podium when he was continually peppered with the question, and I can't blame him.
"I don't know his state of mind."

LeBron leaves the podium after questions surrounding JR Smith at the end of regulation. (via @NBATV) pic.twitter.com/lseHl7FwFc

— NBA on TNT (@NBAonTNT) June 1, 2018
None of it makes any sense at all.  All he had to do is finish a four-foot put-back.  Instead of forcing the Warriors into a corner, the Cavs will likely get swept and the nation will be robbed of at least a week of basketball.
Nobody expects a 15-yr professional to not know the score in that scenario. Everyone, players and coaches from both teams, the referees and fans were befuddled. Frozen. Paralyzed for 5 seconds by "WHAT in the Hell is JR doing?" https://t.co/svLBJ669fB

— Rex Chapman?? (@rex_rexchapman) June 1, 2018
It shouldn't have mattered — Because the NBA has the dumbest rule in sports.  You can overturn a block/charge, and that's one of the many ways the Cavs got hosed by officials in the final minute of Game One.
LeBron followed up an And One by taking a charge on a driving Durant to force a turnover.  A bang-bang play, they reviewed the call to see if James was outside of the restricted area.  Answering that objective question via replay makes sense.  Then, they slowed it down and overturned the charge, a subjective call, because he was moving.  Of course he was moving; if you slow down any charge, the person will be slightly moving.  It was a bang-bang judgment call, one that should never, under any circumstances, be reviewed, and somehow this got overturned in the final minute of an NBA Finals game.
Climb Aboard the Muss Bus — As Nevada is consistently named a preseason top ten team, the Wolfpack's head coach joined The Aaron Torres Sports Podcast.  Even if you don't care about one of the country's best teams, Eric Musselman shares a few stories from his time coaching minor league basketball that will make everyone laugh.
Cats Lose a Commit — In a move that will make you sigh, Shawnkel Knight-Goff from Louisville Doss reopened his recruitment less than two weeks after he originally committed to Kentucky.  In a statement on Twitter, he said he wants to take his time before making a final decision.  Regardless, the committing and de-committing has worn out the BBN before peak football recruiting season.
Football Game Times Announced — And they're ideal for tailgaters.
Week One: Central Michigan at 3:30 at Kroger Field on ESPNU
Week Two: Florida at 7:30 at The Swamp on SEC Network
Week Three: Murray State at Noon at Kroger Field on SEC Network Alternate
Kick it with Austin MacGinnis — UK's all-time leading scorer will help football and soccer players alike.
Casey to the Pistons — The former Kentucky National Champion and Toronto Raptors head coach reportedly met with the Detroit Pistons yesterday.  A team that hasn't done anything in a decade, they'll look dumber than JR if they don't hire Casey.
KSR is in Pikeville — Stop two of the KSR Summer Tour is at the Sleep Outfitters in Pikeville.  Don't miss it.
[mobile_ad]