John Calipari with Stephen Colbert wants the Thursday News and Views and #HeraldLeaderFail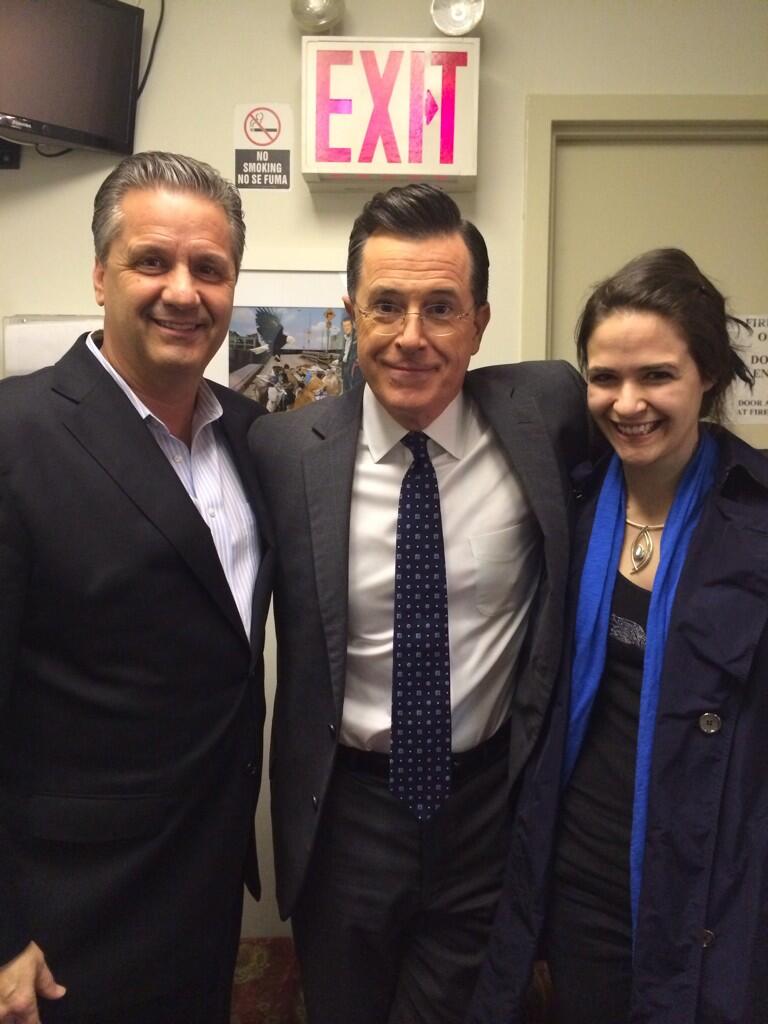 Calipari's guest spot on The Colbert Report is coming up in about 30 minutes on Comedy Central so get ready to tune in or set your DVR if it's bedtime. We'll have a recap of the bizarre appearance for anyone who misses it on the site Thursday morning, but for now, enjoy the News and Views from the day…
*****
Alex Poythress and Dakari Johnson will return.
Kentucky's 2014-15 frontcourt, WOW. Both guys announced their return to Kentucky on Wednesday, Poythress going first around 11:30 a.m. with a statement through the university:
"Playing in the NBA has always been a dream of mine, but I want to make sure that I'm NBA-ready before I make that jump. By coming back, I'll be so much closer to earning my degree in business and it will give me another year to prepare my game and my body for the next level."
Dakari followed later in the afternoon with a release of his own:
"This year has been for me a year of transition, growth and so much fun! I've learned a lot about myself personally through adversity and triumph which I know made me a stronger individual. I would like to thank my brothers (teammates) for pulling together and stepping up and taking the road that many don't travel. What memories! I would like to thank Coach Cal and the staff for trusting and providing me the opportunity to grow and build on my skills. I'd like to wish Julius Randle and James Young all the best and personally let them know that they have a group of brothers who will always support them.

With that being said, I'm excited about having the option to either enter the 2014 NBA Draft or return to the University of Kentucky. After looking at the information provided to me by Coach Cal and the NBA committee, my family and I made the decision for me to return to UK for my sophomore year. Returning to school allows me to build on my leadership skills, improve my individual basketball strength and conditioning skills, and have another opportunity to accomplish one of my individual goals: winning an NCAA national championship in college. In addition, it will give me the opportunity to continue my studies because the ball will stop bouncing one day (shout out to Mike Stone). Big Blue Nation, I can't thank you enough for your support, and I look forward to representing UK next year." #StriveforNine
I can't even begin to think of a way to get everyone significant opportunities on the court, but it's a good problem to have and college basketball should be terrified. Meanwhile, the national media says UK will be "too loaded" with Poythress and Johnson's returns, the same national media that constantly criticize UK for the one-and-done system. Sooo which is it???
Montrezl Harrell, meet your new recurring nightmare…
Harrisons are still undecided.
Everyone and their mother has an opinion on what the twins will do when they finally announce a decision. Many will claim to have inside information, others will see a Kyle Tucker tweet and accept it as fact. Truth is, no one knows and any rumor is purely a guess and any guess is an uneducated one. Read into the Malone's Wine Room meeting however you'd like; be optimistic for a return because "Cal isn't recruiting guards" if that'll make you feel better. We're all going to find out together some time before Sunday. Enjoy your speculating until then.
Will Barry Rohrssen officially be introduced by UK on Thursday?
It has to be coming soon. "Slice" was spotted around the town Tuesday night so there's no doubt it's happening. I suppose they're finishing up the contract details and will announce the deal soon, possibly Thursday.
I'm really looking forward to having a guy named Slice on staff.
John Calipari chatted with the Stoops brothers at football practice today.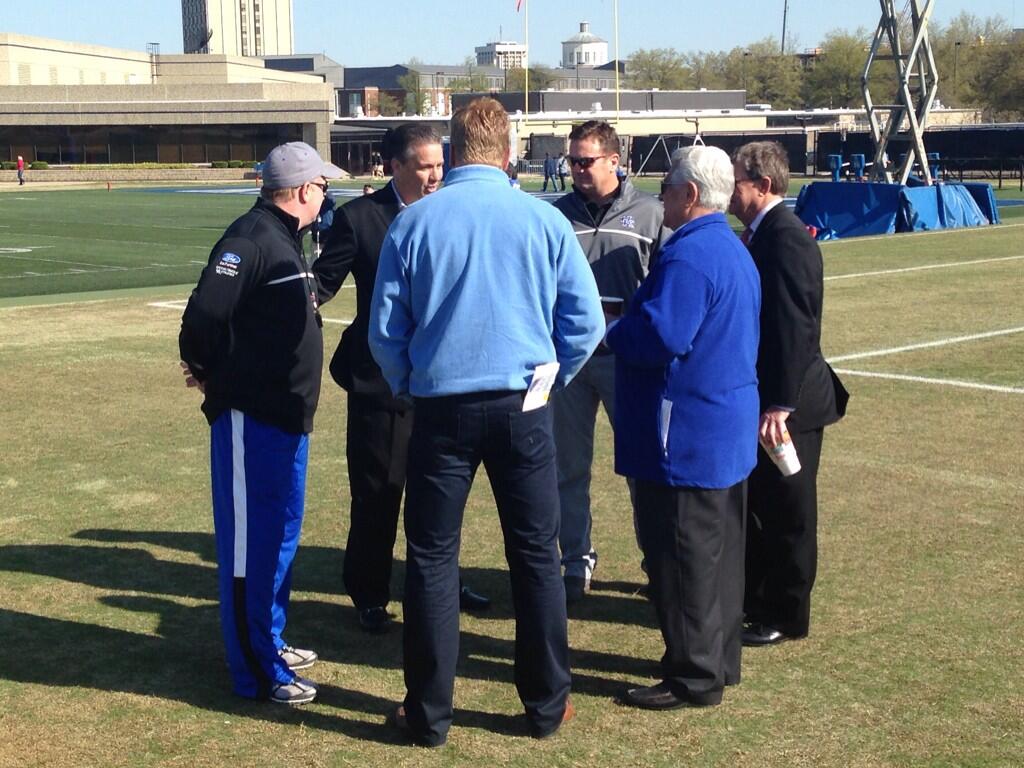 Bob and Mike Stoops were special guests at Kentucky football practice this morning, later joined by John Calipari before practice concluded. Bob Stoops was the first person I saw when I entered the building and I was a little thrown off because he was wearing a UK pullover. He introduced himself with a handshake — he's one of those guys that'll act like he's known you his whole life — and I proceeded to mumble some incoherent words and noises because I'm not good with morning interactions.
Once outside at the field, Bob and Mike took in the action like it was their own squad before Coach Cal showed up in a suit, because of course he was in a suit. Bob Stoops and Cal chatted for about 10-15 minutes while Nick Roush and I did every thing we could to eavesdrop. The only dialogue I really caught was Cal telling him, "I really want your brother to have success here and I believe he will; but people need to understand it's a process. Rebuilding takes time and several recruiting classes."
Yes, Cal, it is a process.
Cpl. Matthew Bradford also attended practice.
Coach Mainord was mic'd up.
You can see T.V. Williams' speed toward the end.
A.J. Legree to transfer; Jeff Badet has a broken leg.
Two big pieces of news from practice today regarding the depleted receiving corps: First, would-be junior A.J. Legree is transferring out of Lexington to finish his college football career elsewhere. Legree caught seven passes for 97 yards last season but struggled to fight off the younger talent for a spot as a regular contributor. Coach Stoops said, "He's gonna quit and go play somewhere else and we wish him the best of luck."
And in injury news, Jeff Badet, the team's third-leading receiver as a true freshman in 2013, has a broken fibula. Stoops said it happened on a "freak accident" with Badet coming back to catch an under-thrown pass in Monday's practice."He was alone. It was a good play-action pass; he was wide-open," said Stoops.
The Cats are down to just a handful of pass catchers in spring ball due to so many injuries. Javess Blue is out after shoulder surgery; Alexander Montgomery is still recovering from a torn knee ligament; and Ryan Timmons is limited after suffering a shoulder injury last week.
Mark Stoops and Neal Brown joined us on KSR.
Stoops described how much more efficient the team is as a whole this season, politely admitting they were pretty terrible at this point one year ago. (My words, not his — but he hinted at it.) He also commented on the energy and intensity they bring every single day in practice and how he teaches his guys to turn it on as soon as they walk through the door.
Neal Brown and his fancy UK shirt stepped in next to break down his three quarterbacks:
Patrick Towles
"Towles is much improved. Fundamentally, before, he really had a hitch in his delivery, he was slow getting the ball out of his hands, he made big negative plays that would get you beat. He has taken those away. He's not making those big negative plays. His ball is getting out of his hand faster. He's got big time arm talent. He's got as big an arm talent as you're going to see. He's a big kid, he can run too. People underestimate his athleticism. He's a good natural runner."

Drew Barker
"With Drew, I've always gotta remind myself, he's 13 practices in. He should in high school. He does some things good. He does not carry himself like a high school senior. He came in and attacked, he's really handled himself well, he's studied well, he's put himself in a position to win the job. He's making too many mistakes right now, but young people do."

Reese Phillips
"Reese is just steady. You go around, you don't really notice him, he's not the biggest guy, but he gets the ball out of his hand fast, he's the most accurate of the three, and he probably does more things right. Top end talent? Maybe not, but he does a lot of things that your lay fan probably doesn't notice."
The fourth option, Max Smith, dressed out for practice but is still injured. Brown said he isn't sure what Smith will be able to give them just yet, so it sounds like the starter will come down to Towles, Barker or Phillips and they'll be given the reins "with a longer rope" much earlier in the fall than a year ago.
Listen to Stoops and Brown in the second hour below:
Julius Randle was on the show, too.
And he was great…
"Yeah, I don't like Louisville."
Michael Kidd-Gilchrist shined in Game 2 loss in Miami.
The Bobcats came up one three-pointer short of forcing overtime in Miami, but Michael Kidd-Gilchrist can hold his head high for his play against the Heat Wednesday night. MKG recorded a double-double with 22 points and 10 rebounds while drawing the fun task of defending LeBron James. The 22 from the former Cats was a team-high in the loss.
(Reminder) $25 off Ferdinand's Ball tickets for KSR readers and listeners.
Our good friends at Ferdinand's Ball are offering up a deal for KSR readers and listeners interested in joining us at this year's party. Now through Thursday night at 11:55 pm, you will receive $25 off your cocktail ticket, good for the premium open bar, appetizers, access to the photo booth, silent auction and dance floor, and much more. Just head over to the ball's ticket website to purchase your tickets and enter promo code "drewloveskate" to get the deal.
This year, the 2014 version of Ferdinand's Ball will feature celebrity hosts Jon Hood, Jarrod Polson, Darius Miller, Nerlens Noel, Doron Lamb and Jodie Meeks, plus Russ Smith, Peyton Siva and Luke Hancock. The event will be held Thursday, May 1 at the Muhammad Ali Center in downtown Louisville. See you there.
Nerlens Noel will be signing things in Kentucky this weekend.
You can catch him at any of the stops below:
Friday, April 25 – Hillbilly Days – Pikeville – 10:00 – 1:00 and 6:00 – 8:00
Saturday, April 26 – Hillbilly Days – Pikeville – 10:00 – noon
Saturday, April 26 – Buffalo Wings & Rings – Bardstown – 8:00 – 9:30
Sunday, April 27 – Wildcat Wearhouse – Lexington – 2:00 – 3:00
That's a whole lot of Hillbilly Days.
Don't forget about Randle and Young, too:
Julius Randle
Thursday, April 24 — Wildcat Wearhouse — Ashland 6:30 — 8:00 p.m.
Friday, April 25 — Hillbilly Days — Pikeville — 6:00 — 8:00 p.m.
Saturday, April 26 — Hillbilly Days — Pikeville — 11:00 a.m. — 1:00 p.m.
Saturday, April 26 — Lexington Sports Card — 5:30 — 7:00 p.m.
Sunday, April 27 — Elizabethtown Mall — 12:30 — 2:30 p.m.
Tuesday, April 29 — Tin Roof — Louisville — 6:00 — 8:00 p.m.
James Young
Sunday, April 27 — Wildcats and More Store — Dry Ridge — 1:00 -2:30 p.m.
Sunday, April 27 — Lexington Sports Cards — 4:00 — 6:00 p.m.
James Young will be a guest on Kentucky Sports Radio radio Thursday morning.
Young will join Matt Jones and Ryan Lemond in studio Thursday morning to discuss his time at UK and his future in the NBA. If it's anything like Julius' interview Wednesday, you won't want to miss it.
Speaking of miss, way to go, Herald-Leader. Way to go.