Jim Ross' Thursday News and Views
Wednesday was a sad day in the world of wrestling, a world I haven't visited since my youth but a lot of you still frequent on Monday nights and one Sunday a month. If you're in that group, with Matt and Shannon The Dude, then you may know Wednesday marked the official end of Jim Ross in the WWE. And if you're not in that group and you have other things to do on Mondays, you still probably at least know about the most recognizable voice professional wrestling has ever had next to its Spanish announce table.
Ross began his WWE career in 1993 and he hung up his headset for the last time on Wednesday (the day his contract officially ended) after 21 years on the broadcast. There is more to the story than I begin to know — or care to read — but I remember the good ol' days of Good Ol' J.R. when Stone Cold Steve Austin was slamming Steveweisers and it was cool to like DX. Tonight we'll look back on Ross' best calls from that era and all over his 21 years with a "Best of" video from YouTube.
Let out a loud "THAT JEZEBEL!" or "GOOD GOD ALMIGHTY" in his honor.
Now, to the News and Views. It's going to be a slobberknocker that may have you running like a scolded dog.
*****
UK and Cincinnati flirting with a football rivalry.
According to Tom Groeschen of the Cincinnati-Enquirer, the University of Cincinnati is discussing future football games against Kentucky and Louisville. It's unclear the level of interest UK has in setting up a series — this is all per Groeschen's "sources" — but if Stoops is for it, recruiting in Ohio might be a big factor. An in-state game would be another good pitch to the Ohio prospects as a chance to play closer to home (not that Lexington is much farther away) and a dominance in the series with Cincy would help in head-to-head recruiting.
Plus, there may be a day when the SEC removes all FCS opponents from its schedules, leaving some holes in UK's slate. It was discussed back in April, but Mike Slive opted against the idea at the time. It could come up again, though — ya never know.
Of course, there are also some people who see this as an opportunity to drop Louisville. But that's a debate for another time, maybe when this rumor picks up a little more steam, if that ever even happens.
Personally, I'd like to see UK drop one of the cupcakes and add Cincy as a 10th competitive game on the schedule, with the eight conference games and Louisville. Hashtag WHY NOT.
UK basketball was one of eight BCS programs with a cumulative team GPA of 3.0 or better.
John Calipari's boys posted a 3.11 cumulative GPA during the 2013-14 season, making it six out of seven semesters the Cats have had a GPA of 3.0 or better.
Meanwhile, haters are telling Jaylen Brown he shouldn't go to UK because they don't go to class.
George Brown Jr. down to two schools: Florida and Kentucky.
Though he initially said he will be deciding between five schools, Brown indirectly confirmed it will be Florida or Kentucky when he announces his decision Friday afternoon. He tweeted out this photo late Wednesday night:
One of those hats will go on his head Friday at 1:30 pm. I think we can all agree the blue one will look much better on him.
Florida head coach Will Muschamp accidentally tweeted a direct message; let's hope it wasn't to Brown.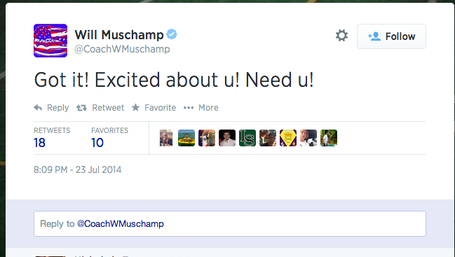 Muschamp meant to send a private message to someone, but accidentally sent it to his 55,000 followers on Twitter. It read, "Got it! Excited about u! Need u!" so it was likely to a recruit. Hopefully that recruit isn't George Brown Jr.
Alumni game tickets will go on sale Monday.
UK's annual Alumni Charity Game will take place on August 24 at 6:00 p.m. ET and you can begin purchasing your tickets on Monday at 10:00 a.m. ET.
Seats will run you $101 for premium lower level; $31 for lower level; and $16 for premium upper level. Tickets can be purchased at the Rupp Arena box office, online at Ticketmaster.com, at any Ticketmaster Outlet or by phone at 1-800-745-3000. There is an eight-ticket limit per person. All orders will have additional fees attached. All proceeds from the game will go to charity.
This year's game format will feature a team of UK pros versus a team of non-UK pros. Rumor has it some former Louisville and Florida players may participate.
Lauren wants us to shut up about basketball because football is the most popular sport in the country and you're an idiot for liking Jon Hood's socks.
This was posted on the KSR Facebook page Wednesday night and, while I'm a big fan of her passion and use of all-caps, it may be the dumbest thing I've read in a long time.
Do you think she likes football?
These University of Louisville decals are a real thing that real people can buy with real money.
They feature the motto of the athletic department.
The #KST Tour hits Hopkinsville on Thursday.
I'm tagging Ryan Lemond back in for the co-hosting duties when the tour stops by the Holiday Inn in Hopkinsville Thursday morning. I can't believe we're already at No. 20. This thing has flown by.
Also, shout-out to Madisonville for the great turnout. You are BY FAR the best group of fans in the state. (I'm slightly biased.)
Go Cats.