Jabari Smith is Popping up on UK's Radar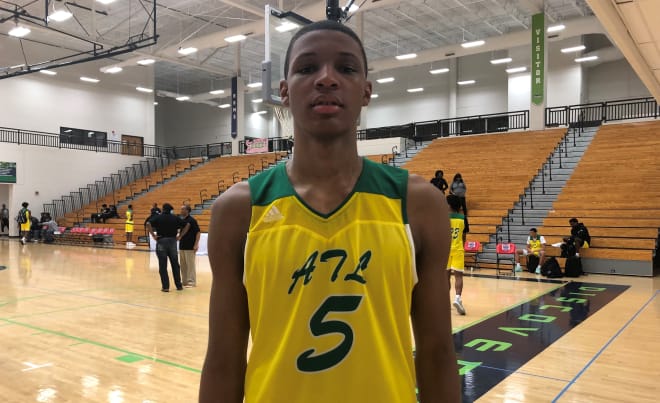 It looks like Kentucky has their first big-name target in the frontcourt for the 2021 class, and it comes in the form of 6'9 Georgia native Jabari Smith.
On June 14th, the day before college coaches can begin to talk to high school recruits between their sophomore and junior season, Ben Roberts of the Herald-Leader caught up with Smith to discuss where he's gotten offers from and who he would like to hear from.
"Everybody wants to hear from the blue bloods," Smith told Roberts. "Duke, Kentucky, Kansas — all those big programs known for winning."
Joel Justus went to watch Smith play for the undefeated U16 USA team in the FIBA Americas Championship in Brazil. Smith averaged 13.8 points and 6.2 rebounds per game all while going 7 of 19 from three.
Smith also participated in the NBPA Top 100 Camp a week later, and Kentucky's coaching staff was in attendance again. After the event, Smith told Rivals Auburn, Georgia, and LSU were the first three schools to call him, but since then Kentucky, amongst many other schools, have been in contact with Smith.
One would presume Kentucky would be the front runner for Smith considering he did say he wanted to hear from the blue bloods, but you can't cancel out LSU either. At least right now, anyway. Smith's dad, also named Jabari, played for the Tigers back in the late '90s and was selected 45th in the 2000 NBA draft.
Jabari Smith did say, however, that he wants his game to be similar to PJ Washington's.
"I look at PJ Washington — how he plays," he said. "That's really all I think about, comparing to my game. … I just know that there's a high chance of going to the NBA out of that program. They're all about winning, and I like what Coach Calipari's philosophy is — just how he coaches."
The only players with confirmed scholarship offers from the Cats include Terrence Clarke, Jonathan Kuminga, and Paolo Banchero. All three of those players are ranked in the top four nationally according to Rivals, but after an impressive spring, Smith sits right behind them jumping from the 31 spot all the way to five.
Jabari Smith is definitely a name to keep an eye on.
Check out some of his highlights:
---
Follow me on Twitter: @BrentW_KSR