How to explain the Derby to people who aren't from Kentucky
When you ask people who aren't from Kentucky about Kentucky, they'll usually mention the following things: Kentucky Fried Chicken, bourbon, basketball, and the Kentucky Derby. The Derby is the Commonwealth's time to shine, a glimpse into a bygone era when horse racing was king and the only way to spend a spring day was in your finest garb at the racetrack. That tradition still lives on in the Bluegrass, but to an outsider, parts of it can seem pretty strange.
After 10 years of hosting Derby parties for my friends here in Nashville, I've heard a lot of the same questions over and over. So, here's my attempt to explain the Derby to someone who isn't from Kentucky.
Hey, horse racing! American Pharoah won it all last year, right?
Well, actually, it was two years ago, but yes. Nyquist won the Derby last year.
That's was pretty big deal, isn't it?
Yes, it was. American Pharoah was the first Triple Crown winner since Affirmed in 1978 and only the 12th of all time.
You know you're spelling "Pharaoh" incorrectly, don't you?
Yup, but that's because it was misspelled from the start on his name registration in 2012. Once someone realized the error, it was too late. Now, the name is trademarked and will haunt copy editors for eternity.
What's up with the hats?
Back when the Derby began in 1875, Col. Meriwether Lewis Clark Jr., the builder of Churchill Downs, modeled the Derby after European races, which mandated full morning dress (daytime formal) for men and women. That meant extravagant hats copied after the latest fashions in Paris. The tradition stuck and became even more popular in the 1950s and 60s when fashion norms loosened up and the race started to be televised, giving women even more incentive to stand out. Now, for many people, going to the Derby is just as much (or more) about the hat than the actual race. From lavish, large-brimmed confections to whimsical fascinators to Breyer horses taped to ball caps in the infield, it's not the Derby with a fabulous hat.
So yeah, that cowboy hat you're wearing today is kind of lame.
Do people really like mint juleps? These are disgusting.
I'm with you there. Made of muddled mint, bourbon, water, and sugar, mint juleps are definitely an acquired taste, but each year, 120,000 of them are served at Churchill Downs between the Oaks and the Derby. That's over 10,000 bottles of Old Forester Mint Julep ready-to-drink cocktail, 1,000 pounds of fresh mint, and 60,000 pounds of ice.
Don't like mint juleps? There's always bourbonade.
Churchill Downs must be really beautiful.
Umm, not exactly. While Churchill Downs is steeped in history, it's not even the prettiest race track in Kentucky; that honor belongs to Keeneland. Whereas Keeneland is settled in the middle of rolling, picturesque horse country, Churchill is in the middle of a random, sketchy neighborhood. Just something to keep in mind for your first trip.
Why do we have to be quiet when they sing that song?
Because it's "My Old Kentucky Home" and I'll smack you if you don't.
But I don't know the words?
Then hush and sway.
Oh wow, so that's what Nick Lachey's up to now. And isn't that the guy that had a kid with Anna Nicole Smith?
Nothing says Derby like B- and C-List celebrities with the occasional A-Lister sprinkled in. The stars expected at this year's Derby are actually impressive compared to years past: Larry David, Tracy Morgan, Katie Couric, Harry Connick Jr., Kid Rock, Tom Brady, Rob Gronkowski, Aaron Rodgers, Randall Cobb, etc. etc. And, of course, Nick Lachey and Larry Birkhead.
And, if you think the celebrity guest list at the actual Derby is random, just check out the guest lists for all the Derby parties. The biggest of them all is the Barnstable Brown gala, which everyone up there is invited to, along with Jeff Bridges, Maren Morris, and celebrity chef Giada DeLaurentiiis. Expected at the Esquire party tomorrow night at 21C: Adrian Grenier, Bobby Flay, Ray J, and every notable UK and UofL basketball player from the past ten years. There are dozens more parties and hundreds more "celebrities" around town, making random Joey Fatone sightings an actual thing.
Did I see someone running across port-a-potties in the infield?
Yes. Because people like to drink.
Why do people go to the infield?
See above. People like to drink, and with enough alcohol, you can forget what the inside of a port-a-potty looks and smells like.
HOLY CRAP THAT HORSE ONLY HAS ONE EYE
That would be the aptly named Patch, trained by Todd Pletcher, and you're correct. He had his left eye removed last July after it wouldn't stop swelling, and will attempt to become the first one-eyed horse to win the Derby.
But stop gawking at him like that. You're making him self-conscious.
Where's that guy with the white hair?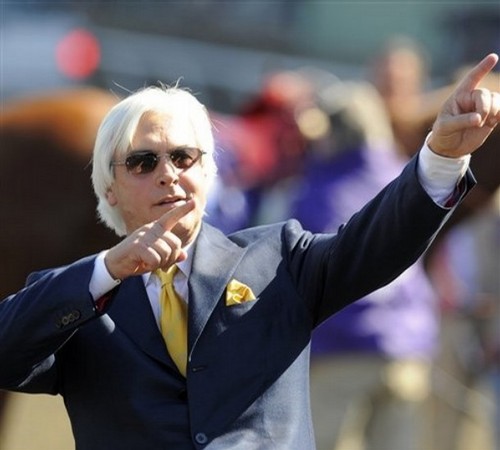 You're talking about Bob Baffert, who trained American Pharoah back in 2015 and is arguably the most famous face (and hair) in the sport. Unbelievably, Baffert doesn't have a horse in this year's Derby, so he's planning to watch it from his couch.
Oh, okay. Who should I bet on?
You're asking the wrong KSR staffer, but the current favorite is Classic Empire at 4-1, followed by Always Dreaming and McCraken at 5-1. Given the rainy forecast, I'll probably go with Gormley, who has a pretty good track record in the mud.
His mother was a mudder!
You're not the first (or last) to make that joke.
Why do people in Louisville obsess over this?
Because between stripper scandals, a morally corrupt university, and a bridge that charges you $4 to drive on, this is all they've got. Let them have this.
Besides, it's pretty awesome.