Checking In From The Halfway Point On The KSR Vegas Road Trip
Well hello there, my dearest KSR friends. Long time, no talk. I am currently writing you from the backseat of our packed-full Ford Expedition, somewhere near the Texas-New Mexico border as our fifth day on our Las Vegas road trip is winding down. It has been a fun and exhausting trip so far with more car time than I can normally take, but we've managed to keep ourselves busy with all of the sightseeing and eating we've been doing since we left Lexington. (Heavy emphasis on the eating.)
While I have your attention and a magical hot spot in the middle of nowhere, let me tell you a little about what I've learned at the halfway mark on our voyage. Let's do three life lessons from each of our four overnight stops so far.
---
MEMPHIS
Beale Street is not a popular place when it's cold out.
Night 1 on KSR's Las Vegas Road Trip ran into an unexpected hurdle when we found out that Beale Street in Memphis is a ghost town when the weather's cold and the Grizzlies aren't playing. We expected to kick off our trip with a fun night of singin' the blues in Memphis' crowded bars, but there were no crowds in bars – only our blues. To really make matters worse, Jerry Lawler's restaurant, which Shannon had been looking forward to for months, closed its kitchen at 7 pm, before we arrived.
The BBQ at The Bar-B-Q Shop is delicious.
But the BBQ at Blues City on the corner of 2nd and Beale is non-existent, unless you get it on a salad. They say they have World Famous BBQ, but it's not on the menu; only on a salad. My point is, don't go there. Go to The Bar-B-Q Shop.
The ducks at The Peabody Hotel are so overrated.
We stayed at The Peabody Hotel to see the famous Peabody Duck March and I'm not sure I've been so disappointed about anything ever. It was stupid. There were only like five ducks and I couldn't even see them from where I was standing. They just waddled out of the elevator and walked 30 feet to sit in a fountain. That's it. And people wait over an hour to see it. So stupid.
FAYETTEVILLE
Gas up before you drive through the Ozarks.
Matt suggested we go off the beaten path and drive through the Ozark Mountains on our way to Fayetteville, which we all agreed to because we don't know the regular path, so what's a different path hurt? And it was all fun and happiness and laughter until the sun went down and Matt got very quiet in the front seat during our drive through pitch black nothingness, miles and miles from civilization.
"Guys, I'm honestly worried about our gas situation," he finally told the car, after we had jokingly debated who would stay with the car and who would make the walk to the nearest town if we were to find ourselves in such a situation.
Luckily for us – and even more so for Matt because Shannon would've strangled him with a headphone cord – we found a gas station that probably hasn't seen a car in 10 years as we were on our last fume. If not for that rusty ol' gas pump out of the 1950s, we would've been walking our way to Fayetteville because it was another 20+ miles until another sign of human life.
Bald Knob, Arkansas is my kind of place.
And Fuzz is my kind of woman:
The Hey Kentucky crew has found some interesting characters on the way to Las Vegas… here's one of our favorites. pic.twitter.com/oMyJuQcdqO

— Hey Kentucky! (@hey_kentucky) December 10, 2016
We loved everything about our brief stop in Bald Knob.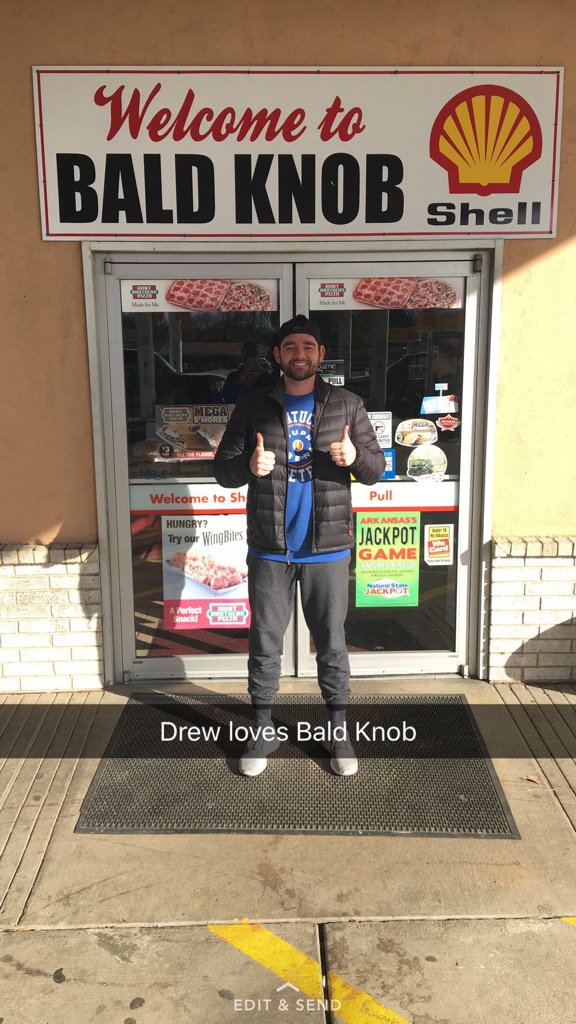 Fayetteville is a fun college town.
Sign me up for another trip to Fayetteville whenever the Cats have to travel to Arkansas to play the Hogs. Dickson Street has a great strip of bars with a little bit of everything and I'd like to get another run at it when we have more time.
OKLAHOMA CITY
The Skirvin Hotel is not haunted.
Though very creepy, the 10th floor of Oklahoma City's alleged haunted hotel is not haunted by a promiscuous, succubus ghost named Effie. Or, if it is, I wasn't Effie's type because I woke up without having any ghost sex in my sleep, at least not any that I remembered.
It is funny, though, that of all the floors in the hotel, we were randomly put in the haunted wing on the haunted floor. It is even funnier that Ryan and Shannon slept with the lights and the television on. They were terrified. I was disappointed I didn't meet Effie.
Russell Westbrook does not like being called out for his Instagram photo shoots.
By now you've probably heard that Mr. Triple Double fired back at me on Twitter after I said it was odd he took so many "candid" photos after the game on his friend's iPhone. Now I'm dealing with all of the Westbrook defenders out there who are telling me to "delete my account," "take my L and move on," "mind my own business," and "stop staring at two grown men anyway." (I especially like the irony in the large "mind your own business" crowd.)
I still like Russell Westbrook the basketball player, but I have no regret in tweeting it was odd to watch him pose for several pictures until he found the one he approved. I have long wondered who takes these photos of celebrities looking down or up and away from the camera, and now I've witnessed how it happens: they ask for the photos and will take as many as they need to find the right one, although we aren't supposed to know that. I saw how the sausage was made.
Enes Kanter really misses Kentucky.
We were able to catch up with Enes Kanter in the Oklahoma City locker room following a great game between the Thunder and Celtics. If you haven't already seen it, check out his interview with Hey Kentucky! to see just how much he genuinely misses being in Lexington. Enes couldn't have been nicer to us personally and couldn't have said nicer things about his time at UK.
His kind words really took away from the fact we were standing among 8-10 completely naked pro athletes who had just stepped out of the shower. NBA locker rooms are a very bizarre and naked environment.
WEST TEXAS
West Texas is empty.
There is not a lot going on in West Texas. Pretty land, not much happening. That's really all I have to say about that.
Billie Dean's Restaurant in Matador, Texas is run by good people who cook good food.
If you ever find yourself in the barren land of West Texas, get to Matador (pop. 740) for the chicken fried steak and onion rings by the foot at Billie Dean's. We met 88-year-old Billie Dean while eating in her restaurant and we walked away as big fans of the food and of the family. Our only regret is the amount of food we ate before getting back on the road toward Lubbock.
Did I mention West Texas is empty?
Lubbock, where we stayed and did our two shows, is like an oasis of civilization. Outside of that, nothing.
But we did meet some UK fans at this morning's show!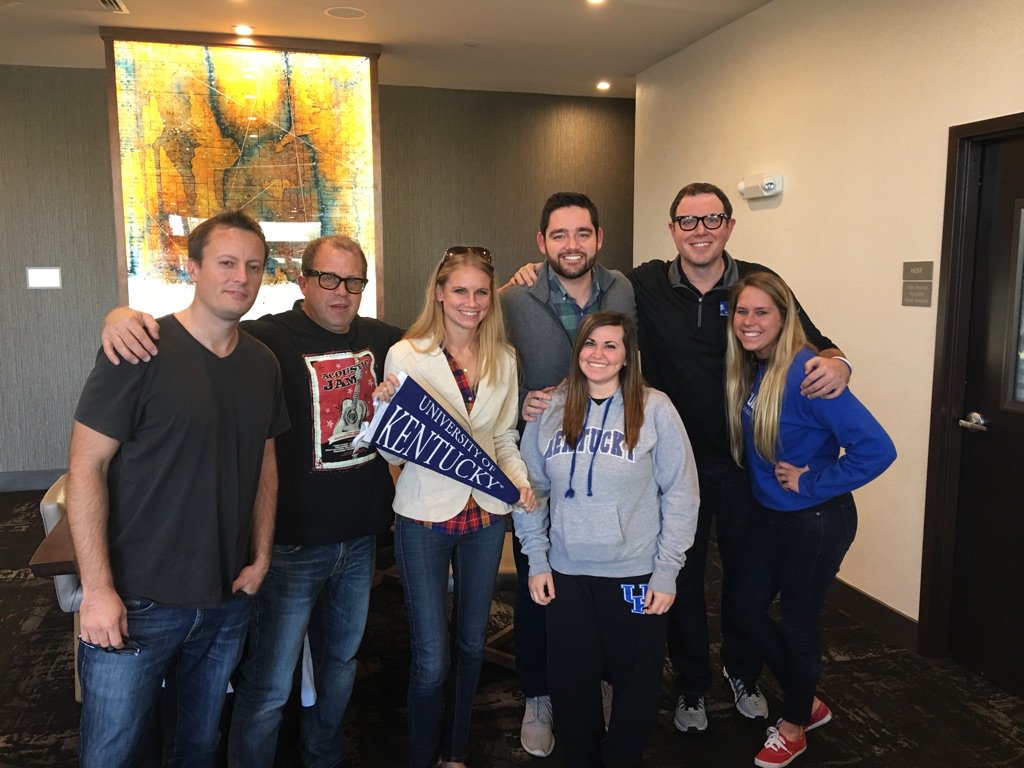 UP NEXT: ROSWELL, NEW MEXICO
(And this car is really starting to smell.)
Remember to follow us on social media for more behind-the-scenes content:
Twitter: @DrewFranklinKSR, @KySportsRadio, @RyanLemond and @ShannonTheDude
Instagram: @drew_franklin, @kysportsradio
SnapChat: drew_franklin, kysportsradio
Periscope: @drew_franklin, @mattjonesksr, @ryanlemond
See you in Vegas, hopefully!