Happy Throwback Thursday from the Calipari's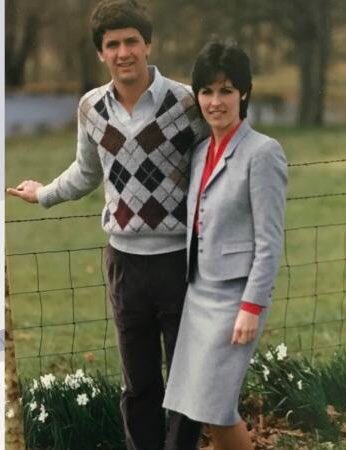 "Your dad may be tough, but he will never be "full hand grabbing a barbed wire fence" tough. #firsttimeonthefarm" — @TheErinCalipari
Fallout from the Tennessee loss and National Signing Day created a wild Wednesday in the Big Blue Nation.  A good laugh is just what the doctor ordered, along with a recap of everything you missed.
Top CBB Teams Keep Losing
No. 1 and No. 3 lost Wednesday night at home.  After leading Ohio State for the entire second half, Purdue gave up a tip-in with 2.8 seconds remaining to fall 64-63 to Ohio State.  The biggest surprise happened at Villanova.  After losing their first 11 Big East games, St. John's beat Duke and now Nova.  No. 2 Virginia was also pushed to the brink, but the Cavaliers were able to hold off Florida State for a four-point win.
Kentucky's next two opponents, Auburn and Texas A&M, went down to the wire last night at Auburn Arena.  After building a double-digit lead, Auburn stormed back in the second half, but it was too late for the SEC's first-place team.  Duane Wilson's free throws with 3.5 seconds remaining kept the Aggies' NCAA Tournament hopes alive and handed Auburn their first home loss of the season.
Sports Figure of the Year Named
The Herald-Leader's annual award given to the state's top sportsman belongs to Louisville's JT, PGA Champion Justin Thomas.  Benny Snell finished fourth, Nick Mingione fifth, Makayla Epps sixth and Stephen Johnson came in eighth place.  See all of the results here.
Kevin Knox is an Award Finalist
The Kentucky freshman is one of the final ten players eligible to receive the Julius Erving Award, given each year to college basketball's top small forward.  The award given by the Naismith Hall of Fame is only four years old and it has never been won by Wildcat.
Vanetti is Still Wrestling
Even after trading in his leather pants for a v-neck sweater, they can't keep Vanetti out of the wrestling ring.
Never celebrate too early or call me ugly you just might get pinned. They raised over 2,500 bucks for the family of a fallen Comrade. pic.twitter.com/SUIy8u6v6K

— Tony Vanetti (@tonyvanetti) February 7, 2018
Duke Basketball is Still Fake
Well, at least more than half of their Twitter followers are fake.
HOLY Quincy Jones
The 84-year old super producer did an interview with Vulture and it is…something.  A member of elite social circles, Jones touched on almost every topic imaginable — who killed JFK, Michael Jackson's plastic surgery, dating Ivanka Trump, how The Beatles were trash and Marlon Brando.  It's long and NSFW, but WOW, it is an eye-opener.
College Basketball on TV
| | | |
| --- | --- | --- |
| Time | Game | Network |
| 7:00 | Pitt at #16 Clemson | ACCNE |
| 7:00 | G. Tech at Louisville | ESPN2 |
| 7:00 | Tulane at Tulsa | ESPNEWS |
| 8:00 | #9 Duke at #21 North Carolina | ESPN |
| 8:00 | Stanford at Utah | FS1 |
| 9:00 | Wisconsin at Illinois | BTN |
| 10:00 | UCLA at #13 Arizona | ESPN |
| 11:00 | USC at Arizona State | ESPN2 |
No Kentucky Players Invited to the NFL Combine
Four kickers were invited, but Austin MacGinnis was not one of them.  If he doesn't get drafted, it might be the first time since 06-07 that UK has gone two consecutive years with a player drafted.  It's not just a coincidence Kentucky was really good in those two years.
A Brand NEW The Depth Chart Podcast is Incoming
And there's no better way to celebrate National Signing Day.  I know you can't wait for it to hit the podcast feed this afternoon.  Za'Darius Smith can't either.
[mobile_ad]