Halftime of the BCS National Championship's Tuesday News and Views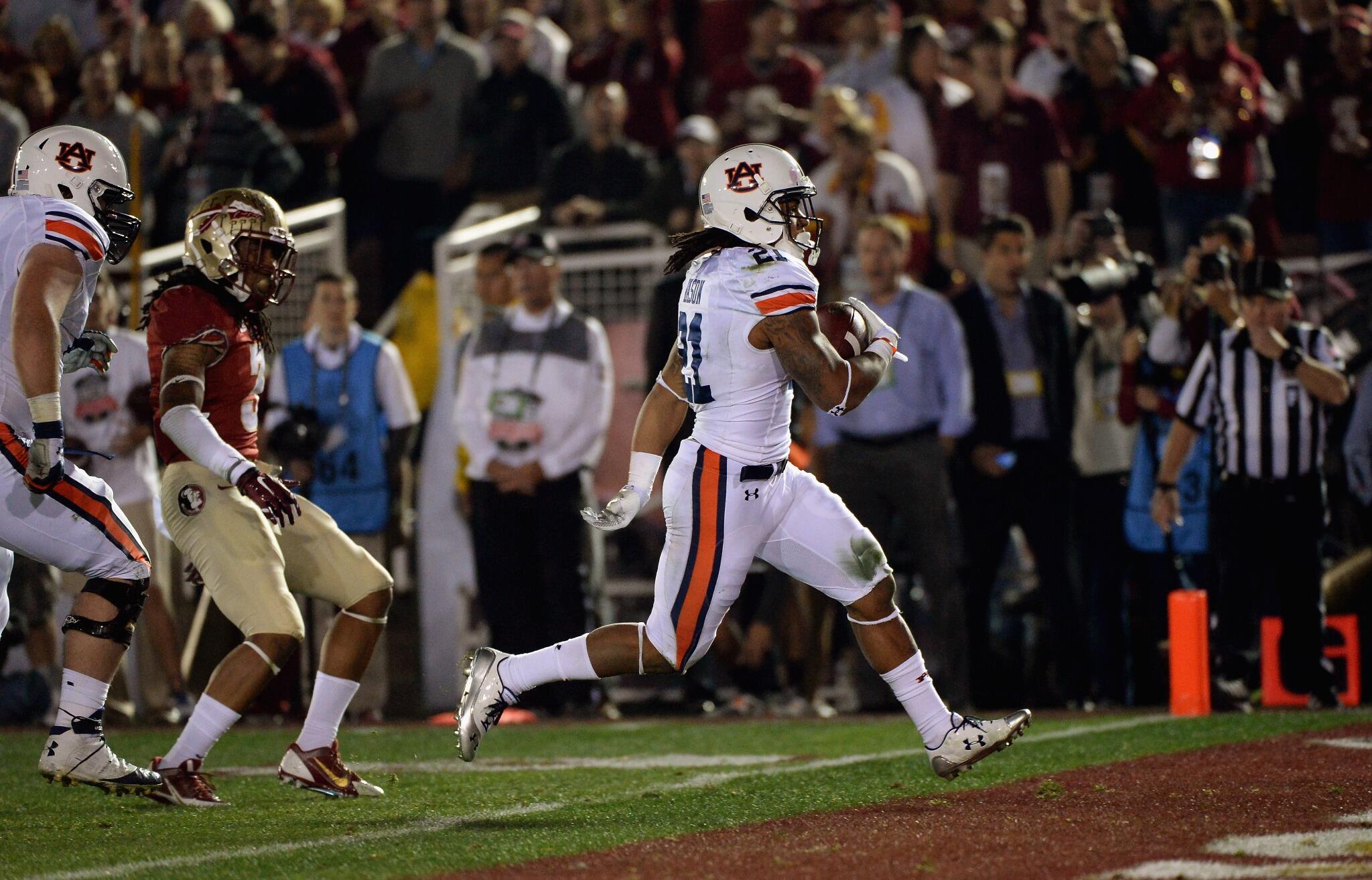 It's halftime of the BCS National Championship and Auburn leads Florida State through the first two quarters, 21-10. It took a fake punt on the last possession of the half for Florida State to get a touchdown on the board several plays later, or we'd be talking SEC blowout for the eighth year in a row. It still has the potential to finish that way, although the Seminoles will get the ball when the action returns. But it's important to note the leading team at the half is 15-0 in BCS championship history. Uh oh, Flawda State.
To the surprise of nearly everyone, Auburn is playing a complete game, not just running the ball. Quarterback Nick Marshall is 7-for-13 for 113 yards and two touchdowns. His counterpart, Jameis Winston, is 6-for-15 for 62 touchdowns and one coughed up fumble going the other way.
Off the field, ESPN 2's "Title Talk" is the worst production in the history of television. The "talking heads" broadcast without play-by-play is getting destroyed on Twitter for how atrocious it has been thus far. You know it's not good when the ESPN ticker promotes upcoming commentary from country music singer Taylor Hicks; however, it did make a small recovery before the break with Tebow and Manziel sharing the stage. Keep it in your pants, ESPN.
I'm ready to shut the computer down for the evening and enjoy the second half so here's your Tuesday News and View. Enjoy, and Go Auburn…
UK moved up to No. 14 in the AP poll, still No. 16 in the coaches poll.
The Cats jumped one spot in the Associated Press college basketball poll without playing a single game, but the real star of the updated rankings was Duke's plunge from the top 10. The Blue Devils fell to No. 16, marking the first time Duke hasn't been ranked in the AP top 10 since December of 2007. That's an impressive run, one I'm glad is over.
Ron Morris voted Louisville No. 3 again.
Ron Morris is back with another WTF AP ballot this week. In case you missed it, we tried to call Morris on the air last Tuesday to ask him what he was thinking with his absurd AP ballot — he ranked Louisville third after the loss to UK. Morris stood his ground again this week, ranking Louisville third again, ahead of one-loss Michigan State, undefeated Syracuse, undefeated Wisconsin, undefeated Wichita State, and undefeated Iowa State.
Check out his poll here. (That's what she… Never mind.)
Coach Cal said this team's basketball habits were the worst he's had.
On the Monday morning SEC coaches teleconference, Coach Cal said this team's basketball habits were the worst he's ever had in his coaching career:
"This team's habits, basketball-wise, were far worse than the other teams that I've had. They're great kids, now; they just have bad basketball habits. And trying to understand and get them to define how we have to play together, and how individuals have to be responsible for each other and to each other, has been the challenge." — Calipari
He said the winter break has been good because the extra practice time has allowed them to zero in on the areas that needed improvement. There were four areas on offense and four on defense and they scrimmaged every day for almost to hours work it all out. Now he's ready to see if it translates into games.
Alex Poythress is smiling.
It shouldn't be news, but after watching Poythress for a year and a half now, it is news. BIG news.
Calipari said Alex Poythress is smiling in practice, something he hasn't done a lot of in the past. He praised Alex for how great he has been lately, saying he has finally "broken through mentally."
"Alex, WOW," Cal said on his call-in show Monday night.
The next step: "Go get more baskets."
Basketball is back, finally.
The 11 days off has been brutal for fans of Kentucky basketball, but we only have to suffer one more day before the Cats return to action. Camp Cal is officially over, too, as the team scaled back to one two-hour practice on Monday. Calipari said he doesn't want to wear them out with three games in seven days ahead.
"But they're good. They're in good shape."
eRupption Zone tickets are available to the public for Wednesday.
With the students still away, the regular folk can take advantage of winter break by purchasing eRupption Zone tickets to Wednesday night's game against Mississippi State. Fans can start lining up for eRUPPtion Zone tickets sales Wednesday at 9:00 am. Tickets will be $5.00 each (cash only) and are limited to one per person. Tickets will go on sale 90 minutes prior to tip-off at the Rupp Arena Box Office and are available on a first-come/first-serve basis.
Upper level reserved tickets are also still available for the game, as well as the Texas A&M game on January 21. Visit www.UKAthletics.com/tickets for more information.
This guy is awesome.
Shakey is our UK Fan of the Week.
Wildcats were shut out of the SEC weekly awards.
Awards aren't given for practicing and watching The Wolf of Wall Street, I suppose.
Tennessee's Jordan McRae and Arkansas' Bobby Portis took advantage of UK's week without games, winning SEC Freshman of the Week and SEC Player of the Week respectively.
Enjoy it while you can, boys.
Keep voting for Jack Demsey's in the ESPN Bar Bracket.
Our good friends at Jack Demsey's, the official bar for Cats fans in New York City, are in ESPN.com's NYC Bar Bracket. Take a second to vote (it literally takes one second) and hopefully Demsey's will win the whole thing so we can brag about Kentucky having the best sports bar in New York City.
JD's is currently losing in the first round (but has the second most votes in the whole contest) so help out by voting here. You can vote multiple time if you clear your cookies or browser history or however that works.
There's a song called "Archie Goodwin."
"Catch me ballin' out, Archie Goodwin; my team just got the dub, that's a good win."
Meh.
That'll do it for tonight. BTI will be by at 9:00 a.m. with a post I guarantee you're going to love.