Governor Beshear Issues Travel Advisory, Restricts In-Person Gatherings A day after the state of Kentucky recorded its highest single-day total of new coronavirus cases, Governor Andy Beshear unveiled a new round of restrictions.
Kentuckians will no longer be permitted to meet with up to 49 of their closest friends. "We're seeing too much spread from 50 people getting together in someone's backyard," Beshear said.
Gatherings of more than 10 people are no longer allowed. This change in restrictions does not apply to places of business (i.e. restaurants, wedding venues, churches) that are regulated and have their own specific set of guidelines.
Governor Beshear also issued a travel advisory to states where the coronavirus positivity-rate is higher than 15 percent. The state recommends individuals that travel to states like Florida and Alabama self-quarantine for 14 days. If this policy were in place weeks ago, the recent outbreak in the Hazard High School weight room may have been prevented.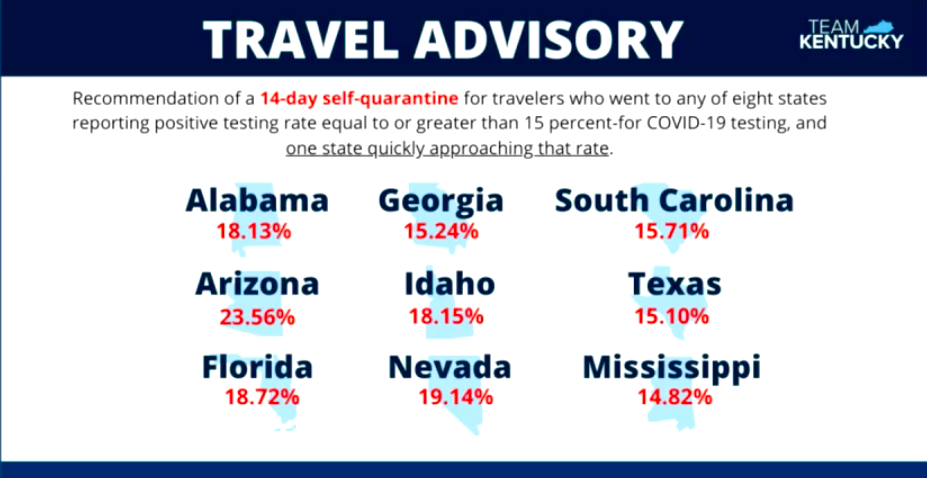 As you may ave noticed, most of those states are in the Southeastern Conference. The Kentucky football team is scheduled to travel to Florida and Alabama this fall and host Mississippi State, Georgia and South Carolina. Of course, rules and regulations change rapidly during the COVID-19 pandemic, but this new travel advisory is just one more thing SEC officials must consider as they make preparations for a 2020 college football season.
Beshear says he'll deal with questions of, say, UK traveling to SEC state with a surge down the road. That teams with medical staff and unlimited testing are a different deal from individuals going on vacation, etc.

— Eric Crawford (@ericcrawford) July 20, 2020