Goodbye, April. You were a lot of fun.
Tomorrow morning, when you wake up to a plate of expensive bacon and BTI's 9:00 am post, it will no longer be April 2014. Sad, I know. It will be May — that's how the calendar works — and we'll be leaving behind an action-packed month of University of Kentucky athletics.
So tonight, before we shut our eyes one last time this month, let's look back at the wild and memorable ride April gave us this year. If you had told us it would've looked anything like this two months ago, I'm not sure we would've believed you.
Take a walk with me…
*****
April 1: Kentucky in the Final Four, Coach Cal woke up with a sign in his yard. The month got off to a good start when one excited UK fan decorated Coach Cal's yard with "Good Luck Coach Cal" the day before the team left Lexington for Texas.
You people are crazy trespassing.
April 2: The Cats arrived in Dallas for the Final Four.
And the national media scrambled to cover up those midseason stories about Cal's flawed system.
April 3: Michael Wilbon called you "irresponsibly maniacal."
While the Cats practiced in AT&T Stadium for the first time, Michael Wilbon was busy talking trash about Big Blue Nation on Pardon The Interruption.
"If it's me, I'm getting the hell out of there. I'm turning on those people," he said. "Those people are irresponsibly maniacal."
"I will bet you right now Coach Cal is gone at the end of this year. I will bet you."
Pay up, Wilbon.
April 4: Succeed and Proceed is born.
Coach Cal introduced America to "Succeed and Proceed," his new slogan to replace "One and Done."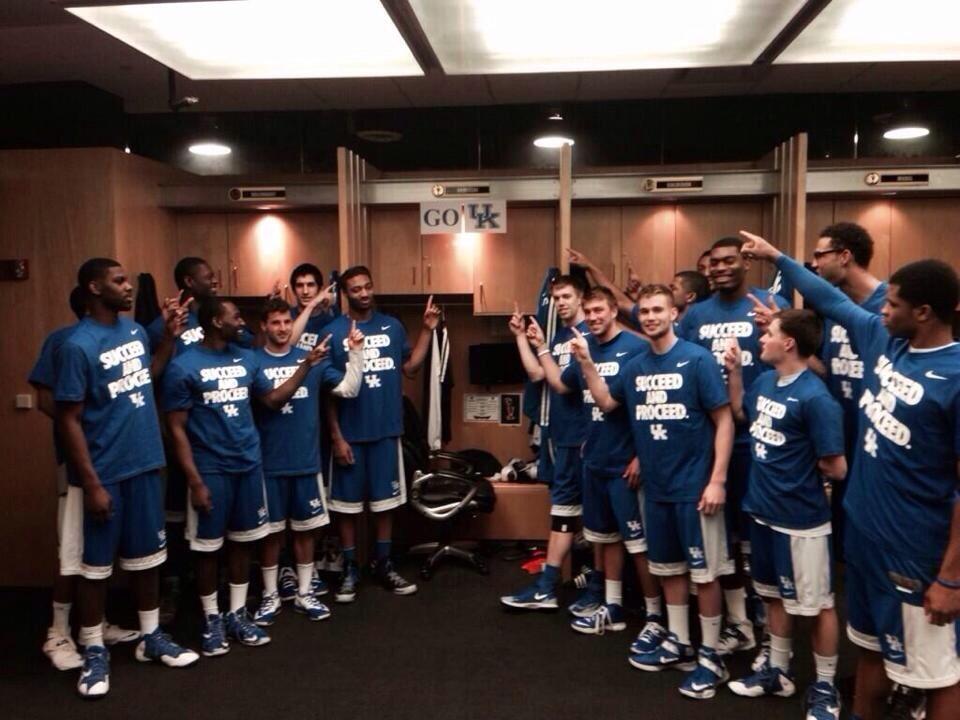 The team wore their new "Succeed and Proceed" t-shirts for a picture in front of Dirk Nowitzki's locker.
April 5: Aaron Harrison hit the game-winner to send Kentucky to the title game.
"Andrew Harrison, underneath… bounce to Dakari Johnson… back outside… this is the point where he always hits it! OHHHHHHHHHHH!"
Here we are one month later, the ride is over, and I still can't believe it went in. Wherever you were, whatever you were doing — we'll be replaying that night in our minds decades from now.
April 6: We spent the entire day watching videos.
And when we weren't reliving the night before, we were sweating the night ahead.
April 7: Rex tweeted, the ball was tipped, and the magical run came to an end.
With BBN in a frenzy thanks to a poorly-timed tweet from Rex Chapman, Kentucky fell to UConn in the title game in its worst performance of the tournament. Nerves were an issue early on; free throws were a bigger issue throughout. But, man, the tournament was too fun to be all that upset in the end.
Let's not forget, James Young did this:
Don't do 'em like that, James.
April 8: The team returned to Lexington and raised the 2014 Runner-Up banner.
Andrew Harrison made a new friend on the way into town…
April 9: Rex Chapman told KSR he didn't think his Calipari-to-Los Angeles tweet would take off.
"If I had to do it again, would I do it beforehand? Probably not," he said. "Based on what had transpired, I probably would have waited. At the time, I didn't know it was going to do that."
"It just didn't occur to me. People talked about how they were upset. Hell, I was upset. It upset me. I don't want him to leave. I assumed people would want to know what I just found out."
April 10: Mark Stoops fired up the UK football fans on KSR, regrets one comment about the quarterbacks.
With the 2013-14 basketball season slowly moving behind us, Mark Stoops made his first KSR appearance of the spring to get us ready for football. In a comment he'd like to take back, he told the show listeners that Jalen Whitlow would be the starting quarterback if the first game were to be played tomorrow.
April 11: Pitt assistant Barry Rohrssen's name emerges as a candidate to replace Orlando Antigua.
We learned his nickname is "Slice." We got really excited.
April 12: We heard good things about Drew Barker from a Saturday scrimmage.
Neal Brown said Barker is no longer playing like a high school senior, but reminded us it is still a four-man race for QB.
April 13: Ryan Lemond hinted at a Willie Cauley-Stein return.
What the hell does Ryan Lemond know, you asked yourself. But if he's right, it will be awesome, you said.
Ryan was on to something…
April 14: Willie Cauley-Stein announced his return to Kentucky for his junior season.
Willie announced his decision on Twitter, saying, "I'm proud to say I'm coming back for my junior year. I still have an empty spot to fulfill and in no rush to leave the best fans in the USA!"
It was at that moment when we realized UK could run it back in 2014-15.
Oh, and Cal revealed the tweak.
April 15: Bad news: the Kentucky Senate shot down Rupp Arena funding.
Good news: Unlimited meals and snacks for student-athletes!!!
April 16: Jalen Whitlow left the UK football program.
Mark Stoops asked Whitlow to consider a move to wide receiver, but Whitlow wasn't interested in playing anywhere but quarterback. Whitlow decided it'd be best to transfer elsewhere to keep playing QB, the position where his heart is, he said.
Stoops was disappointed but thankful for the effort Whitlow gave the program during his time in Lexington.
April 17: James Young announced he'll enter the NBA draft.
He released a statement through UK:
"My time at Kentucky has been special to me, something I'll always treasure, but I feel that I'm ready to take the next step to the NBA," Young said. "I've learned more this year, on and off the court, about life from Coach Cal and the staff and appreciate all of their guidance and support. I can't say enough about my teammates; the journey helped us build a bond that we will always share for the rest of our lives. I would like to thank the best fans in the country, the Big Blue Nation, and I hope you guys will continue to support me as I move on. I will always bleed blue. Succeed and Proceed!"
April 18: The future Cats shined in the Jordan Brand Classic.
Karl Towns went behind-the-back for the Play of the Game:
April 19: UK fan tattooed Willie Cauley-Stein's face on his leg.
A deal's a deal, right?
April 20: Aaron Harrison Sr. said his sons are midway through the process and aren't leaning either way.
Meanwhile, several people on the internet claimed to know what they would do.
April 21: Four-star linebacker Eli Brown committed to Kentucky.
Brown, from Bowling Green, was one of the biggest Yahtzees of the Mark Stoops era at Kentucky. Only Jason Hatcher, Drew Barker and Matt Elam had a higher grade from 247Sports and he still has his senior year of high school football ahead.
Brown is UK's highest-rated player in the Rivals rankings since Micah Johnson.
April 22: We said goodbye to Julius Randle.
Though it came as no surprise to anyone, Julius Randle officially announced he will enter the NBA draft.
Thanks for the memories. And the double-doubles. All of them.
April 23: Alex Poythress and Dakari Johnson announce they're coming back.
KSR had one of its best shows ever with Julius Randle, Mark Stoops, and Neal Brown before Alex Poythress and Dakari Johnson announced their returns. Then "Two and Toodaloo" was born that night.
April 24: Calipari said he'll find out about the Harrisons' future when we do.
Other big notes from Thursday, April 24:
— "Slice" Rohrssen was spotted around town
— The NCAA agreed on the autonomy of the five main conferences
— Calipari held a Facebook chat
— UK decided to let the kids drink on campus
April 25: Andrew and Aaron announced their return to Kentucky.
It broke the internet.
KSR celebrated with a special two-hour show, the No. 1 streaming show in the country that day. James Young celebrated by sitting courtside with Rihanna at the Nets game.
April 26: Patrick Towles started at quarterback in the spring game.
There is still a long way to go before a starting quarterback is announced for the 2014 season but Towles looked the part in his start in the intrasquad scrimmage. We also saw great things from the UK backfield — the Cats are deep at running back — while Za'Darius Smith was Za'Darius Smith.
April 27: Derek Willis indirectly told Pat Forde to shut up.
Willis made it clear he'll be back next season and any reports about a transfer are false and "annoying."
April 28: The 2014 CATSPYs
Or what Marcus Lee likes to call, "Another Occasion for a Bow Tie."
April 29: Coach Cal told Jay Mohr Sports that Dakari Johnson wasn't interested in what the NBA had to say.
And in bigger Dakari news from yesterday, THIS:
John Wall led the Wizards to the second round of the playoffs, too.
April 30: We looked back on the exciting month of April.
And then everyone reading this left a comment in the comments section with their favorite April memory. (The Final Four and Harrisons return doesn't count.)
Go Cats.