Gerard Butler doing three goggles wants Wednesday Night News and Views
Why yes, that is handsome Hollywood actor Gerard Butler throwing up three goggles. Butler is currently in Louisiana to film the upcoming action flick "Geostorm," and was nice enough to pose with two victorious Cats fans at a restaurant after last night's game. The goggles look good on you, Gerard, but then again, pretty much everything does.
News? Let's do it.
John Calipari wants to see his team get back to beatdowns
Calipari was feisty on his call-in show tonight, and after hearing the talking heads dissect the team's close win over LSU and apparent "struggles" on offense, he had had enough. "Folks, we're sixth in the country in offense," Cal said. "To be sixth in the country in efficiency, that's the highest rated one of my teams have been. Ever."
One thing Cal attributes his team's numbers on offense to is depth. "I like that it's different guys every game," Cal said. "A game ago, it was Aaron. This game, it was Andrew. Karl Towns has stepped up the last couple, but it's also been Willie. Dakari has played better. Dakari finally started fighting again, and I thought he played well this last game. Tyler hasn't been playing well–I told him, 'you're slipping a little bit kid'–but he's going to be fine. He knows. These guys know. I told Devin today, 'you haven't made a shot in a week, but you're still playing pretty good.'"
However, there is always room for improvement, and you're not the only one who was frustrated when the Cats blundered a 13-point lead last night. "We're trying to get better. We're trying to learn. We gotta go after some people," Cal said. "What we need to do is let's get a little bit back to getting up 12, 13, what do we have to do? We've gotta push it to 20, 25."
Oh, South Carolina…I'm sorry.
Cal was still ranting about Karl's chin-up on his call-in-show
"The chin up was, 'I fumbled it, I should have dunked it, so I gotta do something to make myself look good.' So he chins himself. You understand that was a six-point play. We had two, they had one free throw, and then made a three. A SIX-POINT–I hope we lose. Oh, I did say it. I HOPE WE LOSE! You gotta learn, son! I hope we lose!"
Cal said that his staff wanted him to call a timeout after the technical, but he refused. "My staff wanted me to call a timeout. NO! Noooooo! This boy's learning!," Cal said. Celebrating Keith Hornsby's three seconds later drove the lesson home:
It wasn't all bad cop; Cal did say that he's very proud of Karl for the way he responded. "Did he grow up? Do you think he's ever going to chin up again? Really, you don't think so? That's why I did it. These are teaching moments."
ESPN thinks Kentucky's best chance of losing is at Georgia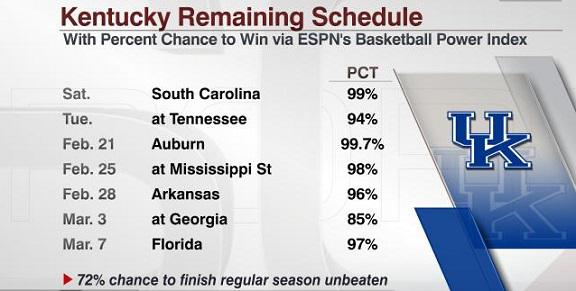 And even then, the Worldwide Leader believes Kentucky has an 85% chance of beating the Dawgs and a 72% chance of finishing the regular season unbeaten. While I agree that Kentucky's chances of entering the postseason unscathed are high, I can't put too much stock into these percentages given the "Everybody's Super Bowl" factor.
I can guarantee you Cal's laughing at that graphic too. On his call-in show, he listed three teams in the conference that are capable of beating his in the SEC Tournament. "You've got Texas A&M, Arkansas, Mississippi, all three of them can beat us. Literally, two of them had us in overtime and double overtime and the other beat us twice last year," Cal said, adding that LSU is right below that group.
Unless this group turns totally apathetic in the SEC Tournament, I don't see that happening. Especially in front of 18,000 Kentucky fans in Bridgestone Arena.
Mark Stoops got a Yahtzee from 3-star 2016 CB Tobias Gilliam
Tobias Gilliam, a three-star cornerback from Hubert Heights, Ohio, is now the 8th member of Kentucky's 2016 class. Gilliam is teammates with 4-star 2016 QB Messiah deWeaver, who decommitted from Michigan last month after a visit with Shannon Dawson and Derrick Ansley. DeWeaver is considered the 13th best pro-style QB in the 2016 class and wished Gilliam well on Twitter:
"Just want to say congrats to my brother and teammate @Tob7as_ ! Proud of you, Love you bro! One of the hardest workers I know. He deserved it ! They got a good one."
Plenty of room in Lexington for you too, Messiah.
4. Karl Towns
7. Willie Cauley-Stein
13. Devin Booker
19. Trey Lyles
Dakari Johnson came in at #34. After Karl and Willie's recent impressive performances, it's no surprise their stock is soaring; in fact, during his weekly chat, Ford said if Towns was getting the minutes and touches Jahlil Okafor does, he might be #1 on that list. And to think, only a few weeks ago, some of us were wondering whether or not Towns needed another year in school. Sigh.
Spencer Hall's article about Tom Crean is hilarious
What is wrong with Tom Crean? That's a great question. That's what you say when someone asks a really good question, i.e. one you you do not have the answer for at all. You can start with this: Basketball coaches are categorically strange. They live indoors and rarely see the sun in a way that would bother even the most callous military officer. I'm saying that because I remember reading about soldiers on the Maginot Line during World War I, and how they would lie under lamps to simulate the sun their jobs stole from them. The French grow mushrooms in those buildings now. You could probably do the same in what we imagine to be Tom Crean's dark, horrifying office.
Click this link for more of that. Years of calling out Tom Crean's creepiness suddenly feel validated.
That'll do it. I'll leave you with this video of DeMarcus Cousins singing Boyz II Men's "I'll Make Love To You." If that doesn't get you ready for Valentine's Day, I'm not sure what will:
LATE BREAKING NEWS: Anthony Davis has pulled out of this weekend's All-Star Game with a right shoulder injury. Here is his statement: