GAMEDAY: Kentucky Hosts Ole Miss at a Kroger Field that's Prepared for a Pandemic
For the first time in 2020, Kroger Field will open its doors to fans as the Wildcats get set to take on Ole Miss at 4 pm ET on the SEC Network. Unlike the picture above, it won't be packed to brim with fans.
The first game of the COVID-19 plagued college football season at the Kroge, only 12,500 fans will be in attendance for this afternoon's game. Tailgating has been banned and all patrons must wear masks. It's just one of many protocols fans must follow in order to watch the Wildcats get their first win of the season.
Gameday will look different this Saturday, but we are so excited to have the best fans in the nation back in Kroger Field!
?#BBN, here is a quick reminder of some key changes put in place to provide a healthy game day experience. #WeAreUK

?: https://t.co/d8BFreRuzv pic.twitter.com/UgvXlDqnIy

— Kentucky Athletics (@UKAthletics) October 1, 2020
The Wildcats and Rebels are both seeking their first wins this afternoon. Kentucky moved the ball effectively at Auburn, but unforced errors led to catastrophic turnovers that cost UK a chance to upset the Tigers. Lane Kiffin's offense lived up to the hype in week one, but the defense could not have been worse. Florida broke school records in the 51-35 win in Oxford.
Kiffin had this to say about his defense's performance: "There are not a lot of positives to find there. We did almost stop them on a third down, but then we roughed the passer, so I was kind of excited there for a second."
Can Kentucky pick itself off the mat against Ole Miss' high-powered offense? Wesley Woodyard is rallying the resilient BBN to get the Wildcats back to their winning ways.
'til the battle is won

? @WoodDro52 pic.twitter.com/eEN0TMke7q

— Kentucky Football (@UKFootball) October 1, 2020
Vegas, TV, Radio
Kentucky is a 7-point favorite over Ole Miss. The total is 61.5. Neither team covered the spread in week one. Ole Miss hit the over against Florida, while red zone turnovers prevented from Kentucky from giving over bettors winning tickets.
The Wildcats have not been good under Mark Stoops as favorites in conference play. UK is 0-6 ATS as home favorites in SEC play and 4-2 straight up with losses to Tennessee in 2019 and Ole Miss in 2017.
Taylor Zarzour, Matt Stinchcomb and Taylor McGregor will be on the call for the SEC Network. If you can't watch all of the action, you can hear the Voice of the Wildcats, Tom Leach, on a variety of platforms.
AM: 840 WHAS, 630 WLAP
FM: 98.1 WBUL
Satellite: XM-191 and Sirius-135
Online: iHeart Radio
Prepare with the KSR Pregame Show
The gang is back at KSBar and Grille with Freddie Maggard to get you ready for the Cats and the Rebels. All of the action begins at noon. Can't wait that long to get your gameday rolling? There are a handful of KSR football podcasts that have a little bit of everything for any UK football fan.
Joey Gatewood is Available
But will he be used? That is the question many Kentucky fans are asking Saturday morning. The Auburn transfer was declared eligible by the SEC office on Wednesday. The following day Stoops gave no indication that Gatewood would play right away. When asked if he would be the second option at quarterback, the head coach noted that Beau Allen received most of the second team snaps and gave us a "we'll see."
"We don't really ever talk about the backups at any other spot. We'll see how it goes," he said. "Terry is our starter, I'm excited about Terry. I know he'll continue to improve, he always has with reps through the season. He did some really good things in the opener, and we expect him to build on that, just like the rest of our team. We were very efficient and very good at times, we just need to be good for 60 minutes."
No Cat Walk
The biggest gameday loss at Kroger Field is the Cat Walk. A tradition that started in the mid-00s, the event has acted as a rallying point for fans to meet up with one another as they welcome the team to the stadium. Obviously, it had to go — high-fiving thousands of people isn't a smart idea during a pandemic — but it will be missed this afternoon.
Today's Fit
The Cats are rocking the classic Kentucky blues when they host Ole Miss this afternoon.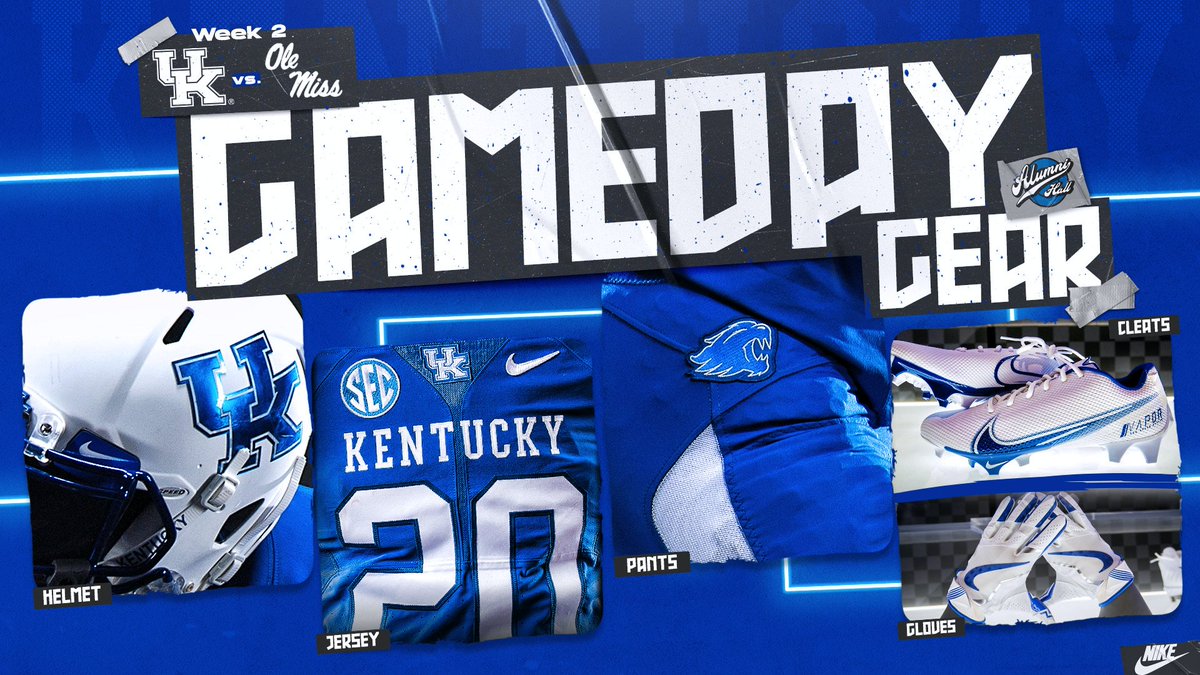 College Football on TV
Noon: South Carolina at #3 Florida on ESPN
Noon: TCU at #9 Texas on Fox
Noon: Missouri at #21 Tennessee on SECN
Noon: NC State at #24 Pitt on ACCN
Noon: Baylor at West Virginia on ABC
3:30: #13 Texas A&M at #2 Alabama on CBS
3:30: #12 North Carolina at Boston College on ABC
3:30: #17 Oklahoma State at Kansas on ESPN
3:30: #25 Memphis at SMU on ESPN2
6:00: Navy at Air Force on CBSSN
7:30: #7 Auburn at #4 Georgia on ESPN
7:30: #18 Oklahoma at Iowa State on ABC
7:30: #20 LSU at Vandy on SECN
8:00: Virginia at #1 Clemson on ACCN
Preakness Saturday
People forget that the third and final leg of the Triple Crown is this evening. Tiz the Law's Kentucky Derby loss took away all the hype from the event, yet the race is still scheduled to go off at Pimlico today at 5:45 pm ET on NBC. Art Collector and the filly, Swiss Skydiver, will try to upset Authentic, Bob Baffert's sixth Kentucky Derby winner. All five of Baffert's previous Derby winners have gone on to win the Preakness.
South Warren gets Revenge vs. Bowling Green
A scoreless tie at halftime, UK quarterback target Caden Veltkamp took a read option five yards into the end zone with only five minutes remaining in the game, ultimately propelling the Spartans to a 10-7 win over Bowling Green and avenging last season's playoff loss to the Purples. Troy Howell will have more from Kroger's KSR Game of the Week, but first, a few other scores from around the state:
Trinity 172 48, St. X 10
Rockcastle County 13, Bell County 7
Russell 32, Simon Kenton 31 (OT)
Bishop Brossart 42, Nicholas County 23 (3OT)
Southwestern 28, North Laurel 12
Male 56, PRP 20
Jackson County 30, Shawnee 20
Holmes 28, Rowan County 21
Bardstown 65, Nelson County 13
Bullitt East 28, KCD 21
Dixie Heights 28, Beechwood 21