Friday's Top 10: Maybe next year, Bobby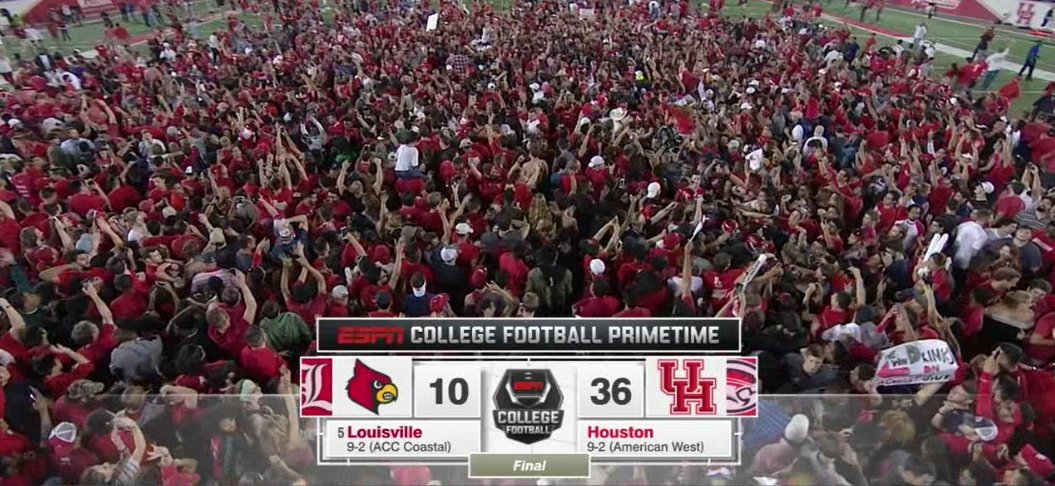 "We deserve to be in," they said.
"We would give Alabama a game," they said.
Lol.
1.) Like you and me, Louisville will be watching the College Football Playoff from the couch.
We'll lead off with the best news from Thursday: Louisville not only lost to Houston; it got murdered by Houston. The unranked Cougars took a 31-point lead into halftime and held on in the second, limiting Lamar Jackson's offense to only 10 points in the entire game. Buh bye, playoff hopes.
Also, #BlueGotIn 2.) Quade Green has signed his Letter of Intent.
Either Syracuse or Kentucky already has Green's LOI, so both schools already know if they won the Green sweepstakes or not. Adam Zagoria confirmed earlier reports that Green signed his letter on Wednesday and mailed it into the school before the early signing period deadline. However, unless one of the coaching staffs leaks the news (which is more likely on the losing end in these cases), we won't know the decision until Green announces it Friday evening.
3.) Kentucky is giving up 46 points to Austin Peay out in Las Vegas.
Need further proof that Kentucky should get its coveted sixth win tomorrow, the Cats are currently favored by 46 points against Austin Peay. I don't know a lot about point spreads in years past, but I can't imagine there's been one that high in a Kentucky football game, at least not in favor of Kentucky.
4.) Mark Stoops didn't have a ton of stuff to say in his final press conference of the week.
No big updates out of Thursday's practice, but you here's the clip of Stoops' comments anyway:
5.) We'll hear from Coach Cal Kenny Payne and some of his players later this afternoon.
John Calipari is passing this week's press conference duties off to Kenny Payne for the day. Coach Payne and a couple of the players will be available this afternoon to reflect on the trip to New York and to look ahead to Sunday's game against Duquesne. Check out Kentucky-Sports-Radio-dot-com around 2:00ish for the live stream of that.
6.) Karl-Anthony Towns went right around Joel Embiid for the nasty jam.
If you missed it yesterday, we shared ESPN's very nice feature on Towns and how he's changed the center position in the NBA. Check it out.
7.) DeMarcus Cousins took 150 kids to see the new Disney movie last night.
DeMarcus Cousins, the bad guy, took 150 young kids from the Sacramento Boys & Girls Club to see Moana, the new movie from Disney last night. But he's the bad guy, right? What a bad guy.
See video from Boogie's night with the kids here.
8.) The SEC is not good at basketball.
Yesterday we saw Mississippi State lose by 25 to Central Florida, Furman keep it within six against Georgia, and St. Bonaventure play Florida tight. Missouri gave 11th-ranked Xavier a pretty good game, then blew it with a foul 30 feet from the basket with a three-tenths of a second on the clock. Auburn did beat Eastern Kentucky, but the early season has not been all that impressive for our SEC brethren.
9.) This was all of us last night…
10.) KSR is at Jack Burford Chevy in Richmond today.
Matt and Ryan are giving away basketball and football tickets, so get on out there and see them for today's two-hour remote broadcast from Jack Burford.