Friday Morning Rapid Fire on KSR's 15th Birthday
A busy week of news at the KSR compound concludes on our website's 15th birthday. What a wild time for a sports site to celebrate an anniversary. We'll be looking back at our time online throughout the day and toasting our Fearless Leader's birthday. Until then, here's what's happening around the BBN.
UK Football Player Walkout
The Kentucky football team was supposed to practice on Thursday. Instead, they decided as a team to walk out of practice to protest police brutality.
"As a power five football team, we come from all different backgrounds, but come together to turn awareness into action. In light of recent events involving police brutality, our team stands together in unity, knowing there's a problem in this country," Josh Paschal explained alongside Luke Fortner. The two talented UK football players eloquently shared why they decided to use their platform to speak out and the goals they want to accomplish.
Mark Stoops joins KSR
Kentucky's head football coach completely supported the players' decision. He let them use their platform to speak, largely remaining silent on Thursday. This morning he'll discuss how it all went about from his perspective and the latest from the first two weeks of preseason practices when he joins KSR at 10:30 am this morning.
Blanton's Bourbon Night at KSBar
Sometimes it feels like finding a needle in a haystack is easier to find a bottle of Blanton's. Luckily, KSBar and Grille has some diligent bourbon hunters. We've procured a couple of bottles of the rare bourbon for Friday night bourbon night. Pours are only $5, a price that I still can't believe is true. If you've never had the chance to try Blanton's before, treat yourself tonight at KSBar.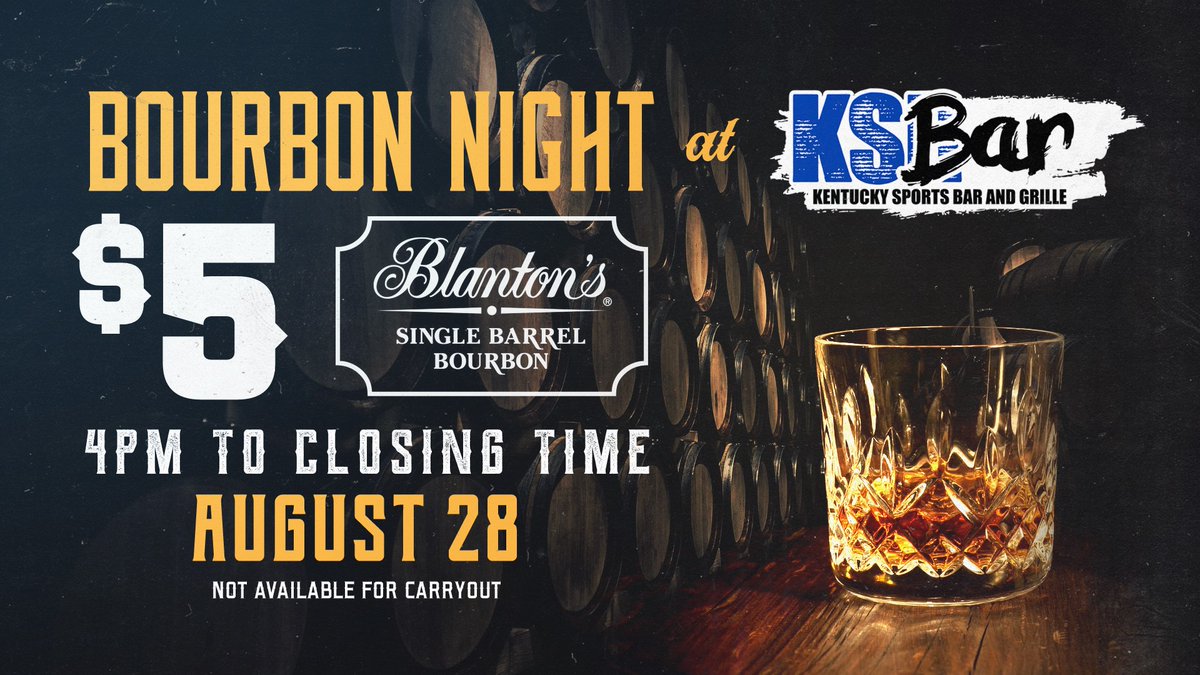 The KDE will NOT cancel fall sports
When reports of a previously unscheduled meeting between the Kentucky Department of Education, Dr. Steven Stack and KHSAA Commissioner Julian Tackett, many feared the KDE would do a 180 and cancel fall sports. That is actually not the case, as Kentucky Interim Education Commissioner Kevin Brown cleared the air with KSR.
Hear from Keion Brooks
The man who just missed a game-winning bucket at Florida to end the 2020 season is back and better than ever. This afternoon he'll be joined by members of the media to discuss his sophomore campaign and his involvement with the NABC Player Development Coalition and the SEC Council on Racial Equality and Social Justice.
Three CFB Games Postponed
COVID-19 has canceled many college football games. Three teams that planned on playing this fall have already been forced to rearrange their schedules.
Troy was set to face Louisiana Monroe on Sept. 5, but ULM postponed the Labor Day weekend game until Dec. 5 after nine new positive COVID-19 cases forced the team to temporarily suspend practice.
N.C. State vs. Virginia Tech has been moved to Sept. 26 from Sept. 12 after the Wolf Pack reported 27 coronavirus cases within the athletic department.
Marshall and East Carolina were supposed to meet on Sept. 12 to mark the 50th anniversary of the plane crash that killed 75 members of the Marshall football team as the Thundering Herd returned home from ECU. East Carolina announced the game has been postponed, but they have not yet found a date to reschedule the event.
Jager Burton Decision Day
In two days the top-ranked football player from the state of Kentucky will announce where he will be attending college. Frederick Douglass offensive lineman Jager Burton will choose between Kentucky, Ohio State, Oregon, Alabama and Clemson this Sunday at 6 pm on Instagram. Don't Geek, BBN.
NO CEILINGS
A mixtape that was once the sound of the summer is now available on all streaming platforms. Now younger generations can enjoy the last good thing Lil Wayne did. I'd embed the entire mixtape, but I don't think folks would be too happy with the explicit lyrics.
Eight Days till Kentucky Derby 146
Horses are hitting the track this morning and you can start handicapping the races now. Brisnet has compiled free past performances for Kentucky Derby fans who need a little extra time to scan the program. Even though Kenny McPeek worked out Swiss Skydiver in a Derby saddlebag, you'll only find the front-running filly in the Oaks PPs.
Keeneland will be open Derby Day
An annual tradition for Lexingtonians will still happen on Derby Day, just in a different way. Instead of opening Keeneland's gates for visitors to enjoy food and drink while betting on the races, they'll only be opening for fans to place drive-thru wagers on Friday and Saturday. You can find more details here.
Donate to STD's Charities
Enjoy the Shannon The Dude Walk? Now you can reward him for his efforts by donating to the charities he's splitting $1,000 of his prize money between, Kosair's Crusade for Children and the Hope for Pets animal shelter in Mt. Washington. You can find links to each non-profit here.
RIP Lute Olson
Lute Olson, a Hall of Fame basketball coach that built Arizona basketball into a West Coast powerhouse and won the 1997 National Championship, passed away Thursday night. He was 85. Olson took over a four-win Arizona team in 1984 then went 589-187 in 24 seasons, reaching 23 consecutive NCAA Tournaments, four Final Fours and winning 11 Pac-10 titles.
Olson almost became Kentucky's head coach. A great UK basketball "What If," Olson was the leading candidate to replace Eddie Sutton in 1989 before ultimately declining the offer to remain in Tucson. Instead, C.M. Newton hired Rick Pitino, sparking an incredible run and eventually reigniting the rivalry at Louisville. Olson's decision was certainly a sliding doors moment in the history of Bluegrass basketball.