Friday Is My Day's Top 10: Let's Go!
It's Friday and that means I'll be sitting here at the computer writing words for you for the next 12+ hours! Woo hoo! Let's go!
We have a lot to talk about going into the weekend, mostly basketball, and I am three coffees and three scrambled eggs deep, ready to carpe the hell out of this diem.
Here is a little bit about what's ahead and what you might've missed, with plenty more to come throughout the day and on into the night. So spend your Friday with me and Kentucky-Sports-Radio-dot-com — I can't think of anything better to do with your time.
1. Prayers for Arkansas tomorrow.
If Kentucky plays the way it did in its first two SEC games, the Razorbacks are in for a long night in Rupp Arena. We'll spend the majority of today looking ahead to that game, including what Malik Monk has in store for his home state school.
2. We will hear from Kenny Payne today.
Associate head basketball coach Kenny Payne will fill in for John Calipari today at the pre-Arkansas press conference to preview tomorrow's game. A couple of players will also be on hand for comments, and I will be there with the KSR Live Cam to take it all in for you, our readers.
So check the site around noonish for the live streams and then stick around for recaps of what they have to say throughout the afternoon.
3. Only 32 hours until Hamidou Diallo announces his decision.
The Diallo countdown clock is down to 32 hours and all signs are pointing to a Kentucky commitment. As I'm sure you are well aware, Diallo is set to announce his decision at 5 pm tomorrow evening with the Cats and UConn Huskies leading the race for his services.
For everything you need to know about Diallo ahead of tomorrow's big news, scroll down just a bit for last night's fact sheet on our nation's top high school shooting guard.
4. AAU coach compares Diallo to Vince Carter and Dwyane Wade.
Chris Alesi, head coach of the NY Rens AAU program, compared Diallo's game to some NBA stars on The 4 Quarters podcast. He said, "I definitely see it with his athleticism, I think he's really unique. I don't think that there's one guy that you can really point to, just because his game is different. But I definitely see Vince Carter, Dwyane Wade, guys who are just freakishly athletic."
Alesi also told the show Diallo is shooting the ball better than ever right now and called him a "program-changer" for wherever he ends up.
5. UK Hoops won a tight one against Mizzou last night.
Your UK Hoops squad got back to even in the SEC with a win in its SEC home opener last night against Mizzou. Makayla Epps went for 17 and Evelyn Akhator added 14 more as Matthew Mitchell's 24th-ranked team held off a late charge by the Tigers for a 64-62 win.
That 17-0 run before halftime really helped.
6. This video of John Short rapping "Can I Get A" is must-see internet.
Can I get a what what? pic.twitter.com/hXbveJAMYg

— Colonel John P Short (@johnpshort05) January 4, 2017
Johnny is currently on a flight home from vacation, where he heard the ocean and felt the sand between his toes for the first time.
The beach is amazing. I need to come everyday. So excited to tell my mom where I was. What a surprise. pic.twitter.com/MNcfKLLiD2

— Colonel John P Short (@johnpshort05) January 1, 2017
We look forward to hearing about his trip next time he calls in.
7. All you moviegoers, I have a question…
How hard will I cry if I see Manchester By The Sea tonight? It is #NoDrinkJanuary and that means lots of time spent with movies, but I'm not sure I'm ready to cry my eyes out and I've heard it will do that to anyone.
I'm also open to suggestions — anyone seen Hunt For The Wilderpeople? Arrival? I plan to see those or maybe Nocturnal Animals, Inferno, or Hacksaw Ridge. Big movie month ahead at the Franklin house. Last night I watched Kevin Hart and The Rock in Central Intelligence, so any recommendations you can give me will be a huge step up from that.
8. Hell of a finish in the NBA last night.
Check out the wild ending to the Hornets-Pistons game last night:
Too bad for Marco Belinelli and Charlotte, the basket was waved off and Detroit escaped with the W.
9. Have you downloaded the new KSR app yet?
It's better than Tinder, SnapChat and Super Mario Run… COMBINED.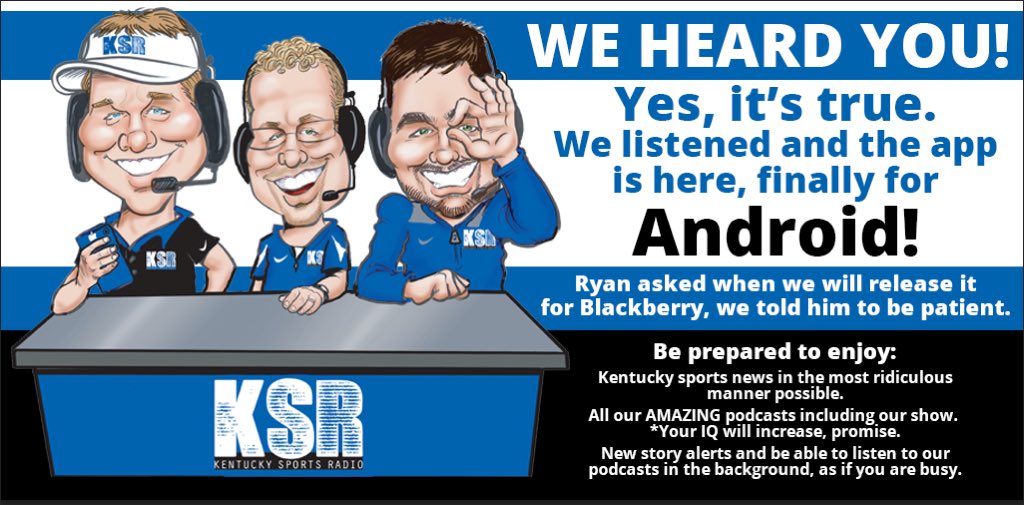 Download it here for iOS and here for Android, and keep updating because we'll be adding several new and exciting features as everyone gets familiar with it. What you see now is only phase one of the release. Lots more to come.
10. KSR is live at Freedom Hall today.
Get on out to Sports Fest at the Freedom Hall Expo Center this morning for a live broadcast of today's show. I believe you will have to pay admission to get into the event to hear the show, so it may cost you a couple of your hard-earned American dollars to get to where Matt and Ryan are set up. We completely understand if you don't want to do that, but the guys would still love to see you if you are able.
Go Cats.