Four Thoughts on Josh Paschal's Commitment to Kentucky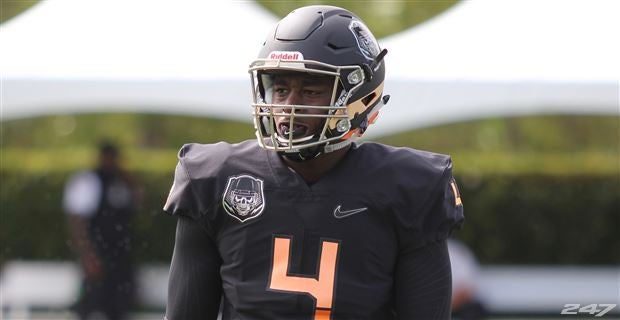 1. A Perfect Fit
Playing a 6-technique (heads-up on a tight end) is one of the most difficult tasks you can ask from a defender.  Paschal has the size to take on the contact and the quick-twitch muscles to read and react.  He's versatile enough to stand-up as the OLB, or put his hand in the dirt as the 3/4 DE. His explosiveness off the line is remarkable.  The first half of his highlight reel is filled with plays featuring one subtle move before he explodes into the backfield for the tackle.  Some think you need a massive arsenal of weapons to rush the passer, but all you need is a good rip and a good swim.  He already has both.
2. He Doesn't Have to Play Right Away
Even though recruiting the Josh Allen/Denzil Ware position was a priority in the 2017 class, Kentucky has Josh Allen and Denzil Ware in 2017.  Much like when Ware redshirted in his freshman season behind Bud and Za'Darius, Kentucky's premier players behind the line of scrimmage will be another year older, with never before seen depth behind them.
Junior college transfer Jordan Bonner has a year of experience under his belt and two more years of eligibility.  The Cats also redshirted three outside linebackers in the class of 2016: Jamar "Boogie" Watson, Roland Walder and Jaylin Bannerman.  Paschal is good enough to play right away, but he doesn't have to.
3. I Never Thought It Would Happen
Of all the top recruits in the 2017 class, Paschal was the guy I wanted at Kentucky more than any of them.
First, elite defensive ends are my favorite.  There's nothing better than a delicious sack lunch.  Second, his brother is one of the nicest guys I met at UK.  In-between coaching changes he never got his fair shot, but he never complained.  Josh would have the luxuries Tre never had at UK and a skill set to take him to the next level.  When I saw Kentucky was left off Josh's top seven, I understood and moved on, but made sure to tease Tre every time I saw him.  I never expected this turn of events, but that's the kind of year it's been for Kentucky football.
4. Sorry, Not Sorry Bob
Bob has always been the Stoops brother with the upper hand, but not this time Bob-O.  Mark convinced Paschal to come to Kentucky over Oklahoma, giving Mark bragging rights this Christmas.
Bringing back the old school YAHTZEE! 💯🎲🎲

— Mark Stoops (@UKCoachStoops) December 13, 2016
w