Football's Saturday News and Views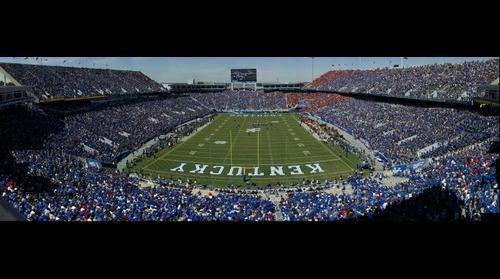 Nine long months have seperated the Kentucky football team and their fanbase. The last time we saw our dear Cats we were finishing a 2-10 season with Stoops hard at work laying the foundation to rebuild the program. Now the team gets the chance to improve and build on last year's limited successes. All signs point to an improved product on the field. With a tumultous SEC east maybe the Cats will have the opportunity to make some noise.
It all gets started tomorrow as…
The Skyhawks Come To Town
We've been talking about this game for weeks and now it's finally here. Kentucky opened up today as a twenty point favorite over the Skyhawks for tomorrow's noon kickoff. Kentucky has more talent at every position on the field so the spread could be a little bit low. Dylan Farve and Tony Bell will be doing their best to upset the Cats but Patrick Towles and Bud Dupree are going to make sure that doesn't happen. What do you think the score will be?
Speaking of the game, there are some big changes coming to Commonwealth tomorrow. Here's a bit of what you can expect tomorrow:
Fans' choice in music:

UK is partnering with four local radio stations to allow fans to vote on songs from four genres

—hip hop, pop, rock, and country. The vote's been going on all week, and the winning songs will be played during timeouts. If you haven't checked out the list yet, I encourage you to do so. Some of the options are…interesting. I'll leave it at that.
Players' choice in music: Earlier this summer, eight UK players chose songs they want to hear right before kickoff and fans voted for their favorites. Tomorrow, you'll hear Braylon Heard's choice of "Who Run It" before the the Cats run it back for a touchdown (hopefully).
They can play songs and videos between downs now: The SEC changed the rules to allow video, audio and music to be played between downs, which hopefully means we'll see Za'Darius Smith leading the crowd in some chants on the jumbotrons.
The mysterious pre-fourth quarter tradition: UK will unveil a new tradition for the break between the third and fourth quarter tomorrow. What will it be? Randall Cobb leading the crowd in the CATS chant? Please???
In-game score updates — Game scores from across the country will be played on a continuous loop on the ribbon boards during the game so you won't miss a thing.
FREE WATER! — Complimentary 10-ounce cups of water will be available to fans at stadium concession stands this season. That means you have no excuse not to rehydrate from your pregame tailgating festivities.
EJ Floreal Earns A Scholarship
Mr. Bouncy himself made headlines today as it was announced he had earned a scholarship to play at the University of Kentucky. EJ walked on last season out of Dunbar and was rewarded for all his hard work in practice with the scholarship. It's a great story for a great kid with a big time personality. May this scholarships bring about smack-cams and instagrams for years to come.
Diamond Stone Cuts The Cats
Last night, five-star center Diamond Stone trimmed his list to five, and Kentucky did not make the cut. Stone narrowed his list to Maryland, Duke, Wisconsin, Oklahoma State, and UConn, dashing dreams of a Malik Newman/Diamond Stone package deal in Lexington.
Matt said on the radio earlier that getting Stone would have been nice but losing him isn't exactly a disappointment. This class is full of talented big men and Kentucky could be bringing one, or two to Lexington next fall.
The KSR picks for the upcoming year are in! Matt, Drew, Ryan, Jared Lorenzen, BTI, Nick Roush and Mrs. Tyler have turned in their picks for UK's 2014 football season. Let's hear yours.
SI profiles Bobby Petrino
Tha Cards are back in action this week against Louisville on Monday night. But it's been business as usual for Bobby P and the Cardinals since the two reunited earlier this year. SI went in depth and here's a bit of what they had to say:
But consider this: As SI reported this story, a source with ties to members of the Cardinals' football program provided information that was then presented to Petrino for confirmation or denial. Just hours after this exchange, Petrino called a staff meeting and, according to the source, who spoke anonymously because he is still employed in athletics, said, "Shut your f–– mouths about things that go on in my building. Things are getting out. Guys are talking. If you're not happy, get the f– out and leave."
Check out the full story here: Is Petrino Truly A Changed Man
See you bright and early tomorrow, get to Lexington early as construction could make traffic a mess.