Dueling's Tuesday Morning Wakeup
On this date, some 214 years ago, the great state of Kentucky put an end to one of its favorite forms of combat: dueling.
November 10, 1801, the legislators of this great commonwealth decided there were far better ways to decide a dispute than firing weapons at one another. Though it seemed to work in its prime, times were a changing and casual gunplay was becoming more and more of a thing of the past. They decided it was time to put down the weapons and find new ways to show off for the ladies.
However, since 1891, state officials must swear an oath against dueling when they take office. They must swear or affirm that "since the adoption of the present Constitution, I being a citizen of the state, have not fought a duel with deadly weapons within the State or nor out of it, nor have I sent or accepted a challenge to fight a duel with deadly weapons, nor have I acted as a second in carrying a challenge nor aided or assisted any person thus offending, so help me God."
It's probably time to toss that one out, right?
Mark Stoops was fired up on Kentucky Sports Radio radio yesterday.
Stoops made an appearance on the show to answer questions from an upset Big Blue Nation. Things got a little testy when Matt Jones asked him if he and his staff are disorganized on the sideline, namely the eight-man punt return against Auburn.
Stoops told him, "Yes, I'm perfectly comfortable with the organization. I think I addressed that after the punt. I'll take responsibility for that, who else will it fall on?"
"You want to start crucifying me over that, go right ahead. That doesn't determine a game. I understand, believe me. I'm a big boy. You lose a few games, and everybody starts – absolutely, we're plenty organized. Believe me. That's not the issue."
Scroll down to hear the entire interview or be lazy and click the link here.
We will record a new KSR Football Podcast tonight.
Patrick Towles or Drew Barker? Jared Lorenzen, Freddie Maggard and Nick Roush will weigh in on the rebirth of the quarterback competition in Lexington. They'll talk football woes for an hour or two tonight and then upload it to the website tomorrow afternoon. Send them any questions you may have for the show.
Shannon Dawson and the offense will speak today.
Fans will likely learn more about the quarterback situation after today's practice when offensive coordinator Shannon Dawson and some of his players are available to the media. It'll be interesting to hear what Towles says about his confidence and future, assuming he is one of the players interviewed.
Look for that some time this evening.
Drake rocked Kentucky blue in Sacramento last night.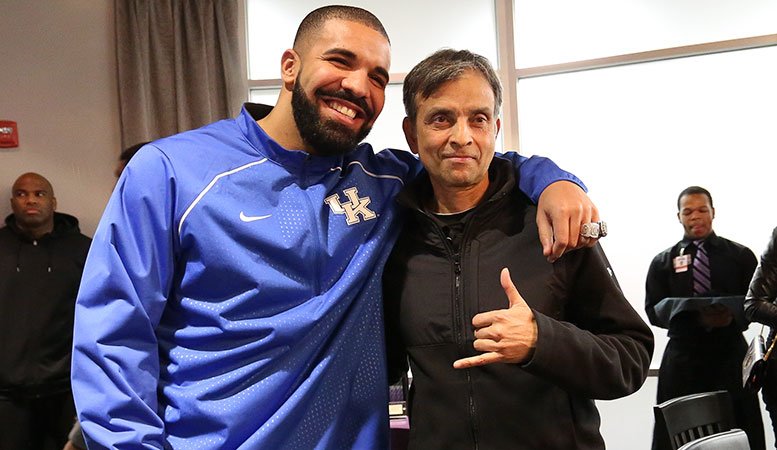 DeMarcus Cousins made his return to action after missing four games with a strained achilles, and he did so with his good buddy, Drake, sitting courtside. Drake was in Sacramento to watch the Kings-Spurs game, and he rocked Kentucky blue instead of the home team's black and purple. That looks like UK's 2012 national championship ring on his finger, too.
Karl-Anthony Towns recorded his fourth double-double in six career games.
17 and 10 last night for Towns in Minnesota's win over Atlanta. He and Andrew Wiggins combined for 50 points on 20-of-29 shooting from the field. Don't look now, but the Timberwolves are good.
Some good company there.
Coach Cal on the HoopHall Miami Invitational call today.
The four participating coaches in the HoopHall Miami Invitational — John Calipari, Thad Matta, Josh Pastner and our boy Orlando Antigua — will hold a conference call this morning to answer questions about Thanksgiving weekend double-header. Cal will speak for about 10 minutes and I will have notes and quotes here on the site immediately after.
Tomorrow is Signing Day for college basketball.
Scroll down for a primer to get you ready for the big day. Or click here.
Go Cats.