Double Yahtzee: Timeline of Williams' Commitment, Decommitment, Recommitment
Jarren Williams announced his commitment to the University of Kentucky on Monday for the second time, ending a roller coaster of a recruitment for the Big Blue Nation. (Hopefully.)
When he committed the first time last summer, Williams was the first on the board from the Class of 2018. Then things got a little crazy, Cats fans panicked, and now all is right in the world again.
So as we get caught back up with Kentucky's next big QB, let's take a ride down Memory Lane in this timeline of events of the last year.
---
March 25, 2016: Williams took his first unofficial visit to Kentucky.
Williams and some other talented Georgia prospects made a trip to Lexington to check out the University of Kentucky in late March of Williams' sophomore year, marking the beginning of a strong relationship between the program and the young recruit.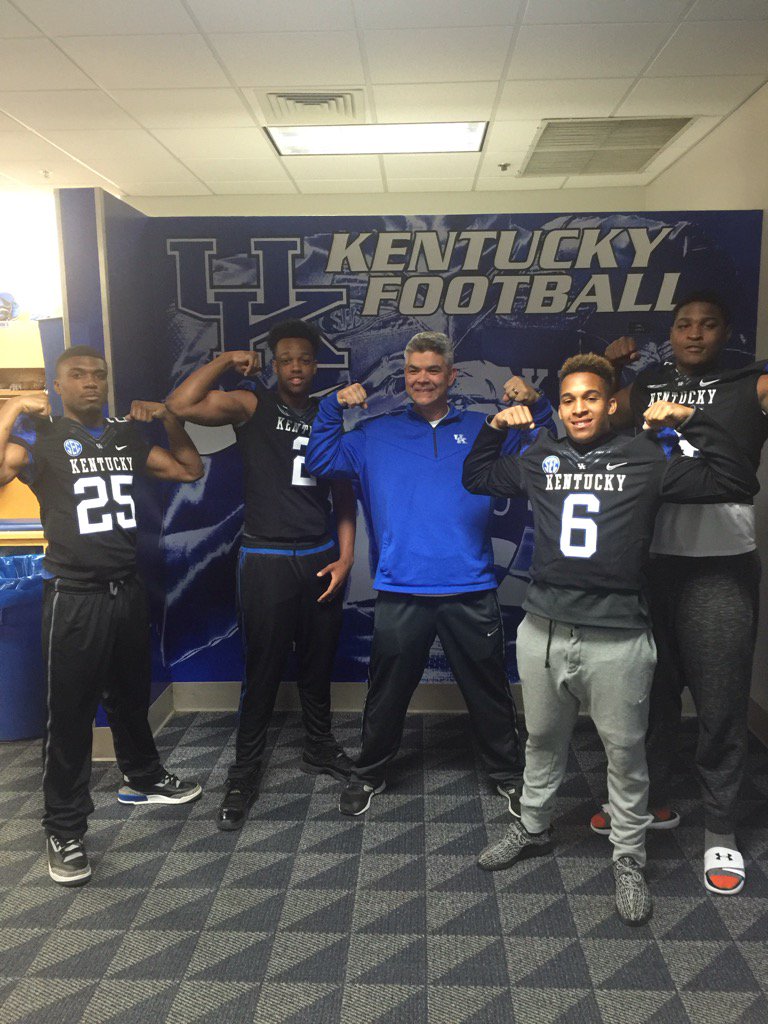 March 26, 2016: Louisville became the first school to offer Williams.
One day after visiting Kentucky, Williams and friends drove over to Louisville to check out the Cardinals' Saturday practice. He left with a UofL scholarship offer, his first of many offers to come.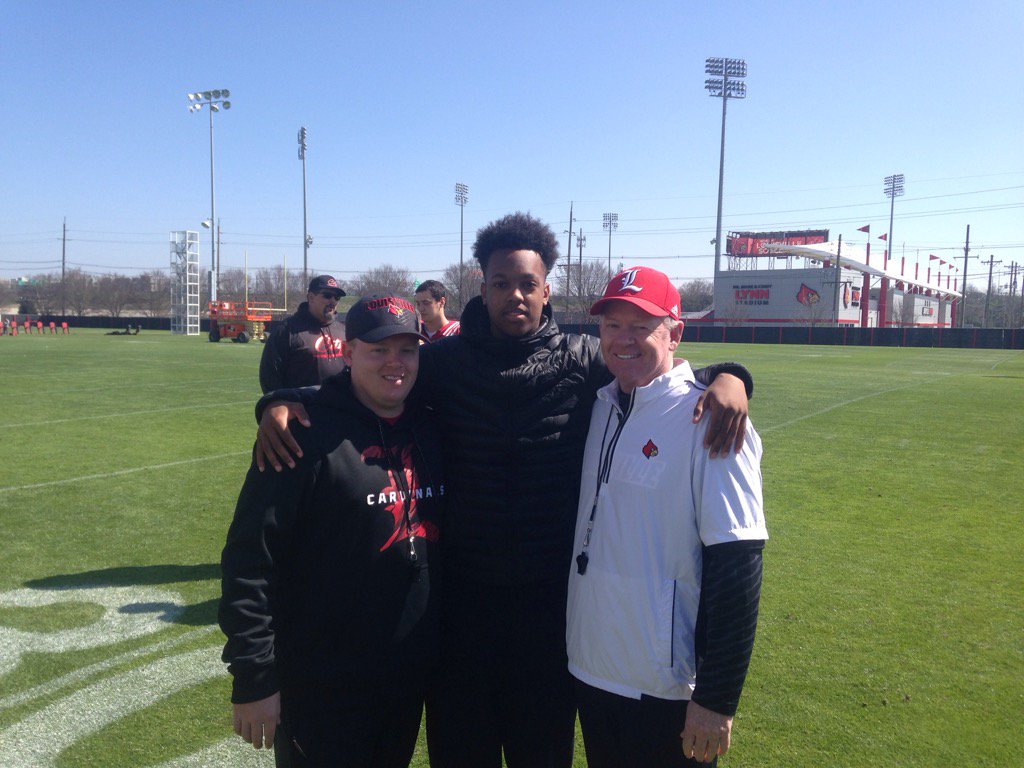 Lamar Jackson was one of the main drivers behind his early interest the Cards.
April 2, 2016: Florida State gave Williams his second scholarship offer.
One week after receiving an offer from Louisville, Williams was extended a scholarship offer from Florida State during an unofficial visit to Tallahassee for a 'Noles scrimmage.
As was the case with Lamar Jackson and Louisville, Williams liked what Jimbo Fisher and the FSU staff did with Jameis Winston.
April 16, 2016: Williams visited his home state school, the University of Georgia, for its spring game.
Williams made his first trip to Georgia for G-Day, the annual spring scrimmage.
April 29, 2016: Williams received a scholarship offer from Kentucky.
A little over a month after his recruiting tour of the Bluegrass, Williams finally received an offer from the Wildcats. Darin Hinshaw, the lead recruiter for UK in Williams' recruitment, made the trip to Central Gwinnett High School to extend the offer after seeing Williams had made some tweaks to his throwing motion at Hinshaw's encouragement.
May 3, 2016: Scholarship offer No. 4.
Days after Kentucky gave him his third scholarship offer before the summer after his sophomore year, the University of Colorado came through with a fourth offer.
May 10, 2016: South Florida made it five offers, plus many, many more in May.
Many more would follow South Florida's offer throughout the month of May. On the 13th he received his sixth offer, from Colorado State, after Central Gwinnett's spring game; West Virginia would offer on the 16th; Boston College and Maryland each offered on the 18th; followed by Houston on May 27th.
By the time June rolled around, Williams held 10 scholarship offers from around college football.
June 8, 2016: Williams returned to Lexington for summer camp.
Now a hot QB name in the south, Williams made the trip back to Lexington in early June for one of Kentucky's summer camps, where he stood out among all campers.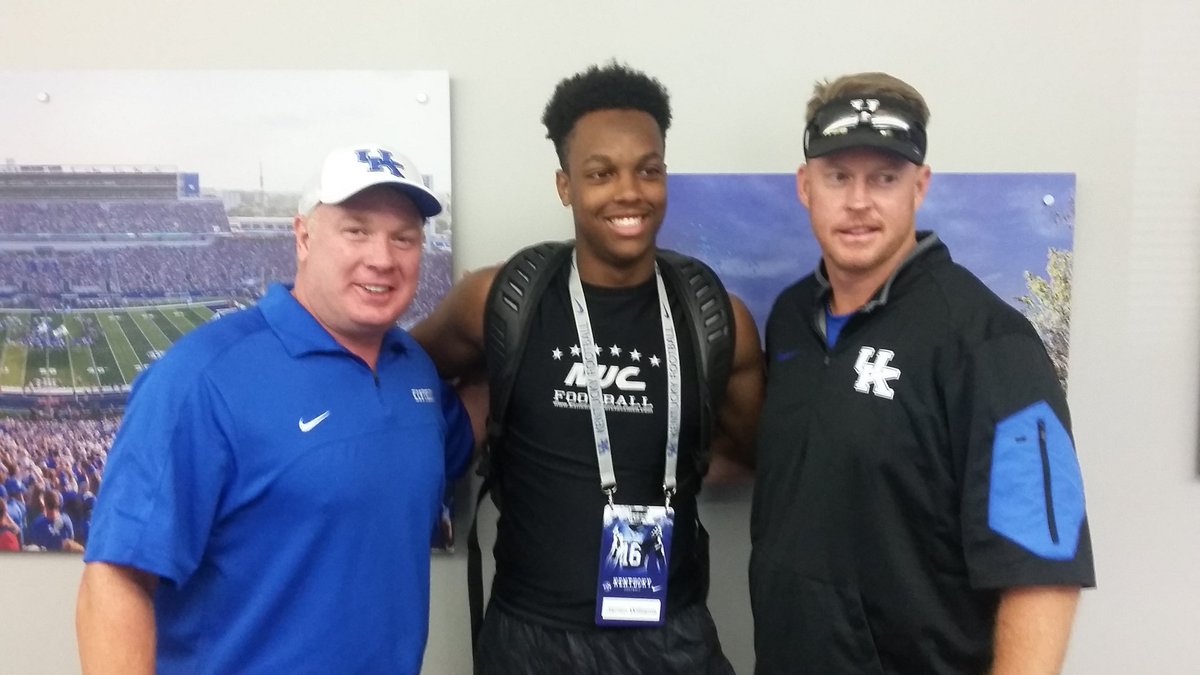 During a break in the action, Williams tweeted, "I'm loving it up here #BBN," which further proved the momentum was moving in the Cats' favor.
June 16, 2016: Ohio State, Mississippi State in to see Williams at Central Gwinnett camp.
Ohio State and Mississippi State, as well as many others, were in Lawrenceville to watch Williams and his Central Gwinnett teammates in the high school's elite football camp. OSU head coach Urban Meyer spent some one-on-one time with Williams going over some passing drills, but left town without offering a scholarship.
June 19, 2016: Williams COMMITTED TO KENTUCKY.
Williams took to Twitter to announce his commitment to the Wildcats, telling his followers, "After careful evaluation, I am excited to announce that I have officially committed to the University of Kentucky. I would like to thank my parents for their guidance and support throughout this arduous process. I would like to thank my head coach and all the coaches who played a role in my development. With that said, I am looking forward to joining my new family."
Big Blue Nation exploded with excitement for the first commitment from the Class of 2018 and the future face of the program.
July 17, 2016: Sunday Night Lights camp in Lexington.
Williams returned to Kentucky once again to help recruit more talent from the 2017 and 2018 classes at UK's Sunday Night Lights camp. Once a major UK target, Williams became a UK targeter and recruiter himself after announcing his commitment.
September 17, 2016: Williams visited Louisville and Kentucky in one day.
Although he was committed to Kentucky at the time, Williams was in Papa John's Cardinal Stadium to catch some of ESPN College GameDay and Louisville's Sept. 17 game against Florida State. He then made his way to Lexington to see Kentucky host New Mexico State in the Cats' third game of the season, his first time in Commonwealth Stadium for a UK game.
Williams insisted the Louisville visit was only to see two quarterbacks he admired and that his UK commitment remained solid.
November 2, 2016: South Carolina offered a scholarship.
After some insane numbers throughout his junior season, South Carolina jumped on board the Jarren Williams train by extending him a scholarship offer.
November 10, 2016: Williams invited to U.S. Army All-American combine.
Held in January each year, the U.S. Army All-American combine invites the best underclassmen nationwide to San Antonio for the national combine at the U.S. Army All-American Bowl.
November 21, 2016: The U offered Williams.
Mark Richt in pursuit of the hot quarterback from his old stomping grounds. It was Williams' 12th scholarship offer at the time and the second since he committed to Kentucky.
November 29, 2016: Louisville visited Williams in Georgia.
Bobby Petrino's staff continued to fight the good fight despite Williams being committed to the rival school.
November 30, 2016: Mark Stoops and Darin Hinshaw visited.
Stoops and Hinshaw checked in on their prized commitment at his high school on the third day of the fall contact period, one day after Louisville sent coaches.
December 30, 2016: Williams participated in Georgia's Rising Senior Bowl.
Williams competed against fellow junior standouts from the state of Georgia in Atlanta's Rising Senior Bowl. He connected on five of seven passes for 21 yards in a losing effort.
January 18, 2017: Mississippi State offered Williams.
Fast forward to January when another SEC school threw an offer at Williams, making 13 offers on the offer sheet. Many more to come…
January 28, 2017: Williams visits Kentucky again.
This time Williams was in town for Junior Day in Lexington.
January 31, 2017: Missouri offered.
Offer No. 14 in hand, yet another one from the SEC.
February 4, 2017: Tennessee offered.
No. 15.
Big Blue Nation slowly began to panic.
February 17, 2017: Michigan State offered.
No. 16.
March 14, 2017: Ole Miss offered.
No. 17.
March 18, 2017: LSU offered.
No. 18.
March 23, 2017: Florida offered.
No. 19.
Williams now with offers from over half of the SEC.
April 9, 2017: Arizona State offered.
No. 20, this time out of the Pac-12.
April 11, 2017: Alabama offered.
"Alabama?! Here we go again," we all thought.
April 14, 2017: Williams visited Kentucky for Blue-White game.
Good time today with my bro🤘💯 pic.twitter.com/g8V9UlGg2M

— J D U B💰💫 (@Jarren2Williams) April 15, 2017
Wildcats barely hanging on to that commitment, now that Williams is one of the hottest names in the game.
April 19, 2017: Kansas State offered.
No. 22.
April 24, 2017: Williams DECOMMITTED FROM KENTUCKY.
"After much thought and prayer, I have decided to decommit from Kentucky and open up my recruitment," he wrote in a note on Twitter. "This is an opportunity of a lifetime and I want to make sure that I make the best informed decision regarding my future. Please respect my decision as I will not be doing any interviews regarding my decommitment."
It was an understandable decision, considering the long list of new offers on the table from some of the sport's top programs.
May 4, 2017: Georgia offered, Kentucky visited
Kirby Smart trying to keep one of Georgia's star QBs at home, while Vince Marrow and Darrin Hinshaw made the trip to get their former commitment back on board.
May 7, 2017: Williams invited to Elite 11 Finals.
Recent @UKFootball commit @Jarren2Williams shined at the Charlotte Regional, and earned the 16th spot at the #Elite11 Finals. pic.twitter.com/QQntj0pcBr

— Elite11 (@Elite11) May 15, 2017
He will go to Los Angeles in early June to compete against the best of the best quarterbacks in one of high school football's premier events.
Fun Fact: 10 of the last 11 Heisman-winning quarterbacks were Elite 11 participants.
May 15: Jarren Williams RECOMMITS TO KENTUCKY.
On our very own KSR radio show, Jarren Williams announced to the world that he has recommitted to Kentucky and this time it is for good. He explained the decision to reopen his recruitment by telling us, "The reason I decommitted was because talking to the coaches and stuff and my parents, we had decided to take some more visits and do camps. Being the face of the class, out of respect for the university, I thought it would be best to go ahead and decommit. That was that and talking to Coach Hinshaw and Coach Stoops and praying about it a lot, I just really got that feeling that this was the spot for me and we just decided to shut it all down and come back home."
When asked if he's fully back on board for good, Williams said, "Oh yeah, this is it. I'm shutting it down. This is it now. I know where my heart belongs. I'm committed 100%. I'm shutting it all down."
Great day to get outside and play your favorite dice game. 🎲 pic.twitter.com/C6s0W6jbg0

— The Kentucky Wildcat (@The_Wildcat) May 15, 2017
Yahtzee.