Dota 2 International's Sunday News and Views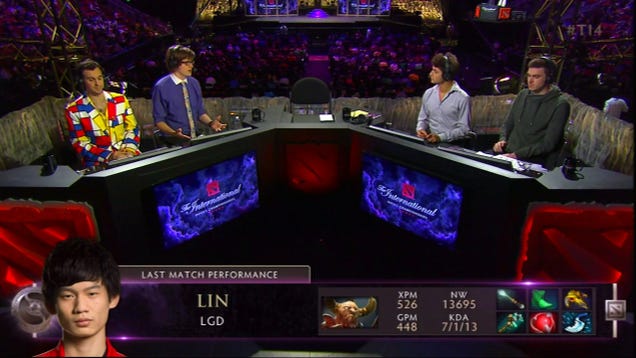 When I was a child I would spend countless hours grinding away on the Super Nintendo as my parents would tell me that nobody gets paid to play video games. If I was going to make a living in this world I would need to apply myself in an arena other than a virtual one. Currently underway is the Defense of the Ancients 2 (or Dota 2) international tournament with a grand prize of 10 million dollars. The event is currently streaming on every video game website and even on ESPN 3 so you could say it's a pretty big deal and I can say my parents are wrong. Being a professional gamer is now a career.
Esports are the fastest growing sporting league in the world and the winner of the above tournament will bring home more than the 8 mil Rory looks to win at the British open. Perhaps in the next ten years we see the top players in the world facing off in Madden on ESPN just before the Super Bowl kicks off. Or Call of Duty deathmatches each night on NBC. Maybe there will be an Olympics of gaming where countries send their best teams to compete in various games. Gaming is leaving the basement and heading for your television. It'll be interesting to see just how big professional gaming can become.
Now some news and views:
Zy'Aire Hughes rolls the dice
The 2016 Kentucky high school football class could be the most talented the bluegrass has ever produced and the Cats are on their way to locking it up. They already have a commitment from Landon Young out of Lafayette and now Zy'Aire Hughes from Loan Oak has decided to join him. Hughes played QB for the Purple Flashes in their final year before closing and consolidating into McCracken County. Hughe will likely join a loaded wide receiver corps when he arrives on campus in a couple of years.
With Hughes and Young committed the staff can move on to top center Drake Jackson out of Woodford County and Quinton Baker from Ashland for the 2016 class. Coach Brown is making Danville proud.
Kentucky Will Take Their Talents To South Beach
Kentucky rarely plays a non-conference road game against a team not named Louisville, North Carolina, or another high profile team. However next season that is going to change as Cal is doing Antigua a solid and will take Kentucky to South Beach to play USF. The game is slated to be a part of a double bill with Ohio State and Memphis so go ahead and circle your calendar. Miami sounds like the place to be in late November.
2014-2015 Cats Are Putting In Work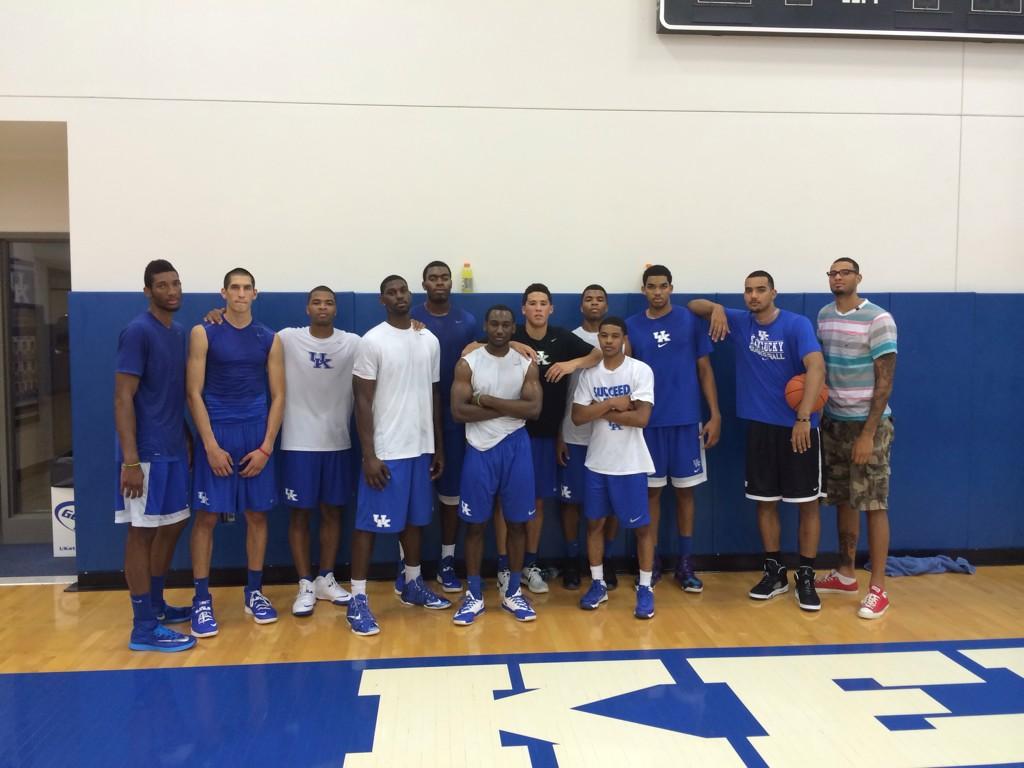 Chad Ford released his first big board for next year's draft today and 3 Cats made the cut with 4 more just on the out side. Ford thinks Karl Towns could go third with Willie 12th and Andrew Harrison 28th. Alex was 31st, Dakari 34th, and Aaron Harrison 35th. Perhaps as a result the team got in the gym and started putting in work with a late night gym session. Coach Cal returned from the Peach Jam to find the team playing and tweeted the above picture praising the team for their work and how they "love to play".
August 10th is just a few short weeks away and we will all be able to see this super team in action. 2014-15 is going to be one heck of a ride.
Malik Monk Gets An Offer
The Peach Jam brings all the recruiting news you can handle and the latest is that 2016 prospect Malik Monk picked up a Kentucky offer earlier today. Malik Monk is the 6th rated player in the class of 2016 and garnered a lot of attention this weekend at the Peach Jam, dropping 40 points in front of Coach Cal and Bill Self, among others. Calipari thought he was important enough to watch that he made the trip BACK from Lexington to Augusta AGAIN last night after hanging out with LeBron just to catch Monk in action.
That's all the news fit to print from this busy Saturday. Enjoy yourselves and check back tomorrow to see what new info Sunday will bring. Go Cayts.