Dolly Parton's Wednesday News and Views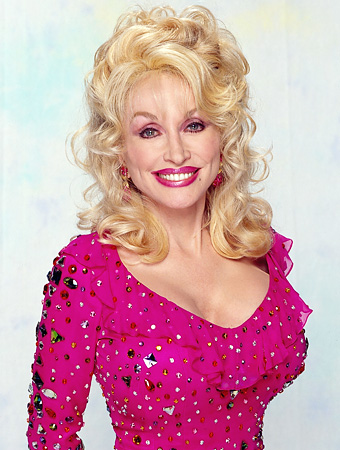 If my calculations are correct, Dolly Parton is like 223 years old, and she is still touring the States with her extra-large breasticles and unmistakable singing voice. The Backwoods Barbie was in Richmond Tuesday night at Eastern Kentucky University's Center for the Arts for a St. Mark Catholic Church and School benefit concert, her second time back at EKU after a St Mark benefit in 2008.
As you can see in this photo from Jennifer Palumbo at Tuesday's show, Dolly's still got it going on: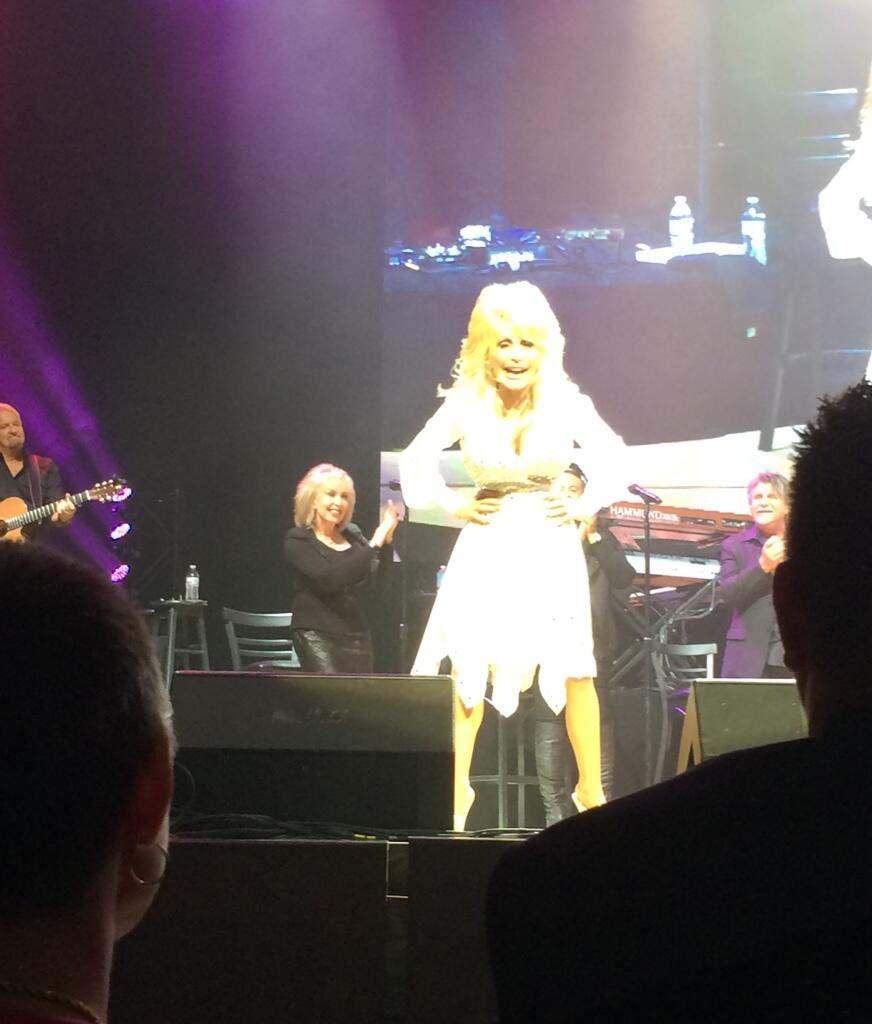 Parton and Reba McEntire share the record for most No. 1 singles by a female country artist at 25, but "I Will Always Love You" will always be at the top of the list for me…
… although Whitney's version is better.
But above all this, let's do this News and Views thing. If I should stay, I would only be in your way.

St. Louis and Tampa to host future SEC Tournaments.
Kentucky fans' favorite trip of the year will be heading to Missouri in 2018 when St. Louis host the SEC Tournament. We'll be packing our bags for Tampa four years later in 2022, SEC commissioner Mike Slive announced on Tuesday.
Nashville will play host the other nine years between now and 2025.
Plan accordingly.
We're getting two new permanent basketball rivals!
When the SEC announced its new basketball scheduling format two years ago, it included one permanent rival for a home-and-away series every season. Florida has been Kentucky's permanent rival for the past two seasons, but the Cats will add two more in 2014-15.
The Commish let it be know that the SEC is going to three permanent rivals/opponents, while keeping the conference schedule at 18 games.
I'd like to see Tennessee and Vanderbilt be the two we add. You?
Malik Newman to narrow his list at the end of the summer.
The class of 2015's best scorer told Rivals.com he plans to trim his list to five schools in time for the fall.
Kentucky currently leads Newman's Crystal Ball predictions with 90 percent of the vote, ahead of Kansas at 10 percent. He is also considering Mississippi State, Ole Miss, NC State, and Duke with offers from Arizona, Louisville, North Carolina and several others.
Newman said over the weekend that the "package deal" with Diamond Stone is still 100 percent on.
This police officer at the Indy 500 got a little trigger-happy with the taser.
Ol' buddy in the red socks should've stayed back. What did he think he contributed to the situation?
Stop what you're doing and vote for A.J. Reed for the Golden Spikes Award.
Kentucky's star player and the 2014 SEC Player of the Year is one of 21 semifinalists for the Golden Spikes Award, given to the top amateur baseball player in the country by USA Baseball. The award is sponsored by the MLB. Past winners include Bryce Harper, Stephen Strasburg, Buster Posey, David Price, Tim Lincecum, Jered Weaver, Mark Prior, Patt Burrell and JD Drew.
Reed leads the NCAA in homers, slugging and OPS, and finished the regular season as the SEC leader in homers (23), RBI (70), wins (11), slugging (.768), on-base percentage (.491), total bases (162) and walks (47). He also ranks third in the SEC in average (.351), second in runs (59), ninth in hits (74), eighth in doubles (17), sixth in ERA (2.10), third in innings pitched (103.0) and ninth in strikeouts (68).
Vote for him here.
Nick Saban wants the SEC to only play games against teams from the "Power 5" conferences.
Of course he does.
Meanwhile, bottom-tier SEC schools like Kentucky think it is hard enough as it is to succeed in the conference.
Saban said it will be "better for fans and players." And Alabama because his program can handle it. We need our Ohios, UT-Martins, and Louisiana-Monroes.
Anyone watch The Americans?
I loved Season 1 but I just can't get into Season 2. I'm currently playing catch-up (I think I'm on Episode 6 or 7) and I would love for one of you to tell me it gets better. It's just not doing it for me so far.
The new season of 24, on the other hand, is already off to a great start. I'll take any other suggestions you may have, too. I trust your opinions.
Josh Selby and the Harrison twins posed for a picture.
The No. 1 player in the 2010 class uploaded this photo to his Instagram account. There was a time when we thought he might try to co-exist with Brandon Knight in the UK backcourt. Then he got in some trouble with the NCAA, played an underwhelming one season at Kansas, went to Memphis with one of the last picks in the draft, and now he is over in Croatia somewhere.
The Kings want to put Kevin Love next to DeMarcus Cousins.
Sacramento has made it clear it is willing to trade for Kevin Love without any assurance he will re-sign with the team next summer when his contract expires. Minnesota is looking to get some value out of Love before he bails at the end of next season, and the Kings are drooling over the idea of a Love-Cousins duo in the paint. Problem is, Love wants a big market and, well, Sacramento is far from a big market. I like the idea, though.
That'll do it for tonight, folks.
Go Cats.