DJ Jeffries: "If (Memphis ever plays Kentucky) it's going to be the same result as Duke" Former Kentucky basketball commit DJ Jeffries can't help but keep making critical comments of the UK program and the Big Blue Nation as a whole.
In an interview with Christian Fowler of 247 Sports, the four-star forward said if his Memphis Tigers ever have the opportunity to take on Kentucky next season, he can assure fans it'll end up like the Duke game to open the college basketball season: a blowout loss for the Wildcats.
"I really don't have no message for them, but just know if we ever play them it's going to be the same result as Duke," Jeffries said.
The statement comes after Jeffries was asked of his thoughts on any negative comments made from the Kentucky fanbase following his decommitment from the program. A decommitment that came after Kentucky head coach John Calipari made other players at Jeffries' position a priority and put him on the back burner because he liked his options.
Here's the whole excerpt, courtesy of Derek Terry of 247 Sports: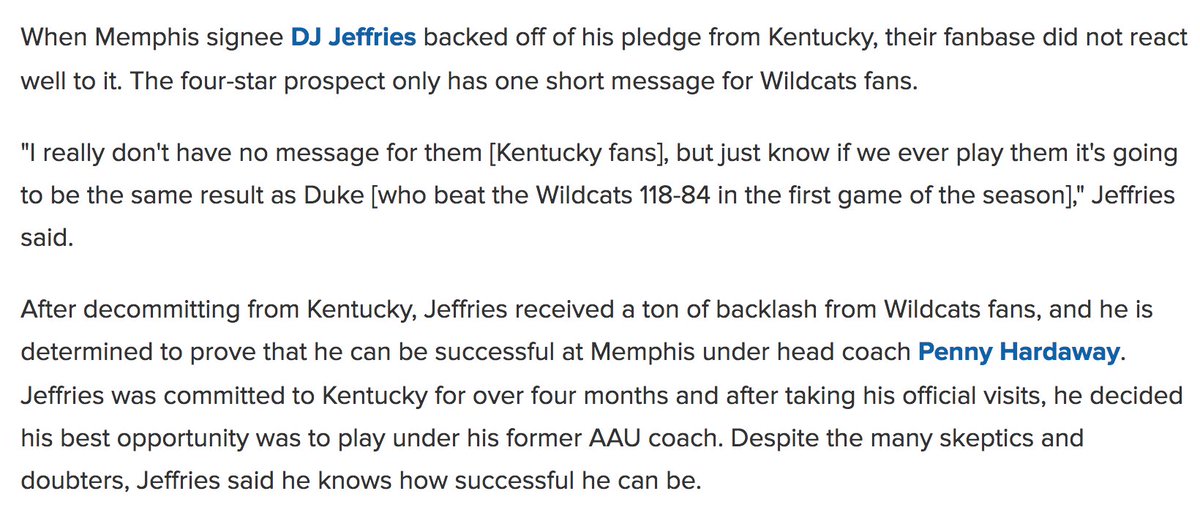 Kentucky commit (and Jeffries' replacement) Kahlil Whitney couldn't help but laugh off the comments.
— THE DRAGON? (@KahlilWhitney) November 25, 2018
Jeffries should really worry about his future team beating lower-tier SEC schools first before talking about dominating against the most storied program in college basketball history.
Or middle-of-the-pack Big 12 schools, for that matter…
For those keeping track at home, Memphis also barely beat Yale (109-102) and Canisius (71-63) this season. So sure, have fun with that next year, buddy.
John Calipari should have to start paying rent for living in Jeffries' head for so long.
[mobile_ad]