Dick Vitale stops by! (Friday Show Thread)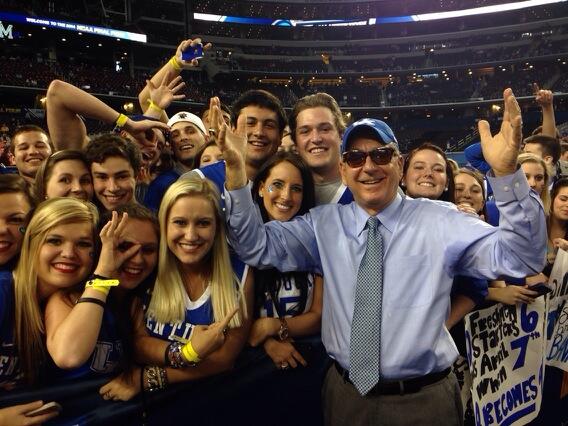 We have a special guest on this morning's edition of Kentucky Sports Radio radio. KSR's good friend Dick Vitale will be calling in to talk Cats basketball with Matt and Ryan at some point during the show. That, and the guys debate the UK Battle Royale and talk about John Calipari.
Happy Friday.
Join in on the fun by calling (502) 571-1080.
Listen to Kentucky Sports Radio
KSR Affiliate List
WAIN (93.9 fm) Columbia
WHIR (1230 am) Danville
WCLU (1490 am) Glasgow
WHOP (1230am/95.3 fm) Hopkinsville
WJKY (1060 am) Jamestown
WLAP (630 am) Lexington
WFTG (1400 am) London
WKJK (1080 am) Louisville
WFMW (730 am/94.9 fm) Madisonville
WFTM (1240 am) Maysville
WKYM (101.7 fm) Monticello
WMSK (1550 am) Morganfield
WLME (102.7 fm) Owensboro
WKYH (600 am) Paintsville
WLSI (900 am) Pikeville
WPRT (960 am) Prestonsburg
WSFC (1240 am) Somerset
WTCW (920 am) Whitesburg
WBTH (1400 am) Williamson, WV
On Delay (ALL TIMES LISTED EASTERN)…
WBGN (1340 am) Bowling Green 11am-1pm
WVHI (1330 am) Evansville, IN 5pm-7pm
WMTL (870 am) Leitchfield 11am-1pm
WLBQ (1570 am) Morgantown 3-5 pm
WRIL (106.3 fm) Middlesboro Thur 8-10 pm
WPAD (99.5 fm/1560 am) Paducah 11-1 pm
WHAY (98.3 fm) Whitley City 2-4 pm