National Signing Day is two days out. We've watched hours upon hours of film leading up to Wednesday. With multiple observations from all 23 Kentucky commits at the ready, I thought we'd give a sneak peak of Kentucky's Class of 2017.
Here are just a few highlights from each commit/early enrollee:
Tyrell Ajian, Safety
Best athlete on the field regardless of position played or competition
Smart eyes with high impact
Joshua Ali, Receiver
Explodes out of routes. High Y.A.C.
Quick acceleration, bursts to separate from defenders
Abule Adabi-Fitzgerald, Defensive Line
Raw, but my goodness the body and athleticism equal limitless ceiling.
Long, rangy pass rush specialist.
Quinton Bohanna, Defensive Line
Strong hands. Effective bull rusher
Early recognition of screen
Lynn Bowden, Whatever and Wherever
Fluid hips. Twitchy. Elite change of direction to full-speed explosion
Wow
Danny Clark, Quarterback
Strong armed, courage route thrower
Quick release, can complete all college routes
Yusuf Corker, Cornerback
Capable in man-to-man and zone coverage
Stays low in back pedal, quick to locate-close on football
Sebastien Dolcine, Offensive Line
-Raw, high aggression. Long arms-quick feet. High ceiling
-Rapid 1st step in pass protection
Austin Dotson, Offensive Line
Natural run blocker. Winner
Line-of-scrimmage mauler
Jamin Davis, Linebacker
Thumper, physical-rangy linebacker. Leader
Seeks intelligent contact, productive
Cedrick Dort, Cornerback
Understands leverage
Shut-down elite competition
Isaiah Epps, Receiver
Sharp angles out of routes
Polished route runner, pure WR
Phil Hoskins, Defensive Line
Fights thru double team
Constructive with line-of-scrimmage spin move in pass rush situations
Lonnie Johnson, Defensive Back
Blocked FG and punt on special teams. Competitor-team guy
Fast, covers distance quickly. Comfortable in press coverage
Alex King, Outside Linebacker
Excellent lateral movement; natural
Effort player with high motor and nasty disposition. Quickly closes in pass rush
Bryant Koback, Running Back
Football speed equals track speed equals FAST
Multiple cut runner
Michael Nesbitt, Cornerback
ATHLETE
Havoc stat producing defender
Joshua Pashcal, Defensive Line
Explosively fluid, superior athlete
Immediate burst to change direction in pursuit
Forceful upon snap
JaVonte Richardson, Receiver
Competes on every snap; actively engaged as ball carrier, pass catcher, and blocker. Appears that all are equally important
Explosion play capability. Wins 50/50 situations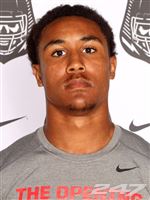 Clevan Thomas, Receiver
Shifty, powerful, dangerous in space. Active-engaged, not static without football
Speed to separate, excels in Y.A.C.
Naasir Watkins, Offensive Line
Long arms, built like a power forward, former TE
Intelligently navigates line-of-scrimmage wash to 2nd level blocks
Chris Whittaker, Defensive Line
Physical, nasty football player. "Jordan Jones" mentality
Violent line-of-scrimmage get off. Persistent pursuit
Walker Wood, Quarterback
Shifty open field runner. Athletic and highly productive. Accurate short-intermediate throws
High Football IQ, understands play intent
Jordan Wright, Defensive Line
Elite athletic ability, intensity, and instinct. Rare combination for dual-sport athlete
Athletic Freak. Sky is the limit
Remember that the two-three evaluation points per commit/early enrollee are just scratching the surface as our research is extensive. Much more to come.