Challenges on Facebook SUCK Tuesday News and Views
I would like to make some amendments to this chart. The biggest challenges on Facebook right now are as follows:
1) The Cold Water Challenge (64%)
2) The "Beautiful" Challenge (29%)
3) The "Grown A** Woman" Challenge (7%)
4) Wanting to punch everyone who participates (100%)
I don't know if you've taken notice of the current "challenge" trend on Facebook, but I sure have. If you've read some of the things I've written for KSR before, you surely know that I have a Hate/Hate relationship with Facebook. Why do I still have one, you might ask? I ask myself that question every single day. Probably so I can know if your baby is the size of a coconut or a blueberry this week. What would I do without such vital information? Anyway, I digress… Facebook's latest craze involves people "challenging" their friends to do something. I'll be honest… I wanted to watch another Cold Water Challenge video about as much as I wanted to watch your Youth Group's Harlem Shake video, but I bit my tongue because hey… at least that was for a good cause and money was going to charity (or so you say… some of you I don't trust… I'm looking at you, everyone I went to high school with). But it's gotten out of control. Now people are challenging each other to "post 5 pictures of yourself that make you feel beautiful." Just so we are all clear here… people DO understand that there's really nothing challenging about something like that, right? Posting your favorite selfies where the light happens to hit you and you look way better than normal doesn't really classify as a challenge. At least not in my books. And if such things are particularly challenging in your mind… let me suggest that you try something a little more difficult. Sudoku? Tying your shoes? Running a mile? Remembering to Instagram all of the food you ate today? Deciphering one of Tom Crean or Frank Martin's tweets?
I'm just trying to save the world from being annoying on Facebook. It might be my one mission in life. Don't do it, people. Don't succumb to the challenges that aren't really challenges. And while you're at it, STILLLLL no one cares to hear about your political views. Rant over, for now…
I challenge you to read tonight's news and views without being mean in the comment section…
Cal is talking… and we are all listening
As Tyler Thompson likes to say, Swaggy Cal is back. And I think we are all enjoying the juicy tidbits he's been throwing our way this week. Calipari got our heart rates up on Sunday night when he tweeted out a picture of the team together after finding them playing when he returned from all of his travels. He continues to rave about how much this team enjoys working and playing, and how now they are starting to enjoy working and playing together. Make no mistake about it… Cal is excited. And when Cal is excited… we are excited. Today he threw out another tidbit of information highlighting the luxury of having some veteran players returning for the first time in a long time.
"Boy is it nice to have returning players. I haven't had that in five years. They understand what we're trying to do."
Cal went on to reveal that he will be giving the Big Blue nation a full practice report (the first official one of the summer) on CoachCal.com tomorrow. Refresh. Refresh. Refresh. TELL US MORE!
Cal gets the attention of the recruits with his star-studded weekend
One of the top recruits in the class of 2015, 5-star Jaylen Brown, admitted to being impressed by the fact that John Calipari was at the ESPY's one night, and then immediately hopped on a flight to make it to his early morning game the next day. Hate on the stuff like Calipari hanging out with Drake as much as you want, but these recruits notice this kind of stuff. And they think it's cool. I could be wrong, but I doubt that Mark Fox and Bill Self are rubbing elbows with big named stars. It's getting the recruits' attention. And if you didn't believe it from Brown's comments, then Stephen Zimmerman's comments (another top 2015 recruit) about how he saw Cal on TV at the ESPYs and texted him to see if he would respond should solidify the fact that these guys are taking note of the buzz around Cal. Swaggy Cal is on the loose.
Mark Stoops was literally everywhere today on ESPN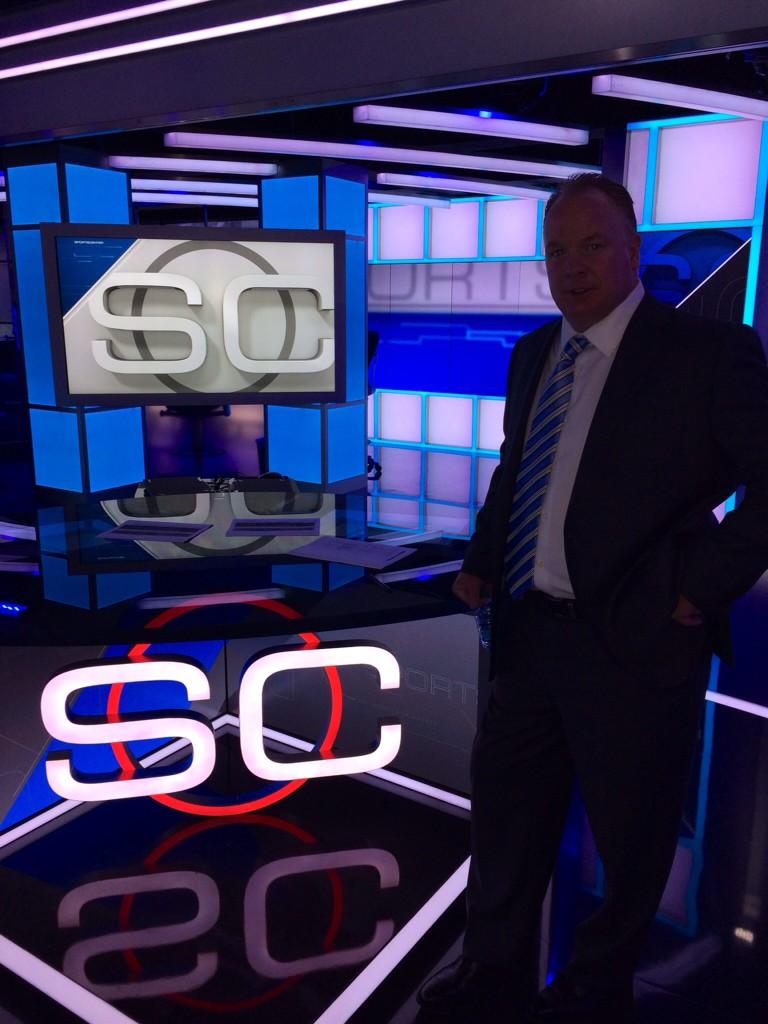 While Calipari spent the weekend on the run back and forth between LA, Lexington and Augusta….Mark Stoops hit the flights today on his way to ESPN for the "carwash" routine. Stoops was a part of a myriad of different shows, taping some segments that aired today and others that will air later in the week. Not all of the SEC coaches went through the car wash, but Stoops has his program buzzing right now with a level of recruiting the SEC hasn't seen from Kentucky. Keep an eye out for some quotes and stories as the week goes on.
But he will not be at the Governor's Cup Luncheon…. 
Stoops was a lot of places today, but he will NOT be attending the Governor's Cup Luncheon on Wednesday. While the news just hit the mainstream flow today, apparently Stoops let those in charge know of his decision months ago. With the game no longer at the front end of the season, UK's Tony Neely said it "didn't add up" to Stoops to attend. Stoops will likely be spending the time working with his team in preparation for the more immediate future. However, Stoops will keep his speaking engagement at the Rotary Club for Thursday in place.
In about 3 days, no one will really care that Mark Stoops didn't attend this luncheon that is now taking place months and months in advance to the actual big game. But for now, it gives people something to rant about in the summer.
Never trust people with two first names… or Package Deals in college basketball recruiting
A few weeks ago it seemed as if a Malik Newman/Diamond Stone package deal was quite possibly still on the table. Although package deals rarely hold true in the end, the two top recruits in 2015 seemed committed to the idea early. Now, the package deal seems a lot less "certain." Diamond Stone plans to announce his decision on National Signing Day in November, and according to Newman's twitter, he won't be ready to necessarily make that same commitment, and it might not be to the same school. Stone had also hedged his bets on the package deal this weekend. When asked about the deal, he said "50/50."
Diamond Stone appears to be UCONN's to lose at this point, and Kentucky seemed to be in more favorable position for Newman when comparing the two. The news could be positive for Kentucky who will likely remain in the picture for Newman regardless of Stone's decision.
George Brown watch until Friday
Kentucky's 3-star OL target George Brown had a great visit in Lexington this weekend and seemed well on the verge of pulling the trigger for the Cats when he decides on Friday. Florida jumped in for one last ditch recruiting pitch and got Brown on campus today. It looks like Brown had a good visit with the Gators as well and now will have to make a decision that will likely come down to Kentucky and Florida. Brown is also considering Alabama, Georgia, and LSU but the Cats and Gators look to be the favorites. Hopefully Florida didn't sway Brown too much, as he seemed almost a surefire bet for Kentucky after this weekend.
Damien Harris says he will trim to 5 on August 1st, and make his final decision on December 13th
Speaking of top recruits, the #1 running back in the class of 2015 from the state of Kentucky announced via Twitter that he has a more clear cut time table for his decision making process. Harris says he will narrow his list of schools to 5 on August 1st. Kentucky seems all but certain to make the final cut. Harris also said that he will make his final decision on December 13th. Mark your calendars.