BTI's Rants and Ramblings: UK's Last 2 Trips to the Phog a Nightmare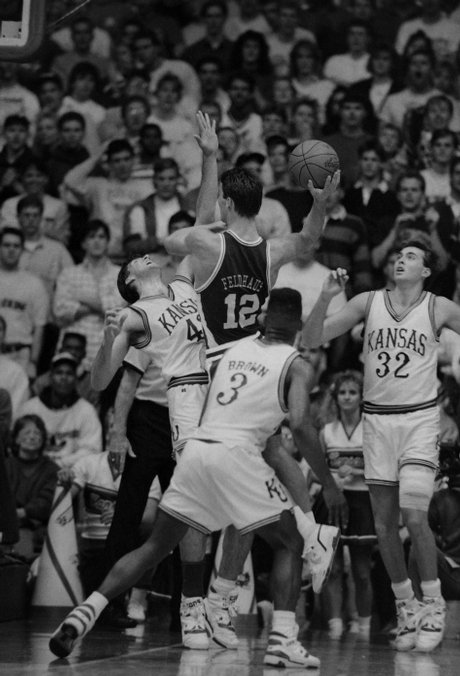 I am super pumped for Saturday's game at Kansas.  I am some kind of basketball traditionalist I guess in that I love seeing teams playing on their home floors or UK traveling to some of the best places in the country.  Despite getting trounced, I really liked seeing UK play at UCLA this year.  I wish we could get a game at Cameron Indoor at some point.  Unfortunately, that's not really Cal's strategy and I get that.  He thinks it gives him a better recruiting advantage to play the neutral site games in certain areas like New York City.  Let's be honest, he would never independently schedule a game at Kansas.  It was forced through the SEC-Big 12 Challenge.  So I am really excited to see how this team performs on Saturday.
Unfortunately, in my lifetime, UK has had maybe 2 of it's 4 or 5 worst performances when playing at Kansas.  The Jayhawks gave both Rick Pitino and Tubby Smith their worst losses while at Kentucky.  I don't see that happening with Calipari since he already has a 30-point loss on his record, but if UK doesn't show up to play, a 20-point loss is not out of the realm.  From what we have seen the last couple games, I expect a really good game though.
Those 2 losses, in 2006 and 1989, are constantly brought up by UK fans though as low points.  And when researching those games a little more, the last 2 times UK has gone to Allen Fieldhouse, you realize just how crazy those games were:
January 7th, 2006: Kansas 73, Kentucky 46
-Since 2001, fewest points scored in a game
-Biggest halftime deficit since 1990 (surpassed in 2008)
-No UK players scored in double figures (first and only time since shot clock instituted)
-Worst loss of the Tubby Smith-era (one of only 2 20+ point losses)
December 9th, 1989: Kansas 150, Kentucky 95
-Worst modern-day loss in UK history (55 points)
-Only 50+ point loss in modern UK history
-Most points scored in the 1st half of a game and lose (61 1st half points for UK)
-Worst loss of the Rick Pitino era…..by 30 points
-Most points ever given up by UK in a half (80 points in 1st half)
-2nd most points ever given up by UK in a half (70 points in 2nd half)