BTI's Rants and Ramblings: Let's Play the Hypothetical Game with Florida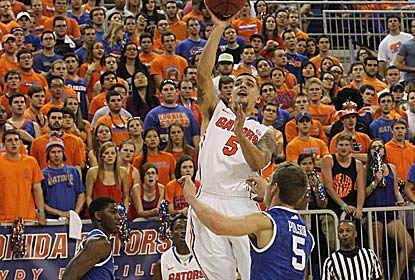 It's always fun to me to see just how far some fans will go to get a win.  I have no doubt that many fans would let you sleep with their spouse if it meant their team could win a championship.  At Kentucky, and especially when it comes to Kentucky football, dangling UK basketball in front of fans makes for an interesting conversation.  Obviously, Kentucky basketball rules so some fans would not give up anything basketball related for football success.  But this one kind of bounced around my head yesterday and I thought it would be interesting to see where fans would land:
TO GET A WIN OVER FLORIDA TOMORROW, WOULD YOU GIVE UP THE SEC CHAMPIONSHIP IN BASKETBALL TO FLORIDA THIS SEASON?
I think any reasonable fan who cares about football would have to consider that trade-off and here is why:
1. You giving up NOTHING when it comes to the NCAA Tournament.  And that is what should matter more than anything.  So what if the Gators take home the conference championship if you get the better of them during March Madness.  Or even the SEC Tournament.
2. Losing 26 games in a row to anybody is embarrassing.  We might not care as much about this streak as Tennessee but it is still the 1 fact everyone will mention coming into this game, and following the game, whether Florida extends the streak or Kentucky ends the streak.
3. There is no guarantee that Kentucky is going to win the conference title anyway in basketball.  Florida is going to be very good once again, and likely Kentucky's only real threat in the league.  What if the Cats lose in football and still lose the conference basketball title as well?  This way, at least you are guaranteed one.
I am not saying that I would take this deal.  In fact, I probably wouldn't.  My main objection would be what would a win over Florida mean for the program.  Yes, it would probably be the biggest upset of the week in college football and get Kentucky a little more national attention than before.  But fan support is already high, so I'm not sure a Florida win really adds that much support.  Plus, I am not sure a win vaults this team into bowl contention.  While giving up wins in basketball is sacrilege in this state.  The fanbase can be a bit more prickly when it comes to losing in basketball, and I am not sure I could accept throwing the fans into more a frenzy than the team will have anyway while WINNING.
So while I would just barely say no this deal, what do you think?  Would you be willing to give up a conference basketball title for 1 season to beat Florida Saturday?