BTI's Rants and Ramblings: How About This Non-Conference Schedule?
On Monday or Tuesday's show, I believe Drew mentioned that UAB, who Kentucky has scheduled a non-conference game with this season, had a winning record against the Cats.  And while that stat was actually false, the Blazers are 3-3 against UK, it did bring up an idea I had for how Kentucky could put together non-conference schedules for the foreseeable future.  How about we only schedule teams who we need payback for?  Teams that we have a losing record against.  Now, when you only consider teams who we have played at least 3 times in our history, you come up with 12 opponents who Kentucky has a losing record against.  So what do we think about this schedule:
Game #1: Arizona (2-3)
*The Wildcats stole a title from us in 1997 and then put a second punch to our guts in a dominating win in the 1997 Maui Invitational.  And while they are not quite what they were back then, and are probably facing sanctions very soon, this would still be a nice addition to the schedule and in 2 years we'd have the upper hand again.
Game #2: UCONN (1-4)
*I was surprised that the John Wall team was the only one to beat the Huskies and a reasonable argument can be made that UCONN has robbed UK of 2 titles in 2011 and 2014, plus a Maui title as well.  This is a program that is back on the rise a bit and would still be a quality opponent for UK.  Make them the Madison Square Garden game if you must.
Game #3: North Carolina (16-24)
*OK, so we'd need a decade of dominance to get the upper hand over the Heels but I would love to see UNC each and every year on the schedule.  That home and home was probably my favorite 2000's rival outside of Louisville.  Yes, we get them every 3 years in the CBS Classic but these two need to see each more often.  Especially if we are to make up 8 games.
Game #4: Seton Hall (1-2)
*Keldon Johnson did his best half court heave hero shot to keep the Cats on top of this series but alas, a poor overtime period puts UK in the losers column.  This is actually a top program right now and would genuinely be a quality opponent on the schedule.  UK also lost to the PJ Carlesimo Pirates team in Alaska in 1988.
Game #5: Southern Cal (0-3)
*You want a random UK loss that broke my soul?  The 2001 loss in the Sweet 16 to a pretty average Southern Cal squad not only ended the season of a very good UK team with Prince, Bogans, and a dominant Jason Parker.  But it also prevented a Duke matchup in the Elite 8.  I wanted that game so bad.  UK also lost a home and home with USC in 1959 and 1961.  Hey, let's have a west coast game!
Game #6: St. Louis (8-9)
*Outside of UNC, nobody on this list has beaten the Cats more than St. Louis.  And we have a connection to the school right now with Travis Ford as the coach.  He has led the Billikens to the NCAA Tournament recently and the close proximity would make it an attractive game.  Let's make it happen!
Game #7: Centre College (7-9)
*Yeah, OK, they are a Division 3 school.  But we just can't let it stand that they have a winning record against the Cats.  Let's get a 3-year series on the books, give them 1 home game, win each game by 60 points, and then let them go back to being a real little brother.  Random fact: UK lost to Centre three times in one season in 1910, including losing the "State Championship Game" by 18 points.
Game #8: Transylvania (5-6)
*So this one is a little bit of a tricky situation.  Kentucky went 5-6 against Kentucky University from 1903-1908.  Kentucky University became Transy.  Since they became Transy, UK won 2 out of 3 games against the Whatever They Are.  So technically the overall series record is 7-7.  But I can't take that either.  So let's get 1 more game on the schedule and make it 8-7 and bump them back to the exhibition schedule after that.
Game #9: Depauw (1-3)
*I don't know about you all, but I used to get so much mail in high school trying to get me to attend Depauw.  So they hold a special place in my heart.  Now, here is how we get Depauw on the schedule.  First, Calipari retires.  Second, Brad Stevens is hired.  Stevens is a Depauw grad.  He puts his alma mater on the schedule for 4 years and BOOM, there goes the upper hand they had.  And look, Depauw is no joke.  They made the quarterfinals of the Division 3 North Coast Athletic Conference Tournament last year.
Game #10: Lexington YMCA (2-5)
*Yes, believe it or not, a bunch of random young men from Lexington beat the boys in blue 5 times in 7 tries.  Yes, this was all pre-World War 1 but the games count.  This is a great game to put on the schedule in quarantine times because it really would require no travel.  Additionally, based on the picture that is posted on the Lexington YMCA website, the team is dominated by children, who are far less likely to catch Corona Virus.  So win-win.  Although, not sure our Cats could beat this group:
Game #11: Phillips Oilers (1-3)
*So many would point out this game will be difficult to schedule since the Oilers were disbanded in 1968.  But hey, that means a bunch of those guys are still alive and they were amateurs then so they are probably still amateurs now.  Now, the shot clock might be an issue for a group that never played with one and also is in their 70's, but you either adjust to the current game or the current game passes you by.  Our biggest hope is nobody passes away as the Cats sprint up and down the floor.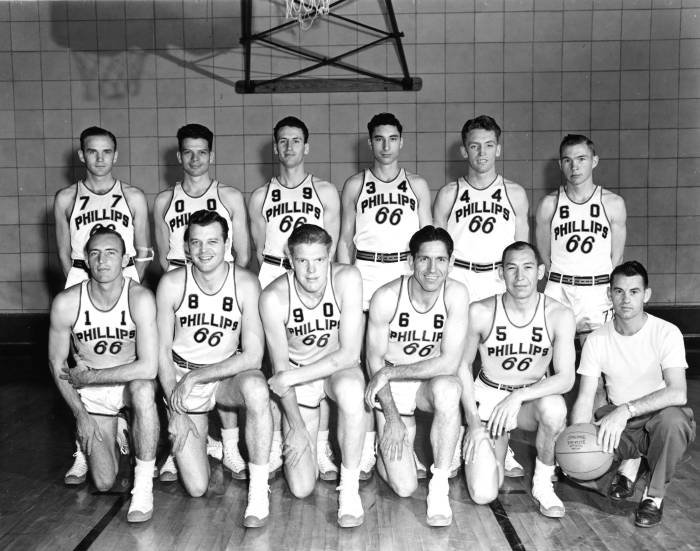 Game #12: Christ Church of Cincinnati (0-4)
*So only 3 pictures available on the Christ Church of Cincinnati website and while none of them show a basketball, so we don't really know how good these guys and girls would be, we do know one thing: they can procreate.  That is 3 couples with a total of 17 children between them.  Damn.  So on the one hand, the adults in the group are probably quite tired from all that child making and child raising.  On the other hand, they have more depth off the bench of any team in the country.    Either way, we just can't accept an 0-4 record against ANY team in the country, whether or not they actually play basketball or not.  Time to correct this program error.