Bowling Green mayor finds woman hiding in cellar
It was just another quarantine morning for Bowling Green Mayor Bruce Wilkerson until he found a woman hiding in his cellar.
On Wednesday, Wilkerson heard noises and smelled cigarette smoke in a house he was renovating, which he traced to the cellar. He found blood on the door and once inside, a knapsack filled with clothes, but didn't see anyone. After checking with police to see if there were any reports of missing persons, he went back to work until the power went out. Back outside, he noticed the cellar door was ajar, and inside, found a woman in her 20s with long brown hair, covered in dirt. She told him she was hiding from someone and then ran away.
"I told the officers when they came that she didn't steal anything," Wilkerson told WNKY. "I asked the officers why they were grinning and they said that no matter how they write the report, it's going to say the mayor locked a woman in his house."
If you're like me (or just have good taste in television), this is the image that came to your mind when reading this story: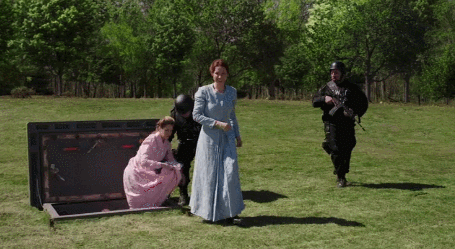 And now that song will be stuck in your head all day long.