Bob Seger's Tuesday News and Views (Plus Kentucky Derby Tales!)
Hello, KentuckySportsRadio.com readers. It's good to see you again. Tonight we're going to give the News and Views spot to someone celebrating a birthday because it has been too long since I've done that with the night post. A quick check of Wikipedia tells me Tuesday is Bob Seger's birthday, so why don't we go with him. Everyone likes Bob Seger. And he has a beard. Perfect.
Should we play "Night Moves" while you read the night post? Everyone likes "Night Moves." And I'm working on our night post. Perfect.
So Happy 69th Birthday, Bob Seger!
Let's go over some front page drive-in news in the summertime, the sweet summertime…
The big news of the day is there was very little news.
None, actually. That's why you'll catch some of our Derby leftovers throughout the night post.
Only at the Derby will Randall Cobb walk the red carpet with Boy George.
I challenge you to find a more random duo in one red carpet photo. You won't.
One football target and one basketball target announced their top five schools; UK in the mix for both.
Kentucky football target Darius Fullwood, a product of the D.C. area, announced his top five Monday evening and Kentucky made the cut, as expected. A former high school teammate of incoming defensive back Kobie Walker, Fullwood, a defensive end, has spoken highly of the Cats on several occasions and made trips to Lexington for Junior Day in February and again for the spring game. He is also considering Georgia Tech, Miami, Ohio State and Virginia Tech.
And in basketball, Doral Moore, a fairly new name to BBN, said he is down to Ohio State, Illinois, Kentucky, Texas and Louisville over the weekend. Moore is the fifth ranked center in the class, a position with two offers out already, but he has caught the eye of UK with his recent play. He does not have an offer of his own but he recently received a visit from Kenny Payne.
Matt and Louisville Mayor Greg Fischer ran into each other at the Barnstable Brown Party.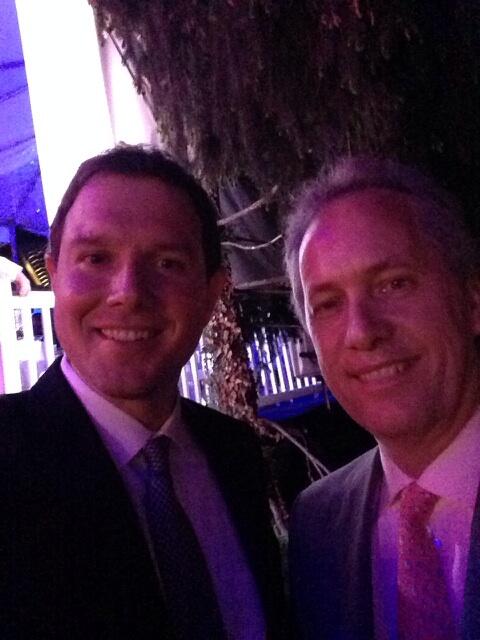 It was a very tense and awkward situation when Matt and Mayor Fischer ran into each other as they exited the party. Matt thanked the mayor for all of the radio material he gave him the past few weeks. The mayor didn't seem amused but agreed to lean in for a selfie.
Reminder: Four-star tight end to decide between Kentucky and Indiana on Friday.
C.J. Conrad, a four-star tight end from Ohio, will announce his college decision on Friday, his birthday. Kentucky is believed to be the heavy favorite for the No. 9 tight end in the 2015 class. Indiana is the other finalist while he holds offers from Arkansas, Duke, Illinois, Pittsburgh, Syracuse, Virginia Tech and Wake Forest.
Kentucky fans should expect to hear another YAHTZEE when Conrad goes public with his decision.
Wes Welker handed out one-hundred dollar bills on his way out of the Derby.
Welker attends the Derby every year, and every year I have a hard time finding someone drunker than Welker. The man loves Derby weekend and lives it up to the fullest. That couldn't have been more apparent when he was caught giving away free one-hundred dollars bills as he left the track.
A lady claiming to be the cashier who handled his $46,000 payout told KSR she didn't receive a tip when she cashed his ticket. These random strangers he passed on his way out got a cut, though:
UConn head coach Kevin Ollie to meet with the Lakers about the job.
Meanwhile, the New York Daily News reports John Calipari has 'no shot to get the job.'
"Calipari knows the Lakers have zero interest in him and that's why he tweeted on Friday that he is not leaving the Wildcats," wrote Mitch Lawrence over the weekend. "As successful as he's been running 'the NBA's 31st team,' Calipari is not even the hottest college coach these days when it comes to NBA openings."
Good, because we like him right here.
LASportsHub.com writes, "The Lakers Only Candidate For Head Coach Should Be John Calipari."
There's some guy by the name of John Calipari who seems to have that skill. Calipari is the most ruthless recruiter in college basketball right now, and maybe one of the greatest ever. Just take a look as who he's landed at Memphis and Kentucky over the past seven seasons. Do the names Derrick Rose, Tyreke Evans, Anthony Davis, John Wall, DeMarcus Cousins, Eric Bledsoe, Michael Kidd-Gilchrist, Nerlens Noel and Julius Randle ring a bell?

Not only does Calipari have that "it" factor when it comes to recruiting, he's a phenomenal coach who sells his vision better than anyone in College Basketball and the NBA. If the Lakers are truly committed to rebuilding the organization via free agency, then there is no other choice than Calipari. [Read more]
Shut up, LASportsHub.com. We like him right here.
John Wall is all grown up and leading the Wizards in the NBA Playoffs.
He didn't have a great night from the field but Wall did everything else to make sure his Wizards stole Game 1 away from the Indiana Pacers in Indianapolis Monday night. The first quarter was like a mixtape for Wall, who had two FILTHY blocks on Indiana fastbreaks and this sweet dish to Nene in the game's first 12 minutes.
Indiana is in trouble.
New Wildcat commit Alex Stump earned a four-star rating.
Stump was unrated and unranked when he committed to Kentucky over the weekend, but now 247Sports.com has given him four stars and a 91 grade that "could continue to rise," writes Barton Simmons. How he wasn't rated before now is beyond me.
That'll do it for now. Tune back in tomorrow when you get another full day of me while Mrs. Tyler enjoys her vacation in Nawlins. I'll try to keep my Ron Jeremy and Johnny Weir posts to a minimum.
Go Cats, everybody.