Beats By Dre's Saturday News and Views
You know how you know something has really "gotten big?" When even moms are rolling with it. A few weeks ago I saw a group of Moms walking together down the street and all of them were sporting Beats by Dre. Some might have thought Beats By Dre really made it when Colin Kaepernick told us he was the man, he was the man, he was the man during the NFL playoffs. Others might have thought Beats by Dre had really made it when Dr. Dre sold the company for a cool $3+ BILLION today. I knew when I saw the pack of moms beating down the road.
But seriously, Dr. Dre reportedly sold his Beats By Dre company to Apple for over 3 billion dollars today. That's impressive… especially considering that Beats by Dre really aren't the best headphones when it comes to sound quality out there. Branding and marketing matter, and this product killed it from the start. The headphones became the "cool" thing to have. Why did people spend $300 for a pair of headphones? Because it was trendy and cool. The sleek and simple packaging was a hit too.
Sidenote: I'm pretty sure every high school basketball player owns a pair of Beats by Dre. And they love to wear them as they sit in the stands before the games. What I've learned? And this is a scientific fact (probably)… the worse the player, the bigger the headphones they will be wearing. You heard it here first, folks. That's my golden theory. And I promise you I'm right. Yes I am, yes I am, yes I ammmmm.
And you can tell everybody.
And now on to the news and views from another Friday in the off-season in the land of the Big Blue…
4-star Tight End C.J. Conrad rolls the Yahtzee dice for the Cats
Kentucky scored its second big commitment in football of the week when 4-star TE C.J. Conrad picked Kentucky over Indiana and other schools this afternoon. Conrad is considered to be the 9th best tight end in the class by 247 Sports rankings. One has to think that Vince Marrow had his hands all over this recruitment process. Kentucky has gotten a lot of big name commitments at a lot of positions since the new coaching staff arrived, but this is by far Kentucky's biggest tight end commitment and a great building block for the future.
Big week for Kentucky football
After being stuck in the shadows of a big late season run from Kentucky basketball, the football team finally got some of the spotlight back this week with a few big news pieces. First of all, Kentucky landed two really strong commitments from a 4-star and a 3-star (thought to soon be a 4-star) in the 2015 class. Kentucky will likely slide into the top 20, maybe even the top 15 in 2015 class rankings now. On top of that, Kentucky showed a great deal of commitment to the future of the program by extending Mark Stoops' contract and giving him a raise. Even after a 2-win season, the belief in what Stoops and his staff are doing here in a short time at Kentucky is strong.
Stevie got loose upgraded
Former Wildcat receiver Stevie Johnson (best known for his "Stevie got loose!" moment against Louisville) has made a name for himself, especially for many fantasy owners, as one of the most productive receivers for the Buffalo Bills for the past few seasons. Although Stevie's production has been great, his team was terrible. Stevie will finally get the chance to play for a contender now. Stevie was traded from the Bills to the San Francisco 49ers today. That's a huge upgrade for Stevie, and also means that he gets to go home to his hometown.
Boston is looking hard at Julius Randle
Recent projections show Julius Randle landing in Boston with the 5th overall pick in the draft. Obviously, nothing can really be etched out yet considering the draft lottery order has yet to be decided. But, if the balls hold true (what a sentence that is, sorry Mom…I'll make it up to you with an order of Shari's Berries), the Celtics will likely hold a pick in the Julius Randle range of the draft. Reports have been coming out that Boston is very interested in Randle and that he may fit some of their needs. You've gotta think Julius would be excited about moving to a city like Boston… mostly because it's not Utah.
BACK OFF, Orlando Antigua… (He's joking…relax)
Trying to convince @dslowmotion22 Dakari that he can be our PG down in USF . We post our PG all the time. pic.twitter.com/uHIZ8AXWOs

– Orlando Antigua (@USFCoachO) May 9, 2014
Big day for some of the spring sports teams at Kentucky
Today was a huge day for some of the spring sports teams in Lexington. The men's tennis team is hosting the first 2 rounds of its NCAA tournament pod. Kentucky came away with a resounding win over Denver (4-0, didn't drop a single set). Kentucky will face Clemson tomorrow at the UK Tennis Complex at 3 p.m. for a chance to advance in the NCAA tournament. Go tennis. Go Tom Jomby.
The UK softball team got a huge win today against LSU (4-3) to send the Cats on to the SEC tournament championship for the first time in program history. Good luck to the Cats tomorrow.
Drew is ready for Tyler to stop being on Bourbon Street having fun…
… Mostly because it's been the slowest week ever and he's probably posted 500 times this week. Enjoy though, Tyler.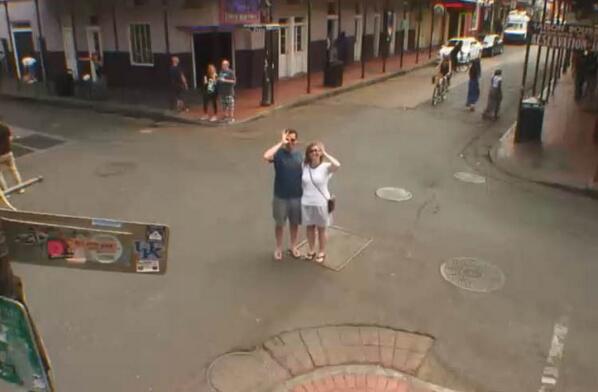 And last but not least, the best picture from this year's NFL Draft that you'll see today…