BBN at Buckingham Palace's Thursday Morning Wakeup Top of the morning to you! Oh, wait, that's Irish. Well, a very proper good morning to you! Shoutout to Jacie, who is repping the Cats all the way in merry old England at Buckingham Palace. Don't even try to get those guards to smile, Jacie. They won't do it!
Grab a spot of tea and let's go over the day's agenda, shall we?
Yahtzee Watch rolls on
Last night, three-star defensive tackle Kobe Smith committed to Kentucky, becoming the program's fifth commit this week. With momentum continuing to build, we're hearing the fun's not over yet. Some names to keep an eye on in the coming days:
2018 5-star WR Jermaine Eskridge
2017 4-star RB Mohamed Ibrahim, Olney, MD
That's right, five-star. Eskridge may only be a sophomore in high school, but he's considered the second best wide receiver in the 2018 class and his top five are Florida, Florida State, Ohio State, Virginia Tech, and Kentucky. The tweet leaves suggest Eskridge is very, VERY interested in the Yahtzee storm this week:
#WeareUK🔵⚪️ pic.twitter.com/EpcPO8pBPJ

— Jermaine Eskridge (@Iam_Jermaine4) July 30, 2015
2017 commit Mac Jones feels confident he'll be a part of it:
Possible announcement coming soon #BBN https://t.co/QR6fCUk36Q

— Mac Jones (@macjones2017) July 29, 2015
The scoreboard's makeover continues
Yesterday, UK shared a picture of the back of the scoreboards being painted blue. A look at the live cam of the inside of the stadium shows they've removed the shabby and faded black and white "KENTUCKY WILDCATS" sign above the video boards as well:
El Toro goes for the win in the Kentucky Open
Our pal Kent Bulle and his caddie Aaron Flener had a monster day in the Kentucky Open yesterday, birdieing seven of ten holes. The round got called for rain, but he just started finishing holes 16, 17, and 18. If he pars all three, he'll lead by two hearing into the last round, which will start around 1 p.m. ET. If he wins, he's buying Aaron, Drew, and everyone who comes up to him and yells "BTI sucks" steaks at Tony's. Vamanos El Toro!
John Calipari's ProCamps begin
Karl Towns, Willie Cauley-Stein, Devin Booker, Trey Lyles, Dakari Johnson, and the Harrison Twins will all be in town this weekend to help out with the Calipari ProCamps, which start today at the Joe Craft Center. Devin's been in town since the end of the Summer League, and I swear, he must be riding that Phunkee Duck scooter everywhere because I've seen a million tweets and videos about it.
On Saturday, Cal and Karl will hold a media opportunity. Maybe someone can ask him where I can buy a Karlito bobblehead and also this shirt: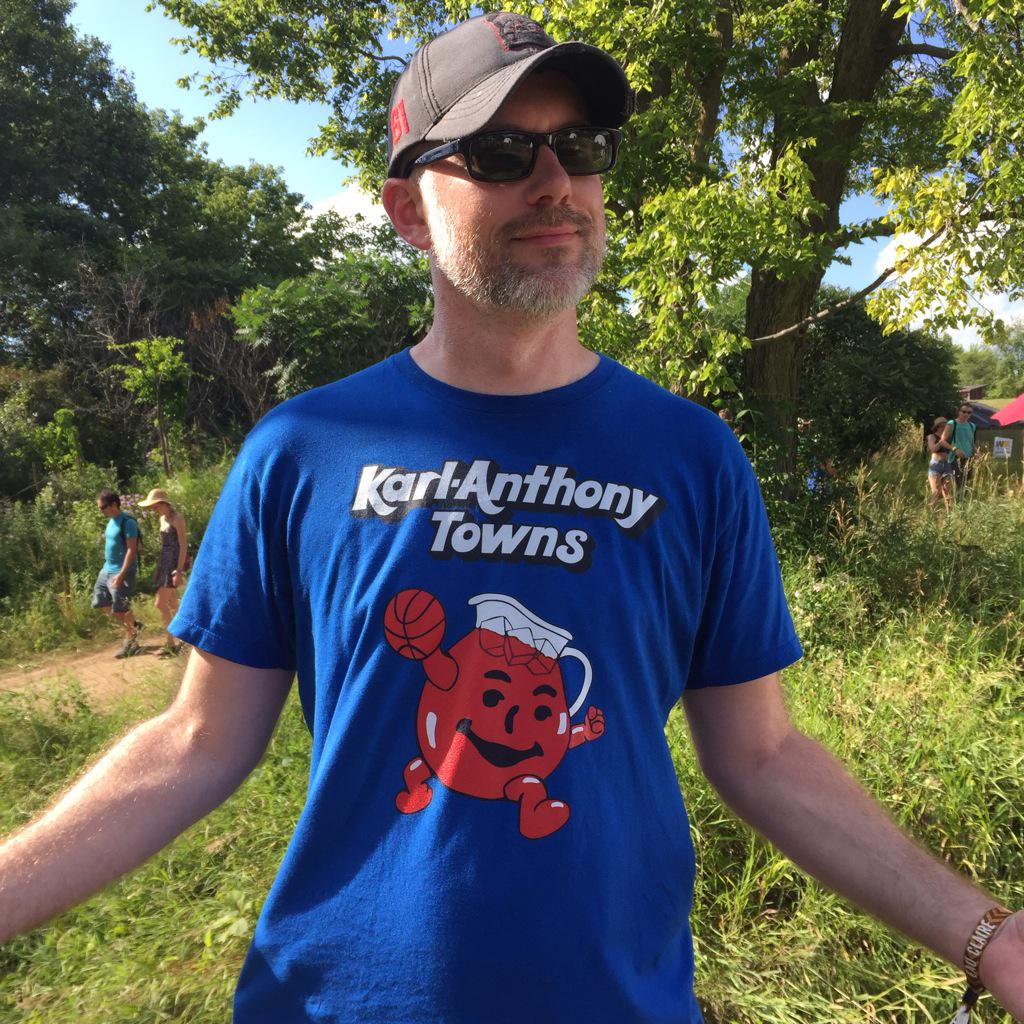 TV Rec of the Week
I finished "Catastrophe" on Amazon Prime the other day and definitely recommend it if you like romantic comedies with a heavy dose of snark. We're officially in the TV lull before the fall premieres, and with "True Detective 2" putting me to sleep, it was refreshing to watch a show that's original and doesn't try too hard. I know a lot of you still have faith in "True Detective 2," but Vince Vaughn's terrible monologues and zig-zagging storyline have moved it to the bottom of my queue. It was so bad we turned it off the other night to watch "Island Hunters" on HGTV. Also, I've found myself actually looking forward to "Ballers." It's not going to win any awards and The Rock is impossible to take seriously, but it's easy fluffy entertainment. Charles' storyline is my favorite.
KSR is at the Buffalo Wild Wings in Paducah
And I bet people are already there drinking beer. God bless 'em.