Barry Slice's Golf Trail: Kearney Hill Golf Links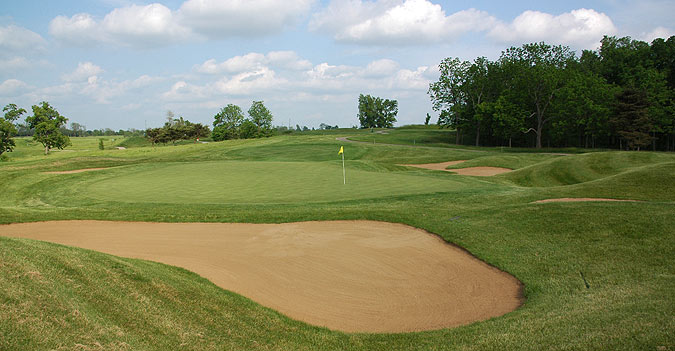 This week we're going to Lexington for Barry Slice's Golf Trail to Kearney Hill Golf Links, a classic Pete Dye design. This is right up there with one of my favorite courses I have played in this state, and if you're thinking about giving it a shot, come prepared for a challenge.
Kearney Hill sits right off of interstate-64 as you roll through Lexington. It is a links style golf course with bent grass tees, fairways, and greens. Since its a links style, the fairways are fairly expansive and the greens are large, but don't let that statement misguide you, this Pete Dye design has some teeth.
This is a true championship venue, it has hosted numerous Kentucky Open's, a Public Links Championship, and a Senior PGA Tour event. It plays 7,062 yards from the back tees so long hitters are certainly favored here. The greens are undulated and quick, but perhaps the biggest problem I have struggled with at this place is how misleading it is to the eye. There are illusions built in to numerous holes off the tee, that can really be daunting. Your first time playing this course, certainly will not be your best.
The best part about this golf course is it is championship golf built by a world renowned architect for an extremely good price. Kearney Hills charges $25 for 18 holes during the week and $31 for 18 on the weekends. It is one of the best, if not the best deal in the state. This is a serious golf course that any place else would be charging nearly $60 for an 18 hole green fee.
If you like a good challenge and you're on a budget, this place is definitely what you're looking for.
Grades
Tees: A
Fairways: A
Greens: A-
Rough: A-
Bunkers: B
Walker Friendly: B-
Difficulty: 8/10