Barleycorn's Wednesday Top 10: New Car Edition
A message from our friends at Barleycorn's…
Looking for a place to hang out with other UK fans? Take your family and friends to Barleycorn's!
Barleycorn's has over 30 beers on tap, jumbo wings with 10 delicious sauces, sandwiches, salads, and our famous handcrafted burgers!
Barleycorn's has three locations in Northern Kentucky — Cold Spring, Lakeside Park, and Florence — and is open seven days a week! For hours and information, follow them on Facebook or visit Barleycorns.com.
Get over here!
---

1. Hamidou Diallo, Kevin Knox and P.J. Washington named finalists for Calipari's U19 World Cup team.
In the least surprising news of the week, all three of Calipari's current players and all of his current recruiting targets made the cut when the USA U19 team field was trimmed to 18 on Tuesday.
Here's the full list of finalists:
Bol Bol
Jordan Brown
Hamidou Diallo
Carsen Edwards
Kevin Huerter
Louis King
Kevin Knox
Romeo Langford
Brandon McCoy
Chuma Okeke
Josh Okogie
Payton Pritchard
Immanuel Quickley
Cameron Reddish
Mitchell Robinson
Quinton Rose
PJ Washington
Austin Wiley
"I think we've got a good group of finalists," Coach Cal said in a news release. "We're pretty long and athletic. It looks like we're going to be somewhat positionless and we're going to have some 6-8 guys that can play point guard, bring it up and make plays.
"We're young, there is a group of six rising (high school) seniors that now, in this setting, it's a little different. Now you've got some cagey veterans that have gone through a college season and played, some of them started for their teams or were significant players, and you're a high school rising senior playing against that kid, now you see where you are as a player."
"I told some kids in our meeting (after naming the finalists) that if you want make this team you're going to have rebound, and show us you're going to rebound; if you're going to make this you're going to have pass the ball, you can't be trying to shoot every ball. You're responsible for you. I went around the room, not every guy, but I wanted to let them know I'm going to keep it real. I'm going to be real about what we have to do. The reason is we don't have time, we have three practices and then we've got to make another cut and get it to 12."
2. The fun continues today in Colorado Springs.
Now that Calipari has his finalists, the work will continue at U19 training camp out in Colorado. And if things continue as they've been going, we'll continue to hear nothing but good things about Diallo, Knox and Washington, as well as some of the high school guys.
Plenty more U19 talk to come.
3. Kentucky got a big football commitment last night.
The Cats stole one from the Cards as three-star Florida wide receiver Akeem Hayes flipped his commitment to the good side. Hayes originally pledged his commitment to Louisville back in April, but after talking it over with his family, he decided Lexington is the place for his college football career.
#BBN18 pic.twitter.com/4KBP9x4a2U

— Akeem Hayes9️⃣ (@9GoLive) June 21, 2017
Suck it, Petrino.
4. Blue will get in at the NBA draft.
Kentucky leads the way with three invites to the NBA draft room:
Bam Adebayo, Kentucky
Jarrett Allen, Texas
OG Anunoby, Indiana
Lonzo Ball, UCLA
John Collins, Wake Forest
Zach Collins, Gonzaga
De'Aaron Fox, Kentucky
Markelle Fultz, Washington
Jonathan Isaac, Florida State
Josh Jackson, Kansas
Justin Jackson, North Carolina
Luke Kennard, Duke
T.J. Leaf, UCLA
Lauri Markkanen, Arizona
Donovan Mitchell, Louisville
Malik Monk, Kentucky
Frank Ntilikina, France
Justin Patton, Creighton
Dennis Smith, N.C. State
Jayson Tatum, Duke
Consider me surprised by Bam Adebayo's invite. I hope it doesn't turn into one of those awkward, lonely moments in the green room
5. It looks like former KSR writer Hayley Minogue is enjoying her reporting gig down in Florida.
Riding out Tropical Storm Cindy in Destin and saw former KSR Hayley Minogue @KySportsRadio @MrsTylerKSR pic.twitter.com/M1rjvF7mIB

— Rick Cothern (@rick_cothern) June 21, 2017
Your cubicle is always open here at KSR if the tropical storms get too intense down there, Hayley.
6. Longtime UK equipment manager given a brand new car.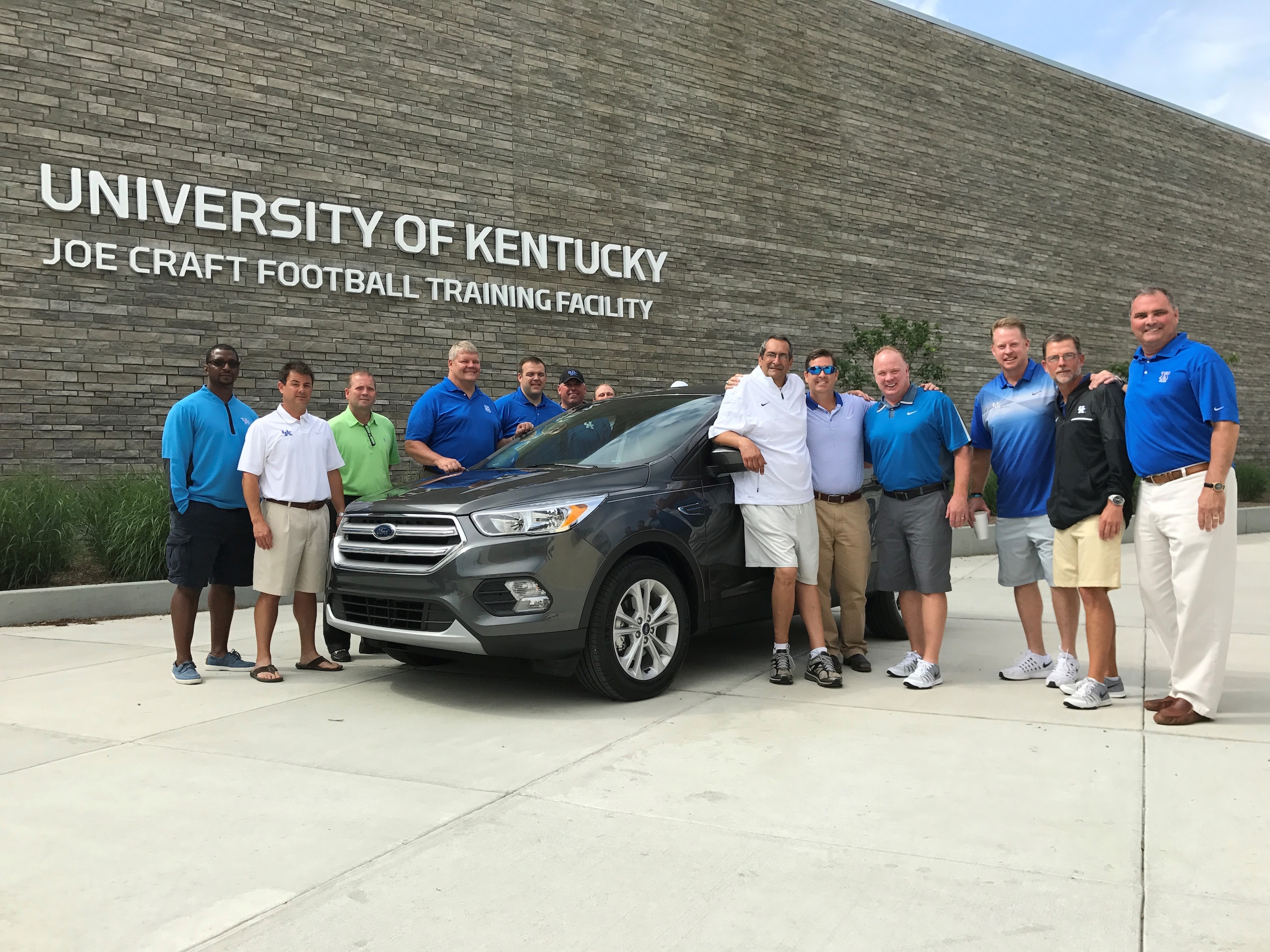 Tom "TK" Kalinowski has worked within the UK football program for over 40 years and this week the K Club (with help from Paul Miller Ford) surprised him with a brand new Ford Escape for his hard work and commitment to the Wildcats.
I hope to get a new computer and long-term benefits when I hit the 40-year mark with KSR here in about three decades.
7. I need some advice on traveling to Ireland (and England and Scotland).
Friends, I'll be landing in lovely Dublin, Ireland in a little over three weeks with a couple of days to kill before traveling over to Manchester for the Open. I am just now beginning to plan the Ireland leg of the trip, so, please, if you have any, send me your recommendations for places to visit, places to stay, things to do and things to know. Any rental car/Ryanair and other advice will also be greatly appreciated. Really anything you would like to share will be very kind and helpful. I'll also listen to advice on Manchester/Liverpool (most of my trip will be spent there) and Scotland (couple days there before traveling home). E-mail me: [email protected] Thanks in advance. You're the best.
8. Tristan Pompey to compete in College Home Run Derby.
UK outfielder Tristan Pompey has been selected to the roster for the eighth annual College Home Run Derby at the College World Series in Omaha. The Derby is set for Saturday, July 1 and will air live on ESPN2 at 9 p. ET. Pompey will be going up against five other power hitters from college baseball; the full list will be announced at a later date.
9. Get signed up for the Big Brothers Big Sisters of the Bluegrass golf scramble!
Golfers, there is still room to get in the Big Brothers Big Sisters' Golf Fore Kids' Sake at Keene Run Golf Course on July 24, 2017 at 1 p.m. The golf scramble is open to anyone and everyone interested in participating, and all proceeds are invested in Big Brothers Big Sisters of the Bluegrass' mentoring programs. Prizes will go to the top three teams along with other giveaways and fun activities throughout the day. Plus this year they will have a list of VIPs and celebrities that teams can privately bid on to gain as a fifth player on their team. Everything will wrap up with an awards presentation and dinner catered by Johnny Carino's.
Click here to sign up.
10. The KSR Summer Tour is in Louisville today.
The KSR caravan will make its way into Louisville today for another stop on the summer tour. Matt, Ryan and the gang are at Academy Sports + Outdoors (Outer Loop location) for two hours of exciting KSR radio. Get in there.