Bam Adebayo's Tuesday Morning Wakeup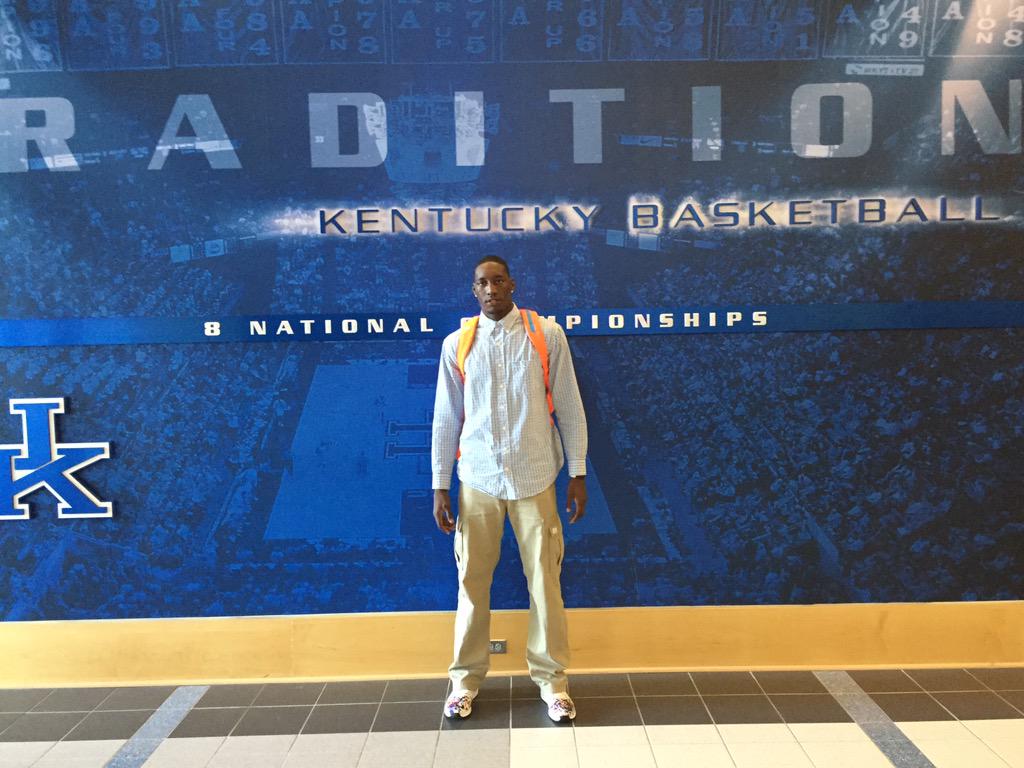 Today is an enormous day for the Kentucky basketball program.
Coach Cal's team landed in Chicago late last night for the biggest game on the regular season schedule, when it takes on No. 5 Duke in the United Center later tonight. The Cats are favored by 4.5 points and looking for only the second win against Duke since 1978. The Blue Devils have won seven out of the last eight against UK.
But first, Coach Cal will be tuned in to Mike & Mike to hear Bam Adebayo, one of his top targets in the 2016 recruiting class, announce his college decision live on air. Adebayo is considering Kentucky and NC State, and he is scheduled to commit to one of the two at 9:30 am on the show. Calipari, like all of us, will be listening — although, he already knows which school Adebayo will choose.
Without spoiling the excitement for everyone, I'll say you can go ahead and feel good about Adebayo's announcement. I'm not saying you should pop the champagne now, but at least go ahead and have it on ice within arm's reach of your desk. Maybe tell the boss you'll be drinking at 9:35 am on a Tuesday, too.
But before we get to Adebayo's decision, let's cover some of the other news around Big Blue Nation…
Beat Duke.
Cannot wait for tonight's game. So fired up. Lessssssggggggoooooo.
Mark Stoops will turn to a former KSR blogger at starting quarterback.
For the first time in the history of the Kentucky football program, and the first time in the history of KentuckySportsRadio.com, a former KSR blogger will start at quarterback for the Wildcats. We expect several touchdowns and run-on sentences from Drew Barker in his debut.
It's not the first time KSR and the UK QB position have crossed paths, though — current blogger Freddie Maggard is a former UK quarterback. The positions are practically synonymous at this point.
Good luck to Drew.
Patrick Towles gave his support to Barker.
Can't wait to see @D_Barker7 ball out on Saturday! I'm behind you 100%! #ALLIN

— Patrick Towles (@patty_ice14) November 16, 2015
And that's why we love Patty Ice.
A new KSR Football Podcast comes out today.
And let me tell you, we did not hold back on this one. I bought dinner for the guys, hoping it would keep them in check on the show, but I think it only fueled the fire. Jared Lorenzen was brutally honest about his opinion of one offensive starter, and Freddie Maggard said something about Nashville you won't believe. It seems we say it every week, but this one is really good. Definitely check it out when it goes live later this afternoon. Jared was so worked up.
Brandon Knight recorded his first triple-double last night.
Knight went for 30 points, 15 assists and 10 rebounds last night in the Kentucky Suns' win over Julius Randle and the Los Angeles Lakers. It was Knight's first triple-double, and his 15 assists were a career-high. The Suns have had only two other triple-doubles since 2006, both recorded by Eric Bledsoe, another former Wildcat.
DeMarcus Cousins named Western Conference Player of the Week.
With an average of 32.5 points and 11 rebounds per game, as well as a 47.5 percent clip from three-point land, DeMarcus Cousins earned Western Conference Player of the Week honors for only the second time in his career. His Kings have won three straight games and hold a 4-3 record with him, and an 0-4 record without him. Big year ahead for Boogie if he can stay healthy.
No. 6 Virginia lost to George Washington.
Sixth-ranked Virginia joined the long list of teams team to get the upset bug early this college basketball season. The Cavaliers fell to GW, picked fourth in the Atlantic 10, to drop to 1-1.
In a down year for college basketball, expect many more of games like these in the early season.
Malik Newman made his Mississippi State debut, and lost to Southern.
Maybe the biggest recruit in Mississippi State basketball history, Malik Newman made his Bulldog debut last night with a six-point, four-turnover performance against Southern. Newman went 2-for-8 from the field in 17 minutes in the 76-72 loss to the SWAC's second-best team.
30 minutes until Bam announces…
Let's meet back here then.