Aspire Academy president doesn't think Charles Bassey has a high school diploma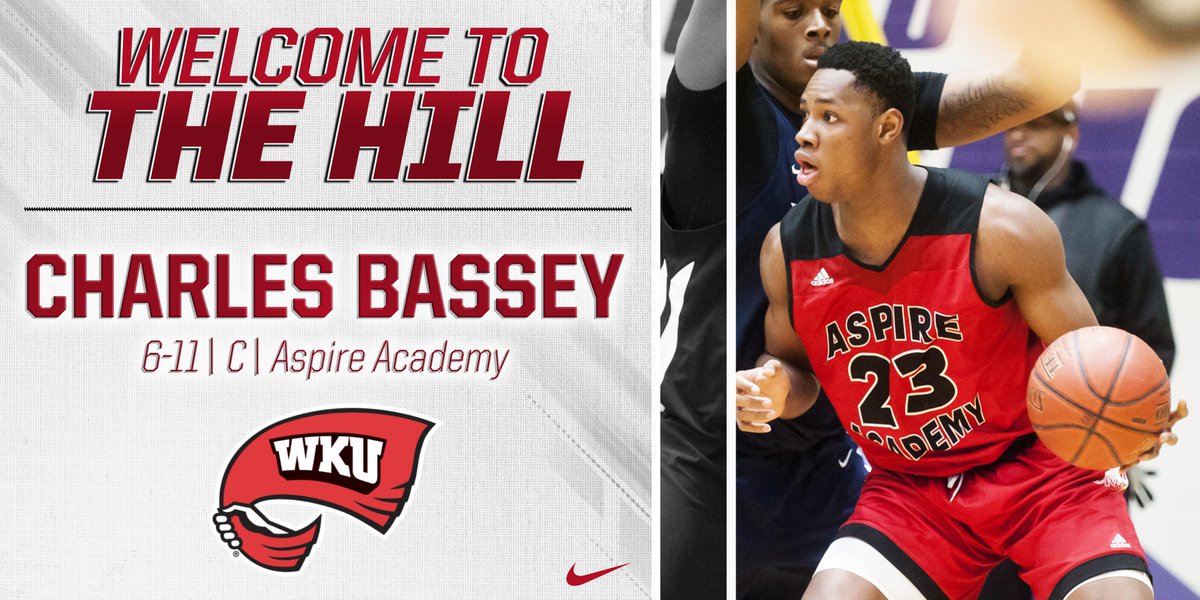 Charles Bassey, originally a top-five prospect in the class of 2019, flipped the recruiting world upside down when he reclassified earlier this month to 2018 to play at Western Kentucky.
The 6-foot-11 center held offers from Kansas, Baylor, and UCLA, among others, but his comfort with WKU coach Rick Stansbury won out in the end.
He is already enrolled at the school and taking classes, and there are even videos surfacing of the elite big man dominating in early scrimmages. For most, it's not only a shock that Bassey committed, but that the transition process has been so smooth, especially considering the major eligibility concerns he faces.
Stansbury, on the other hand, doesn't understand why everyone is so surprised.
WKU head coach Rick Stansbury wants to know why people are shocked 5-star recruit Charles Bassey chose the Tops. ? pic.twitter.com/zitq8Zbs4R

— Katie George (@Katie_George05) June 18, 2018
Originally from Nigeria, Bassey was at the center of a custody battle/recruiting scandal back in high school, where the methods of his arrival in the United States were in question. International talent broker Hennssy Auriantal was hired by Bassey's high school and later became the elite recruit's guardian. According to the San Antonio Express-News, Bassey reportedly received improper financial benefits and "sponsorship by a charitable organization for tuition, room and board" during his transition from Nigeria to the states. As a result, Bassey was temporary declared ineligible at the high school level before eventually making a move to Aspire Academy. Auriantal has already been added to Stanbury's staff at WKU.
Bassey dominated at Aspire and his recruiting stock reflected that. He was always considered a consensus top-five prospect and went neck-and-neck with Vernon Carey Jr. for the top center honors. The newly-founded prep school was proud of it, too.
After Bassey left, however, we saw a major change in tune from Aspire Academy. Just a week after, they made the decision to leave their home of DeSales High School and set up shop at Holy Cross. Then, Aspire Academy President Roger McClendon came out and said his former star athlete may not even be a high school graduate.
"I don't think he has a diploma from DeSales," McClendon told the Kentucky Center for Investigative Reporting. 
As we all know, the reclassification process is not easy. You have to still take all of the same classes and meet the requirements of any four-year high school student. For a student that has been in the United States just three years and has bounced around from school to school, there are obvious red flags.
Even Rick Blackwell, the new president of DeSales High School, was uneasy about the whole situation. In an interview with the KCIR, Blackwell couldn't call out Bassey's situation by name, but said his school is not interested in students reclassifying.
"Reclassifying isn't something that we're doing. We're a four-year institution. Four year."
Rick Allen, an NCAA expert with Informed Athlete, also has his suspicions.
"They have to graduate from the high school, which means they have to satisfy all the same requirements as any student at that high school," said Allen, also adding that final transcripts must be submitted to the NCAA by February 1st of the next year.
Mitchell Robinson, another WKU commitment with eligibility concerns last summer, never played a minute of college basketball this past season. He ended up entering the NBA Draft and was selected in the second round by the New York Knicks.
I wouldn't be shocked to see a similar situation with Bassey.